Welcome back to Fresh Fiction! Can you tell us a little bit about your latest release, THE WONDER OF NOW? 
Thanks for having me! It's hard to believe we've come to the end of the Sanctuary Sound series. I've really enjoyed writing about these three childhood friends, the traumas they've survived, and the betrayals they've overcome. This final book was the most difficult to write because Peyton–a privileged, self-centered woman who ran off with her friend's boyfriend–had the Mt. Everest of mountains to climb in terms of earning her redemption. But ultimately I fell in love with her story, and am extremely pleased with early reader reaction. I also think readers will enjoy traveling around Europe with her on her book tour. 
Something I've admired in the books in the Sanctuary Sound series is each of the heroines has survived difficult hardships. THE WONDER OF NOW features Peyton Prescott, who recently survived breast cancer, but is reliving every moment of her diagnosis, treatment, and recovery promoting a memoir she really didn't want to write in the first place. What went into creating a character readers see at her most vulnerable? 
Writing the excerpts from her memoir was the most difficult part of writing this book. Not only did I speak with several friends and family members who underwent breast cancer treatments and surgeries, but I also read patient memoirs and blogs. Those were not light reads, but I needed to get multiple perspectives and outlooks in order to create an authentic response that a woman like Peyton, someone who'd relied on her sexuality to navigate relationships, and who'd taken life for granted in many ways, might have to the diagnosis and prognosis. I had to sit with her fears, resentment, doubts, and confusion and let it spill onto the page (then edit!). I hope I succeeded in painting a realistic portrait of the myriad emotions a patient might feel throughout the course of treatment.
Mitch Mathis is a driven and hardworking publicist and has a lot riding on the success of Peyton's book tour. And while he never wants to mix business with pleasure, he's tempted to do so on tour with Peyton. Was it fun to make Mitch live a little and have fun, as well as open up to Peyton? 
Even as he evolves, I think Mitch remains somewhat true to himself in that he never becomes as impulsive as Peyton might prefer, but he does begin to draw boundaries with his family and to realize that there is more to life than seeking security. I loved the push and pull between Peyton and Mitch–the way she draws him out and he grounds her. Their relationship is quiet compared with many current contemporary romance novels, but I think it rings very true to life and is very tender.
There are tons of emotional moments for both the hero and heroine on their own, as well as together throughout THE WONDER OF NOW! What do you like to do to relax after writing a particularly emotional scene? 
Relax? You haven't seen my deadline schedule, have you? There is not much time to relax these days, but I confess, I'm a comfort eater, so cake is always my favorite way to reward myself for accomplishing anything difficult. I did enjoy many cupcakes during the writing of this novel.  
Peyton is on the European leg of her memoir's book tour. Do you have a favorite European destination (or one you'd love to visit)? 
My favorite country to visit is Italy. I've been there several times and even got married there. I've been to all of the cities mentioned in the book as well, but there are still dozens of countries I'd like to visit in the coming decade, such as New Zealand, Australia, Argentina, and Norway. 
The female friendships throughout the Sanctuary Sound novels go through a lot, but these bonds grow stronger after the trials and tribulations. Do you have a core group of friends who you know you can turn to no matter what? How did they inspire the friendships through the Sanctuary Sound series?
I have three distinct core groups of friends. The first involves my friends from childhood and current neighborhood. These women have known me for decades and supported me through the highs and lows we all experience as women, mothers, wives, and daughters. Then I have two very tight groups of writer friends. My MTBs (all Connecticut-based authors who help each other plot and get through the ups and downs of this industry), and my Fiction From the Heart sisters (the co-founders of a reader/author Facebook group by the same name) to whom I dedicated this book. Both groups are comprised of talented, giving women who have helped me immeasurably. I can't say that any particular group inspired the series, but they've certainly informed the dynamic between the friends.
Summer is almost over (say it isn't so)! What were a few of your favorite things you did this summer? 
Oh, this summer was crazy. It kicked off with attending Fresh Fiction's Boas & Tiaras event. I also attended the Romance Writers of America's national conference in New York City. I squeezed in a quick trip to my hometown of Pittsburgh to see my dad and another trip to Florida with my children and my mother. And we recently packed up our eldest and took her to college for the first time (tears!). Summer will be closed out with a trip to Vermont with another family, and then my favorite season arrives.
We love book recs from authors! What have you read recently that you want the world to know about? 
The last three books I've read have all been terrific:
Barbara O'Neal's When We Believed in Mermaids
Kristan Higgins's Life and Other Inconveniences
K.M. Jackson's Too Sweet to be Good
What can readers expect from you next? 
I'm super excited about my May 2020 release, IF YOU MUST KNOW. It is not a romance novel, although it does have a light romantic element and a light mystery element. This is the back cover copy, in case you're interested to know more.
Life turns upside down for two sisters in Wall Street Journal bestselling author Jamie Beck's emotional novel about how secrets and differences can break–or bind–a family.

Sisters Amanda Foster and Erin Turner have little in common except the childhood bedroom they once shared and the certainty each feels that her way of life is best. Amanda follows the rules–at the school where she works; in her community; and as a picture-perfect daughter, wife, and mother-to-be. Erin follows her heart–in love and otherwise–living a bohemian lifestyle on a shoestring budget and honoring her late father's memory with a passion for music and her fledgling bath-products business. 

The sisters are content leading separate but happy lives in their hometown of Potomac Point until everything is upended by lies that force them to confront unsettling truths about their family, themselves, and each other. For sisters as different as these two, building trust doesn't come easily–especially with one secret still between them–but it may be the only way to save their family.
Rapid Fire Random Questions
Favorite Romance Trope: Unrequited love/first love
Go to mani/pedi nail polish colors: Fuschia
Do you dog-ear or use a bookmark in your books?: I read on an iPad, so I can't do either. But when I read paper, I dog-eared (I know, I know. . . shame).
Pancakes or waffles?: Waffles
Favorite book from childhood: Charlotte's Web
Morning person or night owl: Both! I don't need much sleep and usually wake up happy.
First thing you'd splurge on if you won the lottery: Gifts for my extended family.
A song that will always cheer you up: Anything my daughter sings, especially her original work (she's terrific)
Favorite season: Autumn
You have a totally free afternoon – no deadlines, no obligations, no Twitter notifications!  What do you do?: Take a long walk with my dog, Mo, then meet friends for a nice lunch (pasta, please), and cap it off with a great movie or Netflix binge.
Moving on has never been harder–or so perfectly unpredictable…
Peyton Prescott would give anything for the carefree life she knew before breast cancer changed everything. But instead of using her second chance to move forward, she's stuck promoting the memoir her brother convinced her to write, thus reliving the very battle she wants to forget. If she hopes her European book tour will allow her to enjoy revisiting her favorite travel-writing destinations, she's wrong: her PR whiz is too consumed with his own goals to consider her needs.
Mitch Mathis has relied on discipline to achieve his goals, and with his new firm's success riding on Peyton's book launch, he must keep her on task. They're here for business, not pleasure. And Mitch won't let unbridled desire harm his professional reputation–not again.
When frustrated expectations and attraction throw the tour into chaos, it challenges everything Mitch and Peyton believe about themselves, life, and love, forcing these opposites to consider whether they can embrace the change they need to grow.
Romance Contemporary [Montlake Romance, On Sale: September 10, 2019, Trade Size / e-Book, ISBN: 9781542044325 / ]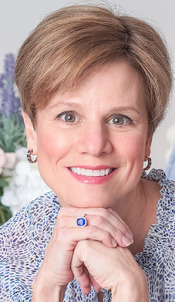 Wall Street Journal and USA Today bestselling author Jamie Beck's realistic and heartwarming stories have sold more than two million copies. She is a two-time Booksellers' Best Award finalist, a National Readers' Choice Award winner, and critics at Kirkus, Publishers Weekly, and Booklist have respectively called her work "smart," "uplifting," and "entertaining." In addition to writing novels, she enjoys dancing around the kitchen while cooking and hitting the slopes in Vermont and Utah. Above all, she is a grateful wife and mother to a very patient, supportive family.
Fans can learn more about her on the web, which includes a fun extras page with photos, videos, and playlists. She also loves interacting with everyone on Facebook.
***
Fresh Fiction Editorial Manager Danielle Dresser is an avid reader, lackluster-yet-mighty crafter, and accomplished TV binge-watcher. Once upon a time, she was a publisher publicist and continues to cultivate her love of books and reading by chatting with the best authors in the business. She lives in Chicagoland with her very own romance hero husband, darling daughter, and two tempestuous cats. Follow her on Twitter and Instagram, @dj_dresser.