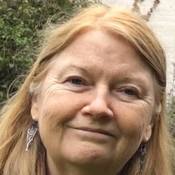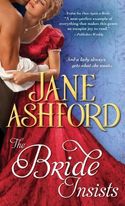 People sometimes ask me – who's that black sheep with you in your author photo? He's a little guy I watched being born during one of Heifer International's Women's Lambing Programs at Overlook Farm in Rutland, Massachusetts. I've attended several of these wonderful sessions, with sheep and goats.
It had to be the black sheep I posed with because of the long tradition of romance heros who are black sheep. (Wiki says the idiom arises from a genetic quirk in sheep, but readers know the black sheep as an engaging rogue.) In my most recent historical romance The Bride Insists, the hero is a bit of a black sheep.
Jamie Boleigh, seventh Baron Trehearth, can't be blamed for running a little wild. He's been struggling nearly all his life to salvage an estate teetering on the verge of ruin. His mother died giving birth to his twin sisters, and he lost his father in ambiguous circumstances the following year. Aged sixteen, he had to take over managing ancestral acres that were falling to pieces and mortgaged to the hilt. He loves every inch of Trehearth. The thought of losing it is agonizing. He tries everything he can think of, but the bankers are inexorable. So he succumbs to temptation and drowns his sorrows in too much champagne, brandy, claret – all the tipples so pervasive in his culture. It takes falling in love, and then making a bad mistake while in his cups, to bring him to his senses. He realizes life can offer things far more rewarding than being a black sheep. If only it isn't too late.
The metaphor of the black sheep is rich material that can be mined in many different ways. Do you have a favorite black sheep hero? (And have you seen the 2006 movie called Black Sheep? "An experiment in genetic engineering turns harmless sheep into blood-thirsty killers that terrorize a sprawling New Zealand farm.") I think I may have to take a look at that one…
She Thinks She's Bought a Compliant Husband
Although Clare Greenough has inherited an unexpected fortune, her money is in the hands of a trustee until she marries—everyone knows a woman is incapable of managing funds. What she needs is an easygoing husband, right away…
They're Both in for a Shock
She makes a deal with impetuous young James Boleigh, seventh Baron Trehearth: they will marry, Clare will get control of her money, and Jamie will get the funds he desperately needs to restore his lands. To stave off ruin, Jamie agrees, believing Clare will soon become a proper, submissive wife. But to expect a serene, passionless marriage was only their first mistake…
"Perfectly delightful Regency romance… Remarkably executed." —Publishers Weekly
"Ashford captures the reader's interest with her keen knowledge of the era and her deft writing. … a charming plot and just the right amount of sensuality." —RT Book Reviews, 4 Stars
ABOUT THE AUTHOR
Jane Ashford discovered Georgette Heyer in junior high school and was captivated by the glittering world and witty language of Regency England. That delight was part of what led her to study English literature and travel widely in Britain and Europe. She has written historical and contemporary romances, and her books have been published in Sweden, Italy, England, Denmark, France, Russia, Latvia, the Czech Republic, and Spain, as well as the U.S. Jane has been nominated for a Career Achievement Award by RT Book Reviews. Born in Ohio, she now lives in LA. For more information, please visit http://janeashford.com/.
To purchase THE BRIDE INSISTS:
Amazon | Barnes and Noble | Books-a-Million | Chapters/Indigo | IndieBound | iBooks | Sourcebooks
To comment on Jane Ashford's blog please click here.