Unrequited love is one of my favorite themes in a romance novel, yet HOW TO PLEASE A LADY is the first time I've ever used it. Just think of some of the most heartbreaking love stories–Gone with the Wind, Wuthering Hearts, The Phantom of the Opera, and more—which use this wonderful plot device so adeptly. Is there anything more heart-wrenching than being in love with someone who doesn't love you back? Most unrequited love stories end tragically (The Hunchback of Notre Dame, Cyrano de Bergerac are particularly tragic).
Even Charlie Brown's love of the Little Red-headed Girl can make my heart break just a little bit.
These stories that make your heart hurt for the poor sap who's in love with the unaware and often unknowingly cruel recipient of their affections always appeal to me as a reader. It was a little more difficult as a writer because I wanted my characters to be happy and torturing either one wasn't easy! None of the stories on my list ended happily, but I'm a romance writer and sad endings just aren't my schtick. But I still love the idea of a man in love with a woman, who is blissfully unaware of that love.
Such is the case for my hero, Charlie, who is desperately and horrifyingly in love with the daughter of an earl. Worse, Charlie is the estate's head groom and has no chance of ever winning his lady's heart. For one, he would never let the lady know of his feelings. He's a servant, she's a lady and in Victorian England that should be the end of the story.
But fate does bring them together and life had a way of leveling the playing field, which is what happens in my story. Poor Lady Rose hasn't a clue that Charlie's heart picks up a beat every time he sees her. She likes Charlie, even considers him a friend, but the invisible wall between servant and master is almost impossible to climb. Until the walls are gone.
In writing HOW TO PLEASE A LADY, it was important that I not make Lady Rose seem knowingly cruel. Rather, she is a little clueless, perhaps self-centered, and very much a lady of her times. The wonderful thing about Charlie is that he forgives Rose for her unwillingness to even consider him as a possible match. He knows as well as she does that the two of them would never be able to live a life together in England.
But all that changes when the two reach American soil where class is far less important.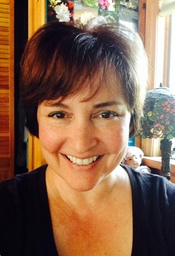 Jane Goodger lives in Rhode Island with her husband, three children, Chihuahua, one-eyed cat, and a ferret. She works full-time, and operates an editing service in between writing Victorian-set historical romances. In her free time (hahahaha), Jane watches HGTV and dreams of fixing up her 1940s colonial. A former journalist, Jane has lived in Virginia, Washington, D.C., and Pozzuoli, Italy.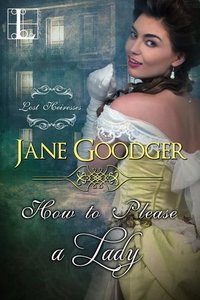 Run though they might, love will find them
Lady Rose Dunford is shocked–and titillated–by the number of female visitors coming and going from her mysterious new neighbor's Manhattan brownstone. Recently widowed by the death of her very sweet, but not very exciting husband, Rose finds it difficult to imagine just what the attraction could be.
And then she meets the bachelor in question. Not only is Charlie Avery dashing and outrageously good looking–she knows him! He is none other than the man who once helped her escape the dreary matchmaking plans of her father, the man she once dreamed she could love. Can Charlie's presence next door be an accident? Or has he come to show her everything he has learned about…