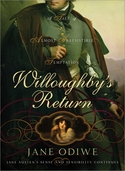 Thank you so much for welcoming me to the blog and giving me a chance to talk about Willoughby's Return!
I loved writing this book. Sense and Sensibility is one of my favourite Austen novels and I enjoyed revisiting all the characters and places associated with them all. Writing the plot and thinking about how the characters interact with one another is one of the biggest joys-another is weaving in clues about what the characters look like and how they dress. It's important in a historical novel to give a feel of the costume and clothing. The fashion at this time was wonderful. I'm sure part of the success of the recent spate of Austen films and adaptations is down to the accuracy and beauty of Regency dress. Who hasn't imagined themselves dancing at a candlelit ball in white muslin, silk slippers on their feet, and an ivory fan to flutter?
To read the rest of Jane's blog and to comment for a chance to win please click here.