Welcome to Fresh Fiction, Janella! Please introduce yourself and tell us about your debut novel, WHERE DREAMS DESCEND.
Thank you so much for having me! I'm Janella and my debut, WHERE DREAMS DESCEND, is the first in a YA fantasy duology that is pitched as "Phantom of the Opera meets Moulin Rouge with a twist of The Night Circus"–and in it, we follow a powerful, ambitious showgirl named Kallia whose pursuit of fame, glory, and freedom leads her to a magician's competition that becomes a risky game behind the scenes as contestants start disappearing, and all is not what it seems. It's got a ruined city, a fierce circus, glam aesthetics, romance, magic, and dazzling performances–which in my opinion, make for a perfect escape.
The world you've built feels so vivid and alive – it's fresh and detailed, but still feels "lived in." How did this magic world develop for you? What were some of your inspirations for it?
Thank you, I'm so glad it feels that way! I've always been a fan of cities that come off as forbidden or shrouded in a bit of mystique, places that feel as if they were built more by stories and legends than by brick and cement. When I got the first vision of Glorian, it was this city lost in the woods, and the image stuck and helped unravel the rest of the more magical world it's isolated from. Inspiration-wise, I wanted to build a setting that could slip into the seams of the stories of its comps, Phantom of the Opera, Moulin Rouge, and The Night Circus. One other world inspiration that's not in the pitch is Cinderella (1997) with Brandy and Whitney Houston which is one of my absolute favorite movies and worlds. There's a lot of crossover with these stories and their settings, as they are all romantic, gorgeous, magical, and have that grand sweep-you-off-your-feet quality which I hoped to emulate in my book.
Kallia is a powerful female magician with skills no one has ever seen. She's charismatic and even a little cocky, but she harbors many secrets, some she doesn't even understand yet. What do you think readers will love about Kallia? What did you love about writing her?
Oh gosh, I loved writing everything about her. While I was writing this book, I couldn't have been more doubtful about my writing journey, and she was one of those characters who refused to let me wallow in my own doubt. More than once she would snap at me to stop moping so I could finish her story. Her confidence, ownership of her power and self, and her resilience are all pieces I love about her, but what I love most is how much inner-strength she has despite all the obstacles in her way. It's the kind of strength I was able to pull from when I needed (and still need it) most, and I hope readers who need it can take away some of her fire as well.
Kallia's story is intertwined with two very intriguing young men. Daron, a steadfast judge of the Spectaculore, who no longer uses his own magic and has powerful ties to the magical council, and Jack, the enigmatic owner of the club where Kallia once worked and ran away from. They both underestimate Kallia, and they both have to change how they think of her. How do you think they handle the interesting situations they end up involved in, while dealing with Kallia?
One of my favorite things about character dynamics and relationships is observing how they evolve from their first meeting to the end of the book. From first impressions to a familiarity that drastically shifts, both Daron and Jack certainly end up in different places with Kallia than how they started. Though aside from Kallia, they're also dealing with their own stories and agendas and secrets. Some that Kallia is privy to, some that she is not, which always makes for interesting dynamics.
WHERE DREAMS DESCEND is populated with a large cast of unique characters: a traveling circus, the other magicians competing (and their assistants), the entire town of Glorian. . . Do you have a favorite side character? Who was the most difficult to write and why?
Ooh in terms of favorite side characters, Erasmus Rayne and Lottie de la Rosa were particularly fun to write because they're hilarious to me. They can be hard to trust with their shared love of trouble and opportunity, but their entertainingly twisted ways of looking at life are not entirely far from the truth. Aaros was another favorite, because I love writing supportive friendships, and I feel like he and Kallia really have each other's backs which makes them such a match. Also he's just such a bean.
Without giving any spoilers, is there anything you can tell us about the next Kingdom of Cards book?
There will be even MORE angst. And another dramatic musical has entered the pitch mix.    
I love to ask authors about what they've been reading! What have you recently read that you loved and would like to recommend?
Sadly, the pandemic times have made reading severely difficult for me lately (if anyone else is dealing with this plight, let's start a support group), so I haven't been getting to many books this year. However, when the reading bug bites me again, the books on my TBR I've been really excited to check out is You Should See Me in a Crown by Leah Johnson, Song of the Crimson Flower by Julie C. Dao, and finishing up the rest the Cruel Prince trilogy (I know, I'm so behind).
Rapid Fire Random Questions
Favorite animal: Red cardinal
Coffee or tea: Coffee in the morning, tea afterward
Favorite book to re-read: I'm a big romance reader, so any romance novel on my shelf!
Beach or mountains: Mountains
When you were younger, what did you want to be when you grew up?: A dentist (I honestly don't know why, either. . .)
Dream vacation: Traveling through the future to the post-pandemic world. I really just want to be able to visit my friends and family again so badly!
Aside from reading and writing, what are your hobbies?: Since the pandemic, some of my newer hobbies have been connect-the-dot activities and puzzle sticker books. So soothing.
Five people you'd invite to your book club (dead, alive, fictional, etc.!): Kallia and Aaros, because I have a suspicion we would all have very similar tastes in books; Evelyn O'Connell from The Mummy, because who better to invite to a book club than a badass librarian; and Lara Jean from To All the Boys I've Loved Before and Nina from Six of Crows, because they would both probably bring the best sweets and romance recs.
Favorite movie: The Mummy (1999) is the best movie in the world and no one can convince me otherwise
You have a totally free afternoon – no deadlines, no obligations, no Twitter notifications!  What do you do?: I would absolutely sleep for a thousand years, and then catch up on all the TV and books I've been neglecting. Oh, what a dream.
Kingdom of Cards #1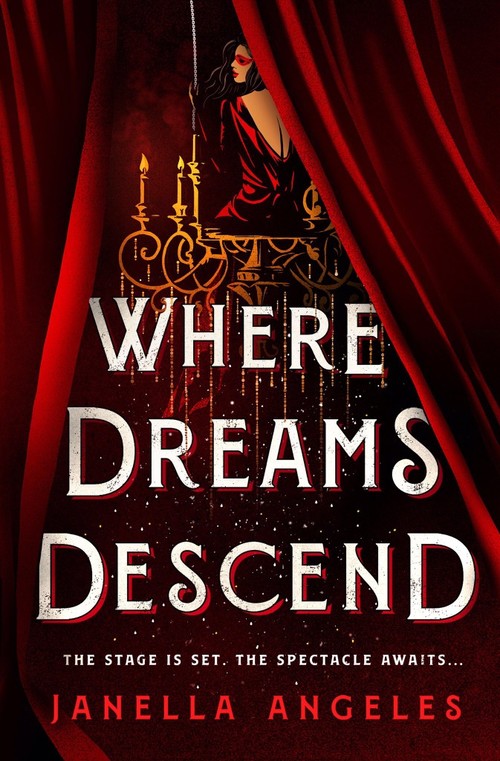 In a city covered in ice and ruin, a group of magicians face off in a daring game of magical feats to find the next headliner of the Conquering Circus, only to find themselves under the threat of an unseen danger striking behind the scenes.
As each act becomes more and more risky and the number of missing magicians piles up, three are forced to reckon with their secrets before the darkness comes for them next.
The Star: Kallia, a powerful showgirl out to prove she's the best no matter the cost
The Master: Jack, the enigmatic keeper of the club, and more than one lie told
The Magician: Demarco, the brooding judge with a dark past he can no longer hide
Where Dreams Descend is the startling and romantic first book in Janella Angeles' debut Kingdom of Cards fantasy duology where magic is both celebrated and feared, and no heart is left unscathed.
Young Adult Fantasy [Wednesday Books, On Sale: August 25, 2020, Hardcover / e-Book, ISBN: 9781250204356 / eISBN: 9781250204363]
A dramatic and complex YA fantasy novel. . .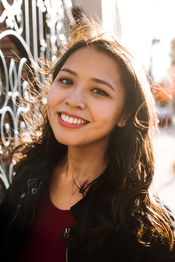 Janella Angeles is a Filipino-American author who got her start in writing through consuming glorious amounts of fanfiction at a young age–which eventually led to penning a few of her own, and later on, creating original stories from her imagination. A lifelong lover of books, she's lucky enough to be working in the business of publishing them on top of writing them. She currently resides in Massachusetts, where she's most likely to be found listening to musicals on repeat and daydreaming too much for her own good.