1–What is the title of your latest release?
2–What is it about?
This is book three in the Forgotten Empires trilogy, which is about the marriage of state between two enemies – a rebel, ex-slave prince, and a queen trapped in her own diplomatic web. They learn to work together to face their common enemy, a tyrannical emperor who has terrorized them, their families, and their people. This book is the culmination of their unlikely love affair and their attempt to triumph in an unwinnable war.
3–What do you love about the setting of your book? 
My queen, Lia, rules over the last good place left. It's a tropical island called Calanthe where all pleasures are indulged, sanctuary is given to all, and no one judges anyone. I've heard some readers call it "Versailles in Hawaii." It's a beautiful place, full of flowers, gentle seas, birds, bees, wildlife, and peace. I love everything about it.
4–How did your heroine surprise you? 
Lia has a lot of secrets – about who she really is, her magical gifts, who her mother was, and how she came to be born. All of that surprised me!
5–Why will readers love your hero? 
He's a gruff warrior, resolute and determined to win. Conrí is also uneducated because, though he was born a crown prince, he was imprisoned while he was still young. He's self-conscious about his lack of refinement, but also a softie at heart, willing to learn from his mistakes, and a genuinely good man.
6–What was one of your biggest challenges while writing this book (spoiler-free, of course!)? 
Drawing up all the threads. There's also a big reveal with one of the most beloved secondary characters and I worried if readers would forgive him or not. So far, so good!
7–Do you look forward to or do you dread the revision process? 
Neither, really. I *love* the drafting process, but I've gotten so I don't mind revisions. (I used to hate them!) Revisions feel to me like working a puzzle. They're especially interesting to do when I have such a canny and insightful editor in Jennie (Conway, at St. Martin's Press). She knows how to bring out the best in a book!
8–What's your favorite snack to have on hand while writing? 
Water! Is that boring? I live in the desert and I drink a lot of water.
9–Where would you go for an ideal writer's retreat? 
Versailles in Hawaii! No, anywhere with a beach. Or anywhere with my author besties, really. We'd be there to write and talk. It could be an underground cave for all we'd care. As long as there was access to wine and take-out.
10–What's the best piece of writing advice you've received? 
Write every day, at the same time every day. I know a lot of people don't want to hear that advice. (I didn't – I went for years trying everything but that.) Still, once I tried it, it's the one thing that worked to make me build a writing habit that I think is the secret to my productivity.
11–Who is the fictional character you want to hang out with the most? (anyone in literature!)
Kerowyn
12–What's one of your earliest book memories? 
My mother reading me Charlotte's web before I went to sleep. She always started crying at the end and choked up too much to read it clearly. So I learned to read so I could find out what happened!
13–If you had to write in a different genre, what would it be and why? 
I tend to be polyamorous when it comes to genre. Or maybe sapiosexual? I think I could write in any genre that suited the story. For me, the story comes first. That's what I fall in love with.
14–What song will automatically put you in a good mood? 
What I Like About You by The Romantics. I dance every time!
15–What is your favorite way to practice self-care?
I'm a practicing Taoist, which means that I believe in the middle path, in finding the flowing of the universe and being a part of that. So, anything that helps me find that place of balance and groundedness is good. It can be different things at different times – whatever I need at that moment.
16–What can you eat and never get sick of? 
Hmm. As I said above, I'm a believer in moderation. *Anything* overdone can make me sick. That said, I love wine, chocolate, cashews (Yes, I'm totally that person who picks out the cashews from the mixed nuts), and any kind of pastry.
17–Will you share a favorite, recent-ish book you recommend? 
Jennifer Estep's Capture the Crown, book one in her Gargoyle Queen series, comes out in July and I really loved that!
18–Do you have any hobbies? 
I read, garden, hike. I love to travel, too, when there isn't a global pandemic…
19–Are you an early bird or a night owl?
I started out life as a night owl, but when the only time I could write every day, at the same time every day was very early morning (5 am), I trained myself by dint of effort over years to be an early bird. Now I wake up naturally between 5 and 6 am and I love that time of day. Seeing the sun rise, hearing the birdsong, writing words while my mind is fresh, all of that works well for me.
20–What can readers expect from you next? 
Great things! LOL. In July I'll be releasing BRIGHT FAMILIAR, sequel to DARK WIZARD. I know a lot of readers are excited for this one, and I'm looking forward to getting it out to them.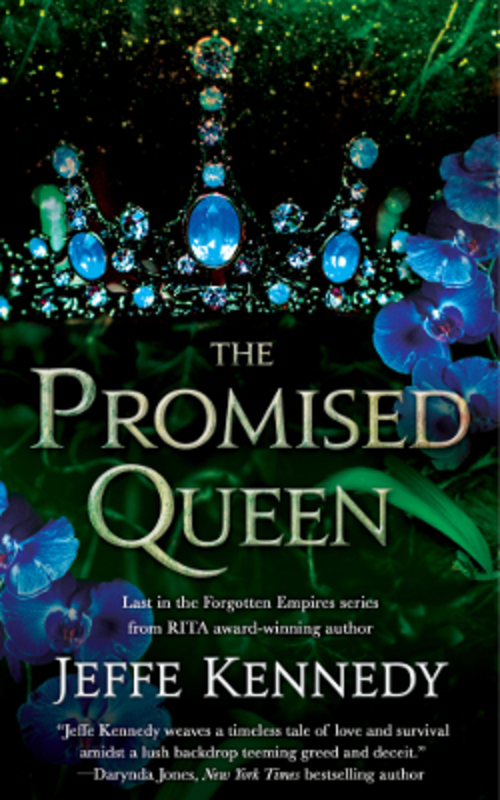 In The Promised Queen, the thrilling finale to Jeffe Kennedy's Forgotten Empires trilogy, the fate of the world hangs in the balance as Con, Lia, and their allies sacrifice everything in a final bid to destroy the corrupt empire.
Claim the hand that wears the ring, and the empire falls.
Conrí, former Crown Prince of Oriel, claimed the hand that wears the Abiding Ring, but the prophecy remains unfulfilled. Queen Euthalia of Calanthe returned to her island kingdom, but broken in mind and body. With the blood of war unleashing ancient terrors, Calanthe isn't the haven it once was.
Lia must use her magical bond with Calanthe to save their people while Con fights to hold off the vengeful Emperor Anure and his wizards. Con and Lia will have to trust in each other—and in love—to fend off ultimate disaster.
Romance | Fantasy | Romance Fantasy [St. Martin's Paperbacks, On Sale: May 25, 2021, Mass Market Paperback / e-Book, ISBN: 9781250194350 / eISBN: 9781250194367]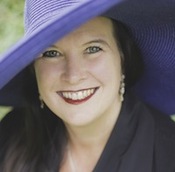 Jeffe Kennedy is an award-winning author whose works include novels, non-fiction, poetry, and short fiction. She has won the prestigious RITA® Award from Romance Writers of America (RWA), has been a finalist twice, been a Ucross Foundation Fellow, received the Wyoming Arts Council Fellowship for Poetry, and was awarded a Frank Nelson Doubleday Memorial Award. She serves on the Board of Directors for the Science Fiction and Fantasy Writers of America (SFWA) as a Director at Large.
Her award-winning fantasy romance trilogy The Twelve Kingdoms hit the shelves starting in May 2014. Book 1, The Mark of the Tala, received a starred Library Journal review and was nominated for the RT Book of the Year while the sequel, The Tears of the Rose received a Top Pick Gold and was nominated for the RT Reviewers' Choice Best Fantasy Romance of 2014. The third book, The Talon of the Hawk, won the RT Reviewers' Choice Best Fantasy Romance of 2015. Two more books followed in this world, beginning the spin-off series The Uncharted Realms. Book one in that series, The Pages of the Mind, was nominated for the RT Reviewer's Choice Best Fantasy Romance of 2016 and won RWA's 2017 RITA Award. The second book, The Edge of the Blade, released December 27, 2016, and was a PRISM finalist, along with The Pages of the Mind. The final book in the series, The Fate of the Tala, will be out in January 2020. A high fantasy trilogy, The Chronicles of Dasnaria, taking place in The Twelve Kingdoms world began releasing from Rebel Base books in 2018. The novella, The Dragons of Summer, first appearing in the Seasons of Sorcery anthology, finaled for the 2019 RITA Award.
She also introduced a new fantasy romance series, Sorcerous Moons, which includes Lonen's War, Oria's Gambit, The Tides of Bàra, The Forests of Dru, Oria's Enchantment, and Lonen's Reign. She's begun releasing a new contemporary erotic romance series, Missed Connections, which started with Last Dance and continues in With a Prince and Since Last Christmas.
In September 2019, St. Martins Press released The Orchid Throne, the first book in a new romantic fantasy series, The Forgotten Empires. The sequel, The Fiery Crown, will follow in May 2020.
Her other works include a number of fiction series: the fantasy romance novels of A Covenant of Thorns; the contemporary BDSM novellas of the Facets of Passion; an erotic contemporary serial novel, Master of the Opera; and the erotic romance trilogy, Falling Under, which includes Going Under, Under His Touch and Under Contract.
She lives in Santa Fe, New Mexico, with two Maine coon cats, plentiful free-range lizards and a very handsome Doctor of Oriental Medicine.
Jeffe can be found online at her website: JeffeKennedy.com, every Sunday at the popular SFF Seven blog, on Facebook, on Goodreads and pretty much constantly on Twitter @jeffekennedy. She is represented by Sarah Younger of Nancy Yost Literary Agency.