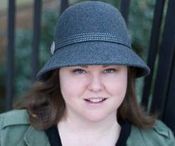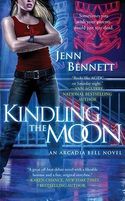 Most writers are readers (I hope), and avid ones, at that. But I think we often read from a slightly different perspective than the general public. Sometimes it's hard for me to turn off The Writer, even when I'm reading for pleasure, and I often find myself lingering on certain phrases or character choices. Sometimes it's the small things that make the writer in me smile and nod my head when I'm reading. Just wee bits of genius–things that are deceptively simple, or fractions of world-building that dazzle me. I love finding these treasures in other people's books.
The following is a short list of five of those small moments in urban fantasy that moved me to raise a proverbial glass of champagne and say, "Well played!"
1) Charlaine Harris, Southern Vampire series: Sookie's Word-a-Day Calendar
It really bothers me when an author's voice overrides the character's voice in first person. Sookie is a small-town waitress, not very smart (but not dumb either), and her voice is fairly consistent throughout the series. But what does a writer do when she wants to use words that her character shouldn't know? In Harris's case, she gives Sookie access to a Word-a-Day calendar. Critics of the popular series often complain of the overuse of this particular crutch, but the first time I read it, I thought it was quite funny and sly.
2) Carolyn Crane, Disillusionists Trilogy: using magazines to stimulate hypochondria
Crane's brilliant protagonist, Justine, needs to get worked up before she can poke a hole into someone's aura and zing them with her hypochondriac fear. So she does what any red-blooded person would: reads health articles about horrible diseases to get herself . . . properly stimulated. Just one of the many delightfully witty and genius moments in these stories.
3) Karen Chance, Cassie Palmer series: body-swapping with Pritkin
Ms. Chance has written many a fine scene featuring Cassie and Pritkin (my absolute favorite war mage–okay, the only war mage I really know, but I adore him, nonetheless). One of my favorites was in Curse the Dawn, when the couple swaps bodies. What a brilliant little twist! I laughed out loud when Cassie wakes up the next morning and is desperately trying to get Pritkin out of the room so she–err, he?–can take a cold shower. And the manscaping was the icing on the cake.
4) Stacia Kane, Downside series: Downspeech
Original, daring, and sheer genius. Love it when her characters say, "You dig?" It's one thing to correctly write an accent into dialogue without coming off as broad and offensive, but it's a whole other kettle of fish to create a brand-new dialect and make it believable. Kane does a brilliant job of it.
5) Kim Harrison, Rachel Morgan/Hollows series: Splat Gun
UF heroes wield guns, swords, whips, daggers–you name it, it's been used. But what's a witch to do when a shotgun seems out of character, and a knife is too messy? In Rachel's case, she uses a splat gun filled with spells. So simple, so fun . . . so true to Rachel's character.
Jenn Bennett is an award-winning artist-turned-author. Born in Germany, she's lived and traveled extensively throughout Europe, the U.S., and the Far East. She believes rebellion is an under-appreciated art form, has conjured more demons than you've had hot lunches, and likes her fairy tales like she likes her coffee: dark. She currently lives near Atlanta with her film-geek husband and two very bad pugs. Visit her website at www.jennbennett.net, "like" her on facebook (http://www.facebook.com/JennBennettauthor), or follow her on twitter (www.twitter.com/jenn_benn).
To comment on Jenn Bennett's blog please click here.