Thank you for having me here to share some details about my new release, INKED WITH A KISS, the second book in my Thorn & Thistle series. In INKED WITH A KISS, tattoo artist Jamie and social worker Sierra have both come to rely on themselves more than anyone else, but a future together will mean letting their guards down and accepting each other as a safe place to fall.
I is for irresistible. That's what they are to each other.
N is for new. Sierra introduces Jamie to new experiences, like a picnic under the stars.
K is for kinks. Can freckles be a kink? Well, Sierra's are for Jamie.
E is for enthusiasm. Sierra has lots of it.
D is for discovery. They discover in each other exactly what they need.
*
W is for worry. Jamie is a worrier. Thankfully, Sierra is going to help her with that.
I is for independent. Sierra is independent and proud of it.
T is for tattooer. Jamie is a tattoo artist and Sierra is her most challenging client.
H is for help. With a little convincing Jamie is helping Sierra with a fundraiser.
*
A is for age gap. Twelve years to be exact.
*
K is for kitchen. Over food and in the kitchen is where a lot of bonding happens.
I is for imagine. The women imagine what life would be like if they were together.
S is for safe. Jamie makes Sierra feel safe.
S is for sunny. Sierra brings sunshine into Jamie's life.
—
COMMENT TO WIN: Do you have any tattoos? What would you get if you don't have one? Answer in the comments and you'll be entered to win an eBook copy of INKED WITH A KISS! Open Internationally – GOOD LUCK! 
—
Thorn & Thistle #2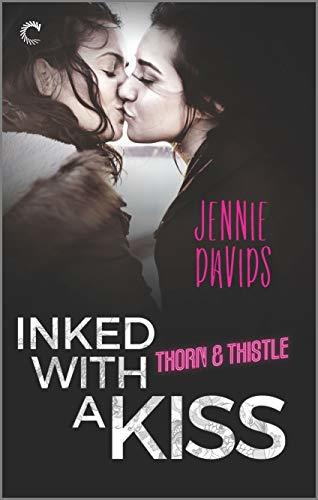 "This moving and deeply fulfilling romance marks the launch of a very promising series."–Publishers Weekly, starred review (on New Ink on Life)
Sometimes everything you shouldn't want is exactly what you need.
Tattoo artist Jamie Winston is used to caring for others. Between her assistant manager position at a tattoo parlor, single-parenting her twelve-year-old daughter, and supporting her alcoholic parents, Jamie rarely prioritizes her own needs–unless Sierra Clark is in her chair. The bubbly, younger woman somehow manages to make Jamie feel like the carefree teenager she never got to be, making anything seem possible.
For Sierra, time with Jamie is a much-needed escape. She takes her work as a social worker seriously, but with budget cuts threatening her job, there's a lot riding on the fundraiser she's planning with Jamie. The fact that it means working closely with the sexy, older tattooist is a bonus–a deliciously tempting bonus. Sierra isn't one for relationships, but she's never felt such a strong desire to mix business with pleasure.
Sizzling chemistry quickly erodes Jamie's fears of being too old for Sierra, but navigating a romance with someone who's at such a different stage in life is no easy task. They've each come to rely on themselves more than anyone else, but having a future together will mean letting their guards down, and accepting each other as a safe place to fall.
Thorn & Thistle:
Book 1: New Ink on Life
Book 2: Inked with a Kiss
Romance Contemporary | Romance LGBTQ [Carina Press, On Sale: April 13, 2020, e-Book, ISBN: 9781335215925 / eISBN: 9781335215925]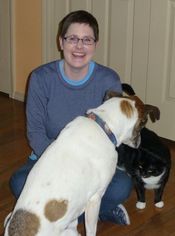 Jennie Davids lives in the Pacific Northwest with her rescue animals that somehow never end up as well-behaved as their bios promise. The sound of the rain inspires her as she writes, or maybe it's the gallons of hot chocolate she consumes to stay warm in the damp climate. When not writing Jennie is reading, watching reality TV, or bemoaning how quickly weeds grow back and keep her from reading.