I'm a Kansas farm girl at heart, and I love a great cowboy romance. Throw in a quirky small town and a dog, and I'm sold. That's why I write small town stories filled with humor and heart. And I love when a western romance does something unexpected, like when Colorado cowboy heroes also play hockey. Oh wait, I know that series. And if you love the idea of cowboys who are as hot on horseback as they are on the ice, then you need to check out the Cowboys of Creedence. The third book in the series, It Started With a Cowboy, is just releasing now, and in this one, Colt, the youngest James brother, talks shy schoolteacher, Chloe Bishop, into helping him coach a youth hockey team of rowdy eight years olds. Being so close to the cowboy she's crushing on is dangerous territory for Chloe. But when a real enemy threatens her, Colt will do anything to protect her. Even if it means risking himself—and his heart.
Once you've devoured the James brothers and made Colt James your newest book boyfriend, here are five other great cowboy books to sink your spurs into. It was so hard to pick just five, but these are some of my favorites, both old and new.
1)      Montana Sky by Nora Roberts – one of my all-time favorite books. I love the dynamics of three half-sisters who just found about each other when their father dies and who now have to live on their dad's ranch together for a year before any of them can inherit their portion. Romance, cowboys, and danger—yes, please.
2)      The Texan's Wager by Jodi Thomas – I love all of Jodi's book, but this one is so much fun and so swoony. Thrown off a wagon train with two other women and trying to avoid jail for a murder they committed, Bailee Moore agrees to enter a "Wife Lottery"—a ploy concocted to secure wives for the men in the small Texas town. But for Bailee, marrying Carter McKoy is like exchanging one life sentence for another. Except this strong, silent cowboy could be the key to leaving her troubled past behind…and making a worthy wager with her heart.
3)      Tougher in Texas by Kari Lynn Dell – this book is set in the world of rodeo, and it's deep and heartbreaking as it tackles some tough issues. Rodeo producer, Cole Jacobs has his hands full, so when Cousin Violet sends him a new 'pick-up man', he's expecting a grizzled Texas good ol' boy—but he gets wild and outspoken, ruthlessly self-reliant Shawnee Pickett. The tall, dark and intense cowboy quickly gets under her skin—but Shawnee's not looking for anything permanent. Too bad Cole's not the type to give up when the going gets tough…
4)      Brokedown Cowboy by Maisey Yates – I do love a good friends-to-lovers story, and this one is heart-wrenching, funny, and so romantic. Since losing his wife, Connor Garrett has concentrated exclusively on his family's ranch. Until Felicity Foster needs a place to stay, and Connor invites her to move in temporarily. But helping Connor rebuild his life only reinforces how much Felicity longs to be a part of it. One explosive encounter and she'll discover that getting what she always wanted can feel better than she ever dreamed.
5)      A Kiss on Crimson Ranch by Michelle Major. Michelle knows how to hit the reader in the heart while making them laugh and swoon over her hunky heroes. This book goes from home sweet Hollywood to home on the range when former child star, Sara Wellens inherits half of a crumbling guest ranch in Crimson, Colorado. Sara figures she'll sell her portion to get back on her feet and back in the black, but doesn't count on her partner-in-property being hunky former bull rider and single dad Josh Travers. Sara quickly bonds with the charming cowboy and his daughter but isn't looking for a forever family. When the rancher and the starlet let down their guards, they find their own Hollywood happy ending.
And there you have, my top five cowboy romances you need to read. I wish I could tell you my top ten so I could include Dylann Crush's All-American Cowboy, and Kait Ballenger's Cowboy Wolf Trouble, and Nicole Helm's Cowboy Seal Redemption…well, I could go on…but I'd better stop. If you love cowboy romance, I'd love for you to check out these books and It Started With a Cowboy, which released on April 30, 2019, and is available now. I'd love to hear some of your favorite cowboy romances, and I can't wait for the hockey-playing cowboys of Creedence to make your list.
Happy Reading!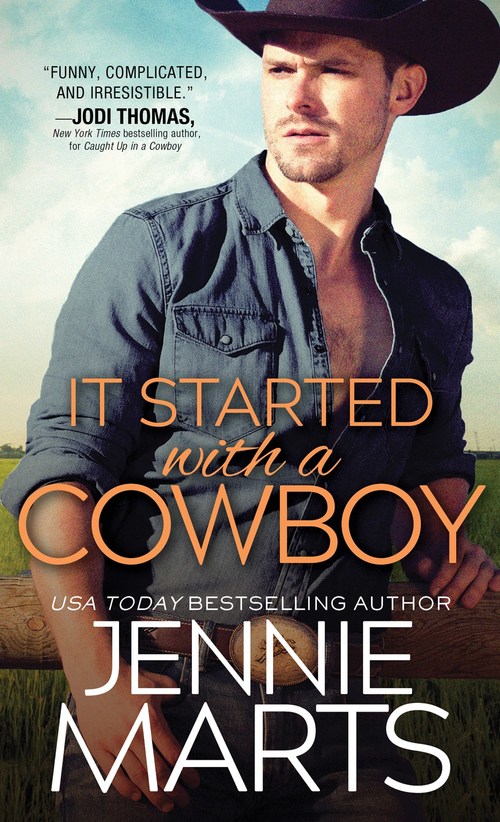 What will this cowboy risk for love?
Colt James is back home on the family ranch, and he's done
taking risks. A car accident ruined his shot at a
professional hockey career and messed up his love life, and
he's not taking a chance on anything that seems too good to
be true. Especially not on Chloe Bishop, his nephew's
irresistibly charming teacher and the one woman he can't
stop thinking about.
Chloe Bishop liked her life the way it was—orderly,
structured and safe. Life goes from managed to messy when
Colt talks her into helping him coach a hockey team of rowdy
eight-year-olds. Being this close to the cowboy she's
crushing on is dangerous territory. But when a real enemy
threatens Chloe, Colt will do anything to protect her. Even
if it means risking himself—and his heart.
Romance Contemporary | Romance Western [Sourcebooks Casablanca, On Sale: April 30, 2019, Mass Market Paperback / e-Book, ISBN: 9781492655756 / eISBN: 9781492655756]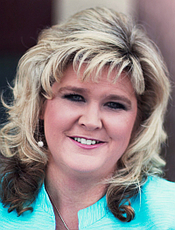 USA TODAY Best-selling author Jennie Marts loves to make readers laugh as she weaves stories filled with love, friendship and intrigue. She writes for Entangled Publishing and reviewers call her books "laugh out loud" funny and full of great characters that are "endearing and relatable."
She is living her own happily ever after in the mountains of Colorado with her husband, two sons, two dogs and a parakeet that loves to tweet to the oldies. She's addicted to Diet Coke, adores Cheetos, and believes you can't have too many books, shoes, or friends.
Her books include the contemporary western romance Hearts of Montana series, the romantic comedy/ cozy mysteries of The Page Turners series, the hunky men in the Bannister family in the Bannister Brothers Books, and the small town romantic comedies in her upcoming Lovestruck series of Cotton Creek Romances.