We are so excited to share this interview with New York Times bestselling author Jennifer Ashley and Fresh Fiction Editorial Manager, Danielle Dresser!
Thanks for coming to Fresh Fiction! Can you tell us about your Kat Holloway Mystery series and the latest book, Death in Kew Gardens? 
The Kat Holloway series revolves around a cook in Victorian England. Kat is young for a cook, but she's the best, and she knows it (though she strives to be modest about this). She's also a very curious person and gets involved in solving murders and ferreting out secrets.
In Death in Kew Gardens, Kat becomes distressed when the police accuse a Chinese gentleman who has been kind to her of murdering her employer's next-door neighbor. Convinced the man is innocent, Kat sets out to prove her new friend, Mr. Li, couldn't possibly have done it. 
One of my favorite things about accomplished cook/ amateur sleuth Kat Holloway is how steadfast and hardworking she is, but she still has moments of vulnerability and even some fun now and then. What are some of your favorite qualities about Kat, and how has she changed since book one, Death Below Stairs?
Kat is a woman of her time in that she believes hard work is a virtue and that straying too far out of convention makes for unhappiness. But I like that while she believes she'll never rise above her current station, she sees no reason to be ashamed of what she does. She also loves her daughter more than anything, and saves her pennies toward a day she might be able to live together with her.
If she's changed since book one, it's that she's more accepting of the unconventionality of others—Lady Cynthia for one, and Daniel with his ever-changing personas. She has learned to look at people more as people and not their roles or their class.
Having done the research, would you rather have lived upstairs or downstairs during this time period?
Definitely upstairs! Kat and the staff are lucky—they work in a big house with room for servants' quarters and modern-for-the-time facilities. Kat rejoices that she even has her own bedroom, small as it is. In reality, most servants had a life of hard labor, often sleeping four to a bed, rising before dawn, going to bed after midnight, and working every minute in between. Cooks sometimes had to kneel at the stoves before it was common to build them at standing height. Women servants especially had more work and less pay. Households had to pay a luxury tax for every male servant they employed, so it was cheaper for them to hire women to do all kinds of manual labor.
While I prefer life in the twenty-first century with state-of-the-art everything, it was much more comfortable living upstairs in the Victorian age. Better food, bigger beds, and much more freedom and leisure time.
The cast of secondary characters sometimes steal the show from the main storyline, which I personally love (I think Lady Cynthia and Tess are tied for my favorites)! Who are some of your favorite side characters and have they ever surprised you in their actions?
I really enjoy writing Lady Cynthia. She epitomizes how stuck women were in their roles, and how hard it was to break the rules. I enjoy Tess too—I never know what she's going to say! I also like Bobby, Cynthia's friend, who is bold about breaking gender rules. One of my other favorites is Mr. Thanos, the brilliant, overly educated, naive young man who is falling hopelessly in love with Cynthia. I am having fun developing his story arc. Another favorite is Mr. Davis, the butler. He keeps his private life private, and he's a stickler for the rules of the house, but there's depth to him that shows at surprising times.
A new formidable foe of sorts for Kat is introduced in this book – the new housekeeper, Mrs. Daley, who wants to see Kat fired. Have you ever had a work situation where someone did not want to see you succeed? How did you handle it?
No, I haven't had to go through what Kat did, thankfully! I have learned to ignore people who don't want me to succeed—you can't let other people stop you. I say that particularly as an author, because it is a profession in which many people try to stop you, often with the best intentions. (To authors: Don't give up! Never give up!)
The descriptions of Kew Gardens were stunning throughout this book! What kind of research did you do to create such vivid images? Any interesting tidbits you learned while researching? 
Kew is stunning. I have seen it in person, plus the Kew Gardens website, https://www.kew.org/kew-gardens, has many photos and videos of the park and the Palm House and Temperate House. I also have large tomes on the gardens' history, important because what existed in the period in which I'm writing and what exists now are not the same. I will be visiting Kew Gardens later this year—so excited!
Of course, this is a mystery novel, and someone is murdered early in the novel. What are the easiest and hardest things about plotting a mystery? 
What I find easiest is the setup of the crime—who is murdered, how (though that can be left a mystery for a while), and where. From there I look at the people connected to the victim—who are they and what are their stories? The fun part of a mystery is going through the stories surrounding the murdered person and figuring out how, if at all, the stories connect.
The hardest part is keeping track of who was where and when! The logistics. I remember writing one of my other mystery series (I believe it was in The Glass House) when I had the murder weapon both beside the body and at the bottom of the river. At the same time! I'm glad I caught that before publication. Good notes are a must!
While this is a mystery, there's also a deliciously slow-burning romance between Kat and Daniel McAdam, who is something of a man of mystery, and who Kat is keen on figuring out. How has their relationship, both as friends and romantically, changed over the three books so far?
Their relationship grows deeper with each book, as Kat and Daniel come to know more about each other. Daniel is starting to question his dangerous life as he thinks more romantically about Kat, and Kat wonders if she's wise trusting Daniel when he's so elusive. And at the same time, Kat realizes she can trust him. They are both uncertain they even want to be in a relationship and at the same time, love to be around each other. Things will keep going, and book four (title to be determined) will reveal even more of Daniel's secrets.
What can readers expect from you next?
I am writing the fourth book in Kat's series even as we speak, for a 2020 release. I have signed a contract to do that plus book five. I'm also working on a historical women's fiction novel of WWII, plus more romances (Shifters, Mackenzies, and more). I am writing constantly! My website (https://www.jenniferashley.com) lists all current and forthcoming books (posted as I know the information).
Rapid Fire Random Questions
Favorite candy: Chocolate
Favorite way to be kind to yourself: Working on dollhouse miniatures (or purchasing them)
Best compliment you recently gave to someone: You're amazing. Thanks for having my back. (to my husband when he was right there when my car broke down on the side of the road)
Favorite flower: I like them all!
Random interesting fact you like to tell people: I build dollhouse miniatures
Best vacation you've ever taken: To date: Visiting Prague and Budapest. These cities should be on everyone's bucket list.
Earliest celebrity crush: The Monkees (all of them). I was five.
Cake or pie: Cake!
Last book you read that you really LOVED:  Julia Child's My Life in France.
You have a totally free afternoon – no deadlines, no obligations, no Twitter notifications!  What do you do?: Take a long walk, play piano, work on dollhouse miniatures (I'm noting a theme)
Thank you for the interview!
Jennifer Ashley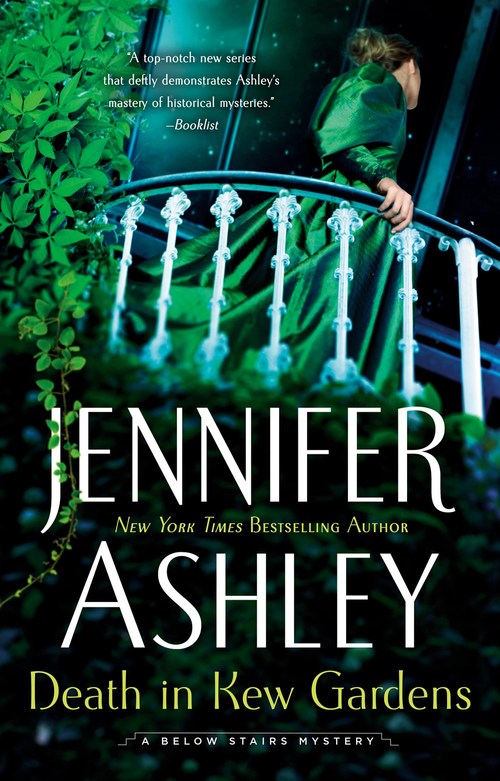 From the New York Times bestselling author of Scandal Above Stairs
Kat Holloway steps out from beneath the stairs and into international intrigue, where murder and stolen treasure lurk among the upper echelons of Victorian London.
In return for a random act of kindness, scholar Li Bai Chang presents young cook Kat Holloway with a rare and precious gift—a box of tea. Kat thinks no more of her unusual visitor until two days later when the kitchen erupts with the news that Lady Cynthia's next-door neighbor has been murdered.
Known about London as an "Old China Hand," the victim claimed to be an expert in the language and customs of China, acting as intermediary for merchants and government officials. But Sir Jacob's dealings were not what they seemed, and when the authorities accuse Mr. Li of the crime, Kat and Daniel find themselves embroiled in a world of deadly secrets that reach from the gilded homes of Mayfair to the beautiful wonder of Kew Gardens.
Mystery Historical [Berkley, On Sale: June 4, 2019, Trade Size / e-Book, ISBN: 9780399587900 / eISBN: 9780399587917]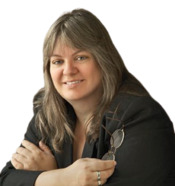 Jennifer Ashley has lived and traveled all over Europe and Asia, once sailing from San Francisco to Japan in a cargo ship. She has now settled with her husband and cat in the sunny southwest to work hard on her next books and drink gallons of gourmet iced tea.
Her books have won the Golden Quill and RT Reviewers Choice awards and RWA's RITA award.
***
Fresh Fiction Editorial Manager Danielle Dresser is an avid reader, lackluster-yet-mighty crafter, and accomplished TV binge-watcher. Once upon a time, she was a publisher publicist and continues to cultivate her love of books and reading by chatting with the best authors in the business. She lives in Chicagoland with her very own romance hero husband, darling daughter, and two tempestuous cats. Follow her on Twitter and Instagram, @dj_dresser.