How does a 17th-century British historian move from mead and murder ballads to cocktails and speakeasies? When I first announced my new series, The Speakeasy Murders set in 1929 Chicago, I was met with excitement and some questions. Why the big jump? After all, my first series was set in mid 17th century London. Some people, very sweetly, even asked if Gina Ricci (my new protagonist) was the great-great-great-great-great-granddaughter of Lucy Campion (my original 17th-century protagonist)!
I get the questions. I mean, on the one hand, as someone who has taught world history from the beginning of recorded time to present day, I can assure you that 260 years is not very long timespan at all! But on the other hand, the Roaring Twenties probably seems a thousand years away from the 1660s, with its decimating plague, religious warfare, and the Great Fire (After all, I used to half-joke that contemporaries referred to 1666 as the "Devil's year.") Socially, culturally, politically—these are very distinct eras, and I approached researching my new series very differently.
While I did seek to familiarize myself through scholarly books with the general trends of the 1920s, and Chicago more specifically, I also spent a lot of time doing more 'fun' research. I watched silent films and the first "talkies." I flipped through the Sears &Roebuck catalog and college yearbooks from the period, and read every single edition of the Chicago Daily Tribune for 1929. I listened to all twenties music as I wrote (looking up the lyrics as I went) to really "hear" the time period. And perhaps most fun, I set out to try one hundred Prohibition-era cocktails before my book was released. (I got through about 35 before I basically gave up. Some were quite….gross. Although they were designed to mask really terrible gin, so guess that worked). I can also walk through the Chicago neighborhood where my story is set, and there are still some buildings from the period I can have coffee in and ponder.
The other interesting thing about writing books set in 1929 Chicago is how 'lived' this history still is for people. Whenever I talk about writing in this period, there's always someone who is ready to share a story about their grandfather who cut Al Capone's hair, or someone else whose great-aunt used to have a bootlegging operation with her husband. People have proudly told me stories learned from their parents about secret tunnels, clothes tailored to hold hidden flasks, and sitting at drug store counters sipping cocktails disguised as fizzy drinks. There was even a tale of a garnet ring passed down from father to son from a man mowed down by a rival gang. And even when I was in a Toronto bar, the owner excitedly showed me how they stored bourbon and whiskey to transport across Lake Michigan to sell (illegally) in Chicago and Milwaukee.
I learned so many other kinds of details as well—beyond the speakeasies, flappers, and gangsters. I learned that ice cream parlors were once as distrusted as houses of ill-repute. I learned that bomb-making—a skill acquired during the Great War—had huge consequences in Chicago—in 1929 alone, there were over 100 bombings of stores, tea rooms, salons, and private homes. And I learned that chewing gum, once a working-class habit, entered the upper class after the stock market crash of 1929 (when only rich people could really afford such a "luxury.") I've learned how black and white film was developed in the 1920s, and I've even learned something about how radios work (because my character Gina knows how to fix them.) While there was definitely a dark side to Prohibition, the fun of the period was certainly delightful to research.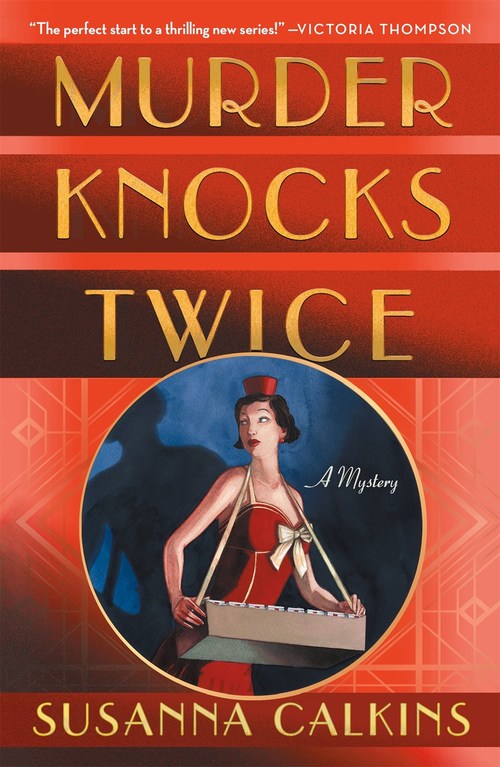 The first mystery in Susanna Calkins' captivating new series takes readers into the dark, dangerous, and glittering underworld of a 1920s Chicago speakeasy.
Gina Ricci takes on a job as a cigarette girl to earn money for her ailing father—and to prove to herself that she can hold her own at Chicago's most notorious speakeasy, the Third Door. She's enchanted by the harsh, glamorous world she discovers: the sleek socialites sipping bootlegged cocktails, the rowdy ex-servicemen playing poker in a curtained back room, the flirtatious jazz pianist and the brooding photographer—all overseen by the club's imposing owner, Signora Castallazzo. But the staff buzzes with whispers about Gina's predecessor, who died under mysterious circumstances, and the photographer, Marty, warns her to be careful.
When Marty is brutally murdered, with Gina as the only witness, she's determined to track down his killer. What secrets did Marty capture on his camera—and who would do anything to destroy it? As Gina searches for answers, she's pulled deeper into the shadowy truths hiding behind the Third Door.
Mystery Historical [Minotaur Books, On Sale: April 30, 2019, Trade Size / e-Book, ISBN: 9781250190833 / eISBN: 9781250190840]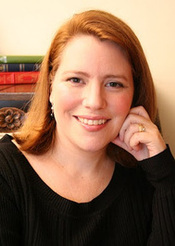 Susanna Calkins, author of the Speakeasy Murders and award-winning Lucy Campion historical series, holds a PhD in history and teaches at the college level. Her historical mysteries have been nominated for the Mary Higgins Clark and Agatha awards, among many others, and The Masque of a Murderer received a Macavity. Originally from Philadelphia, Calkins now lives in the Chicago area with her husband and two sons.