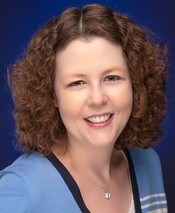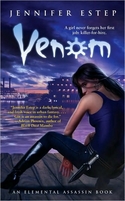 Greetings and salutations! First of all, I want to say thanks to the folks here at Fresh Fiction for having me on the blog today. Thanks, everyone!
Some of you might know me as the author of the Elemental Assassin urban fantasy series. The books focus on Gin Blanco, an assassin code­named the Spider who can control the elements of Ice and Stone. When she's not busy killing people and righting wrongs, Gin runs a barbecue restaurant called the Pork Pit in the fictional southern metropolis of Ashland. The city is also home to giants, dwarves, vam­pires, and elementals – Air, Fire, Ice, and Stone.
The first two books in the series are SPIDER'S BITE and WEB OF LIES. VENOM, the third book, will hit shelves on Sept. 28. TANGLED THREADS, the fourth book, will be published in May 2011, while the fifth book (untitled) will be released in October 2011.
I've also sold a young adult urban fantasy series called Mythos Academy. The first book is called TOUCH OF FROST and will be out in August 2011. The books focus on Gwen Frost, a Gypsy girl who has the gift of psychometry, or the ability to know an object's history just by touching it. After a serious freak-out with her magic, Gwen finds herself shipped off to Mythos Academy, a school for the descendents of ancient warriors like Spartans, Valkyries, and more.
I thought that I'd talk today about a few of my favorite fantasy-related books, movies, and TV shows. I don't know about you guys, but I'm always on the lookout for new books to try and new movies and TV shows to watch. Here goes:
1) THE PRINCESS BRIDE: Is there a more fun, swashbuckling, quotable movie than THE PRINCESS BRIDE
? Inconceivable! I hope that I can write something half as clever as this movie someday.
2) Beauty and the Beast
: To me, this is the best Disney movie ever made and one of my all-time favorites. Great animation, great music, great love story. And yes, I even like the singing and dancing teapots.
3) BEAUTY by Robin McKinley: This retelling of the Beauty and the Beast fairy tale is just beautifully, beautifully written and one of the best versions of the story that I've ever read. If you're a fan of the fairy tale like I am, then you have to read this version.
4) THE HUNGER GAMES by Suzanne Collins: If you haven't read this book, where kids are forced into a televised fight to the death, go out and get it right now. Seriously, it is that good. I'm digging into the two sequels – CATCHING FIRE and MOCKINGJAY – just as soon as I can.
5) The Elenium series by David Eddings: This epic fantasy series is one of several that got me hooked on fantasy books back in high school. There's a knight and a queen, and they have a whole lot of adventures as they try to save their kingdom from the bad guys.
6) THE SWORD OF SHANNARA by Terry Brooks: This is another epic fantasy book that got me hooked on the genre. It's got all the classic elements, including a guy who finds out that he has a great destiny that he has to fulfill in order to save the world. And of course, there's a magic sword too – isn't there always?
7) Chuck:
Yeah, technically, it's a spy show, but there are some fantasy elements involved too – like how Jeff and Lester keep their jobs at the Buy More, given all the crazy stuff that they do.
8) Warehouse 13:
I like this show a lot because it's just fun, and the writers find interesting ways to combine historical figures with the "artifacts" that they might have left behind.
9) Human Target:
This is another fun, action-packed show, based on a comic book. Christopher Chance is the world's best (and most laid back) bodyguard, but Jackie Earle Haley steals the spotlight as Guerrero.
10) The old Wonder Woman show with Lynda Carter and the old Batman show with Adam West:
Lots of superheroes are all gloom and doom these days, but I have fond memories of watching both of these shows as a kid. Sure, the shows are cheesy, but there's a magic to them that has endured over the years – at least for me.
So there you have it. Some of my favorite fantasy things from classic oldies to some new stuff that I'm digging. What about you guys? What are some of your favorite fantasy things?