Dear Readers:
Magic, mayhem, and an assassin who never gives up—these things and more can be found in WINTER'S WEB, the latest novella in my Elemental Assassin urban fantasy series.
The Elemental Assassin series focuses on Gin Blanco, an assassin codenamed the Spider who can control the elements of Ice and Stone. When she's not busy killing people and righting wrongs, Gin runs a barbecue restaurant called the Pork Pit in the fictional Southern metropolis of Ashland. The city is also home to giants, dwarves, vampires, and elementals—Air, Fire, Ice, and Stone.
In WINTER'S WEB, Gin and her friends volunteer to help out at a renaissance faire. Everyone is determined to relax and have a good time—until Gin notices something slightly off about the larger-than-life characters. Some folks might be dressed up as gallant knights, but their swords are very, very real—and so are their dark and deadly intentions toward Gin and her friends.
Read an excerpt of WINTER'S WEB: https://www.jenniferestep.com/books/winters-web/
If you enjoy WINTER'S WEB, I hope that you'll check out the other novellas and books in the series. I hope that everyone has as much fun reading Gin's adventures as I do writing them. Happy reading! 😊
New York Times bestselling author Jennifer Estep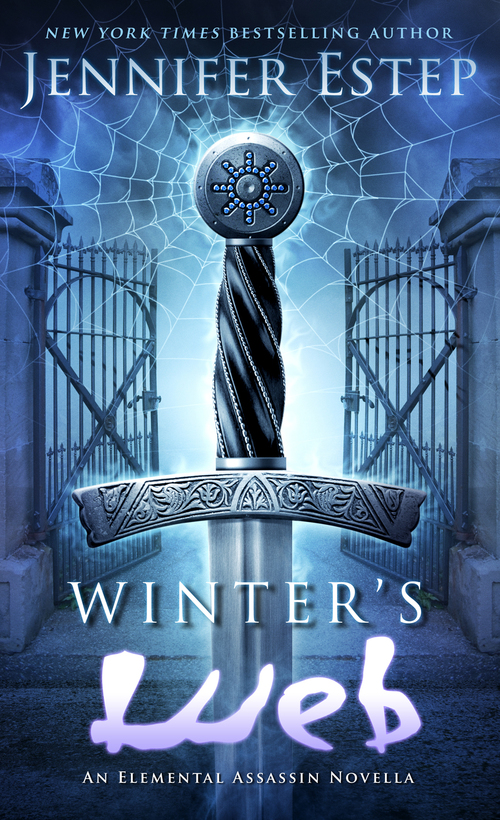 An assassin at a renaissance faire. What could possibly go wrong? Everything, if you're the Spider . . .
I might be Gin Blanco, aka the assassin the Spider, but even I need a break from the bad guys every now and then. So when Owen Grayson, my significant other, suggests a trip to the Winter's Web Renaissance Faire, it sounds like a perfect distraction from all my problems.
The faire starts off innocently enough, but something seems slightly off about the cheery atmosphere and costumed characters. Maybe I'm being paranoid, but I can't help but feel like I'm trapped in someone else's icy web—and that they don't want me to leave the faire alive . . .
Note: Winter's Web is a 27,000-word novella that takes place after the events of Venom in the Veins, book 17 in the Elemental Assassin urban fantasy series. Winter's Web first appeared in the Seasons of Sorcery anthology in 2018.
Romance Paranormal [ On Sale: March 12, 2019, e-Book]
Jennifer Estep is a New York Times, USA Today, and international bestselling author prowling the streets of her imagination in search of her next fantasy idea.
Jennifer writes the Elemental Assassin urban fantasy series. Winter's Web, novella #17.5, will be released on March 12. Winter's Web first appeared in the Seasons of Sorcery fantasy anthology in 2018.
Jennifer is also the author of the Crown of Shards, Mythos Academy, Bigtime, and Black Blade fantasy series.
For more information on Jennifer and her books, visit www.jenniferestep.com or follow Jennifer on Facebook, Goodreads, and Twitter. You can also sign up for her newsletter.
"This series kicked off with a bang, and the action hasn't let up since." – Fresh Fiction
"Break out the snacks and settle back, for ultra-talented Estep is back with the next spine-chilling chapter in the life and death adventures of assassin extraordinaire Gin Blanco (aka the Spider) … This is book 17 in this phenomenal series, yet Estep has managed to keep the plots intriguing and readers completely invested in these amazing characters, their relationships and all their varying foibles." – RT Book Reviews on Venom in the Veins – Five Gold Star rating
WINTER'S WEB EXCERPT
"I look ridiculous."
I stared at my reflection in the mirror above the long counter that ran along the wall. Even though I had been peering at myself for the better part of a minute, I still couldn't believe what I was seeing.
Normally, my wardrobe could best be described as functional. Black boots, dark jeans, a long-sleeved T-shirt, a fleece jacket if the weather was cold. I never invested a lot of time or money in my clothes, since they had an annoying tendency to get ripped, torn, and covered with other people's blood.
But today I had left functional behind for flamboyant.
A royal-blue silk blouse with ruffles running down the front stretched across my chest. As if the color wasn't bright and bold enough, the entire garment was also covered with shiny thread, glittering sequins, and tiny feathers, all in black. I looked like I'd killed a couple of crows and was proudly wearing their fluttering feathers as some sort of macabre trophy. Plus, the sequins caught the light with every breath I took, and they winked at me in the mirror like dozens of little evil eyes.
But that was only the beginning of my unfortunate ensemble.
In addition to the dead-bird blouse, I was also wearing a black leather lace-up corset covered with even more black feathers and sequins. The tight corset pushed my breasts up to new and impressive heights, and my sudden abundance of cleavage was on display for all to see, thanks to the blouse's deep scooped neckline.
The plunging neckline also showed off the silverstone pendant resting in the hollow of my throat—a small circle surrounded by eight thin rays. A spider rune, my rune, and the symbol for patience. A matching ring stamped with my spider rune gleamed on my right index finger, and the same symbol was branded into each of my palms.
Tight black leather pants and knee-high black leather boots, both trimmed with royal-blue thread and even more black sequins and feathers, completed my outrageous outfit.
Normally, royal blue was one of my favorite colors, but this outfit screamed Look at me! in all the wrong ways. The only good thing about the atrocious ensemble was that the abundance of thread, sequins, feathers, and flounces hid the two silverstone knives I had up my sleeves. Another knife was tucked in the small of my back underneath the horrible corset, and two more rested in the sides of my boots.
"Well, I think you look great," a bright voice chirped, interrupting my dark musings. "Really in the spirit of the season."
A man stepped up beside me and checked his own reflection in the mirror. His long-sleeved shirt and pants were both made of bright green velvet trimmed with even brighter purple silk stripes, making him look like an oddly flavored candy cane. A matching green-and-purple-striped velvet hat with three long, pointed, floppy ends topped his head, while the toes of his green velvet slippers curled up to form soft purple triangles.
Finnegan Lane, my foster brother, reached up and carefully adjusted one of the shiny silver bells on the end of his hat. All that velvet made his eyes seem greener than usual, although the ridiculous hat hid most of his walnut-brown hair.
"What are you supposed to be again?" I asked.
Finn lifted his chin with pride. "I am a court jester, ready to entertain the masses with my charming wit, amazing skills, and dashing good looks."
"Really? Because I think all that green velvet makes you look like one of Santa's elves who couldn't find his way back to the North Pole."
Finn glared at me, but the other people in the room snickered at my joke.
"Forget about you." I held my arms out wide. "I don't even know what character I'm supposed to be."
Finn grinned and opened his mouth, but I stabbed my finger at him in warning.
"If you say serving wench, then I am going to make you eat that jester's hat, velvet, bells, and all," I growled.
He cleared his throat, changing course. "Well, I was going to say pirate queen, but why don't we just go with assassin? After all, that is your usual nighttime occupation."
I made a face, but he was right. During the day, to most normal people, I was Gin Blanco, owner of the Pork Pit barbecue restaurant in downtown Ashland. But at night, to the shady folks on the wrong side of the law, I was the Spider, a deadly assassin and the supposed queen of the city's underworld.
"Well, pirate queen, assassin, or whatever else you want to call me, I still look ridiculous," I grumbled. "Fletcher would roll over in his grave if he saw me dressed like this."
Fletcher Lane had been Finn's dad and my assassin mentor. And just like me, Fletcher had always been far more comfortable in his old blue work clothes than anything else.
"Nah," Finn said. "He'd laugh his ass off, then make us pose for pictures."