Enjoy this fun interview between bestselling author SOPHIE JORDAN and Fresh Fiction Editorial Manager, Danielle Dresser!
For readers who aren't caught up, can you tell us a bit about the Rogue Files series, and your latest release, This Scot of Mine?
Well, believe it or not, This Scot of Mine is the fourth book in the Rogue Files series. They're all connected through characters often family members. By book four it's a little challenging to relate how they are all connected. Book five, possibly the last in the series, is coming this October. Hmm. Maybe it's time for a family tree!?  
This Scot of Mine is a crazypants idea I came up with while on a writers retreat …. I pitched it to some of my other fabulous writer friends and we all brainstormed until I arrived at the final idea of a girl who PRETENDS to be ruined and pregnant (all lies for good reason) and gets paired up with the hero who needs to get married but has this curse hanging over his head. 
I've read about secret babies before, but not so much about made-up pregnancies in historicals! Clara was such a fun heroine. What was your favorite part about writing her as a character?
Thank you – I loved her strength. She's very resourceful and really a heroine with modern sensibilities. She wants to do the right thing, but not at the sacrifice of herself. She'd rather endure ruin than marry someone she doesn't want to wed.
Hunt, our hero and laird of his clan in Scotland, is in an interesting predicament – a family curse that seemingly kills the laird before his firstborn child is born. Did you do any research into curses throughout history? Where did the idea for this particular curse stem from?
I didn't research curses, but we can probably blame my love of Disney. Sleeping Beauty, Beauty and the Beast, Snow White, to name a few. I feel as though I was raised on these animated films. Oh!! And let's not forget Buffy! Anything featuring star-crossed lovers battling a prophetic curse always ending in the words "…. and die!" feeds my ID.
You write across a variety of genres! Do you find your writing process varies between them, or is it similar for each? Any advice for writers looking to expand into different genres?
It's always about the story for me — two characters falling in love against insurmountable odds. That's the story no matter the genre. Writers should focus on that foremost and always. The genre is just the "wrapping"…
This Scot of Mine was recently discussed on the Fated Mates podcast – how cool! Do you listen to any podcasts or follow any sites/blogs regularly?
I listen to Fated Mates, of course! Sarah and Jenny are hilarious and smart. I love them. I also enjoy the Wicked Wallflowers and Boobies & Noobies. I also belong to several FB reader groups and feel as though I get a good dose of what's happening in romance land that way.  
What can readers expect from you next?
My next historical is THE DUKE'S STOLEN BRIDE … already up for preorder. It's Marian's story. You'll meet her in THIS SCOT OF MINE. I'm also still writing young adult, and I had a book just release, THE ME I MEANT TO BE. Next summer (2020), KISSING LESSONS will release.
Rapid Fire Random Questions
Favorite candy: gummy bears
Favorite way to be kind to yourself: getting a massage 
Best compliment you recently gave to someone: I try to let people know when they are kind. I just tell them that — probably a few times a week. Whenever I encounter a nice person I tell them that "You're a kind person". There's so much focus on the negative and ugliness out there, I want to draw attention to the good.
Favorite flower: Orchid
Random interesting fact you like to tell people: Hmmm… maybe: You can catch up on sleep deprivation and elongate your life by sleeping-in (heavily) at least one day a week. I heard a doctor on the news say this once and it's always stuck with me. I try to sleep in one day a week to make up for the other nights I didn't get enough sleep.
Best vacation you've ever taken: Scotland!
Earliest celebrity crush: Beau from Dukes of Hazard … I was four years old.
Cake or pie: Pie
Last book you read that you really LOVED: Scoring Off The Field by Naima Simone
You have a totally free afternoon – no deadlines, no obligations, no Twitter notifications!  What do you do?: Veg out and watch TV and take a nap!
Many thanks to Sophie for joining us today!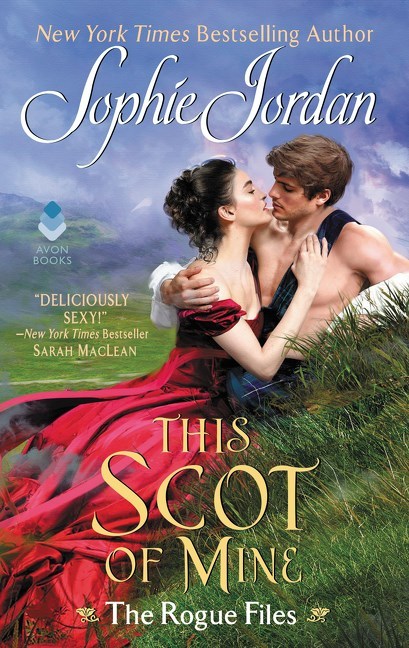 From USA Today bestselling author Sophie Jordan comes the next heartstopping romance in her beloved Rogue Files series.
A daring deception…
Desperate to escape her vile fiancé, Lady Clara devises a bold lie – that she's pregnant with another man's child. With her reputation in tatters, Clara flees to Scotland to live out her days in disgrace, resigned to her fate as a spinster…until she claps eyes on the powerful and wickedly handsome Laird Hunt MacLarin.
She's the answer to his curse…
Laird of an ancient clan, Hunt needs an heir, but he comes from a long line of men cursed to die before the birth of their firstborn. When the Duke of Autenberry approaches him with a proposition- –marry my ruined sister–it seems the perfect solution. Even better, the defiant lass stirs him to his very soul.
No escaping the truth…
Except marriage cannot set them free. No matter how much Hunt desires her. No matter how much Clara burns for him. Soon she is falling for her husband, but is love enough to end the curse? Or is the tragic history of the MacLarin Clan doomed to repeat itself?
Romance Historical [Avon, On Sale: March 12, 2019, Paperback / e-Book, ISBN: 9780062463661 / eISBN: 9780062463678]

A sensual and original romance that requires tissues at the ready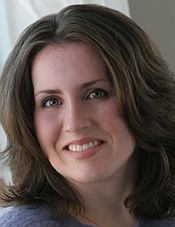 Sophie Jordan took her adolescent daydreaming one step further and penned her first romance in the back of her high school Spanish class. This passion led her to pursue a degree in English and History.
A brief stint in law school taught her that case law was not nearly as interesting as literature – teaching English seemed a natural choice. After several years teaching high school students to love ANTIGONE, Sophie decided it was time to pursue her long-held dream of writing. Two years later, she landed her first publishing contract.
Her first book, ONCE UPON A WEDDING NIGHT, was a 2006 Romantic Times Reviewers' Choice Nominee for Best First Historical. Her second novel, TOO WICKED TO TAME, released in March 2007 with a bang – landing on the USA Today Bestseller's List. A few books later marked her first appearance on the New York Times bestseller list with the release of IN SCANDAL THEY WED.
And as if she's not busy enough, Sophie writes young adult fiction for HarperTeen and contemporary paranormals for Pocket. Sophie resides in Houston with her family and loves to hear from readers.