I have a soft spot for surly characters. When Tamsin needed to escape in my second novel, Stick Figures from Rockport, I created an entire Maine town to serve as her quick retreat. And in the miraculous way a vibrant scene can arrive fully formed in a writer's mind, Helen's Tavern came to be. In an instant, every inch of that bar became clear to me, including Logan Cole, the unlikely bartender who would rather be anywhere else. Something about her and that town called to me, so when it came time to write my next book, I was eager to return and create The Collected Stories of Ramsbolt.
Like my own hometown, Ramsbolt is smaller than it thinks, but it dreams big. It has bold personalities. Every good egg has made its mistakes and must earn its redemption, and even the curmudgeons find their way into your heart.
Blood and Sand was the start of a town built on a bedrock of belonging. However reluctant, the town draws in characters one by one, and Logan – the city girl who'd lost everything – is the first to learn that the one thing she wants more than anything is to belong in the place she once hated the most.
I thoroughly enjoyed crafting her evolution from beer-spiller to cocktail queen, and readers begged for recipes. Here are five of my favorites – just for fun.
***
Elderflower Grapefruit Old Fashioned
2 oz Whiskey
½ oz Elderflower Liqueur
1.25 oz Grapefruit Juice
2 dashes of grapefruit bitters
Shake with ice for 30 seconds. Strain into a rocks glass.
***
John Collins
1.5 oz Whiskey
1.5 oz Lemon Juice
Splash of Simple Syrup
Top with Club Soda
Place the first three ingredients in a highball glass (or any glass you prefer!), then top with club soda.
***
Earl Grey Old Fashioned
2 oz Whiskey
2 tsp Earl Grey Simple Syrup
2 dashes Fee Brothers Old Fashioned Bitters
This is my favorite lazy cocktail. I just drop all the ingredients in a glass, toss in an ice cube and swirl. Garnish with a cherry.
To make the syrup: Bring 1 cup of water to a boil. Lower the heat and stir in 1 cup of sugar. After the sugar is dissolved, turn off the heat and add 3 earl grey tea bags (I use decaf). Let it sit for 10 minutes. Store in the refrigerator.
***
Monongahela Mule
4 Raspberries
6 Mint Leaves
2 oz Rye
¾ oz Lemon Juice
½ oz Ginger Syrup
Muddle berries and mint in a shaker. Add remaining ingredients and shake. Double strain into a highball glass and garnish with mint.
***
Blueberry Thyme Amaretto Sour
1.5 oz bourbon
1.5 oz amaretto
0.75 oz lemon juice
1/2 oz egg white
1/4 oz blueberry thyme syrup
Dry shake (no ice) for 10 seconds. Add ice and shake for 30 more seconds. Strain into a glass and garnish with thyme and blueberries.
To make the syrup, bring to a boil 1 cup of water with 1 cup of blueberries, 1/2 cup of honey, and five thyme sprigs. Simmer for 12 minutes. Press the juice through a strainer into a jar and store in the fridge.
About The Collected Stories of Ramsbolt Series
The Collected Stories of Ramsbolt is a series by Jennifer M. Lane, award-winning author Of Metal and Earth and Stick Figures from Ramsbolt. Fresh and heart-warming, the series tells the stories of a small town looking for belonging.
Books include Blood and Sand, Penny's Loft, Hope for Us Yet, A Good Day for Pie, and The Worsted House. The sixth book in the series will be released in the spring of 2021.
***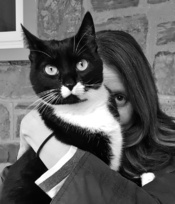 A Maryland native and Pennsylvanian at heart, Jennifer M. Lane holds a bachelor's degree in philosophy from Barton College and a master's in liberal arts with a focus on museum studies from the University of Delaware, where she wrote her thesis on the material culture of roadside memorials. She once co-hosted a daily automotive blog and served as the president of a large car club.
She is the author of the award-winning novel Of Metal and Earth, of Stick Figures from Rockport, and The Collected Stories of Ramsbolt.