Damn it. She hadn't meant to let that slip. How could she pretend to be her sister, even going so far as to dress like her and wear glasses, and yet not be able to simply hold her tongue?
Hannah squared her shoulders and stared across the table. Will Sutherland was so damn sexy, that's why. He had her so flustered she couldn't think.
All of this was his fault.
How could she keep up her disguise when all she could think about was raking her fingers through that hair to see if she could mess it up? Those lips, which were now thinned with frustration, seemed soft. Was he a good kisser?
She hadn't felt much of an attraction toward any man in a long time. Why did this man, of all the ones in her world, have to grab her attention? She'd hoped that pretending to be Hallie would tamp down some of the heat she felt whenever he was near.
No such luck and now she'd gone and blown her cover. As if she needed more problems.
She'd known switching record labels would be difficult, no matter which one she chose. Mags ruled this town and she hadn't wanted Hannah to move on. But Elite, and Will, were the best fit for where she wanted to go next. So she'd hoped she'd be able to ignore her attraction to one of the sexiest men in Beaumont Bay.
Apparently she'd have to do more than pose as Hallie to keep her head on straight and focus on her career.
"What the hell game are you playing?" Will leaned forward and spoke through gritted teeth, pull­ing her from her thoughts.
Oh, those deep blue eyes got just a touch darker. Anger and arousal sometimes teetered on the very same thin line.
She clasped her hands together under the table, pushing aside her awareness. No way could she act on her desires. What would come of that? If Will re­turned her advances, then what? The media would eat them both alive and she'd be seen as getting this deal because she'd slept her way into it. All her work in establishing her new persona—and getting her own songs out into the world—would be for nothing.
No way in hell would she tarnish her reputation or that of Elite Records. Singing and performing were her entire life. She'd already risked nearly ev­erything to leave Cheating Hearts for a chance at something new. She had nothing left to gamble on a fleeting attraction.
Besides, she'd chosen Elite because of their strong familial bond. Will and his three brothers were all in the music industry in one form or another. She knew having all of that surrounding the Elite name would help her in this new phase of her career.
"I'm not playing a game," she retorted with her sweetest tone.
"Then why the ruse?"
The barista interrupted them by setting down their drinks, then left them alone once again. Han­nah reached for her chai tea with a splash of almond milk. Ah, yes. Perfect. A little touch of normalcy and familiarity in this tense moment was exactly what she needed to relax and feel more grounded.
"Hannah," Will commanded.
She met his gaze and shrugged as she curled her fingers around the mug. "I wanted to know more about what you were like as a person. Hallie met with you before, then we all signed papers, but I wanted a one-on-one in a relaxed setting to get you to know you without the pressure of you realizing who I really was."
He didn't say a word, but merely continued to stare with those striking eyes. A muscle clenched in his jaw. It was a strong jawline with a little dark shadowing of facial hair… Yum.
Calm down, Hannah. He can make or break your next career move.
If she wanted to be seen as something more than a young girl with cutesy songs, she needed Will. She needed this change. She wanted out of the rut that Mags had put her in, and the next chapter of her ca­reer hinged on getting everything right at this very time in her life. She couldn't afford mistakes if she wanted to go to the next level in the music industry and be seen as a serious songwriter.
"I don't know you very well." She forced herself to focus on the business and not the attraction that settled between them. "But I risked a great deal to come to your label. I wanted to know a little more about you as a person before I spoke to you as me."
"That makes no sense," he said. "And from here on out, there are no games."
"I'm not playing a game," she insisted again. "This is my career. I'm simply looking out for my­self."
(c) Jules Bennett, Harlequin Books/Harlequin Desire, 2021. Reprinted with permission from the publisher. 
Dynasties: Beaumont Bay #1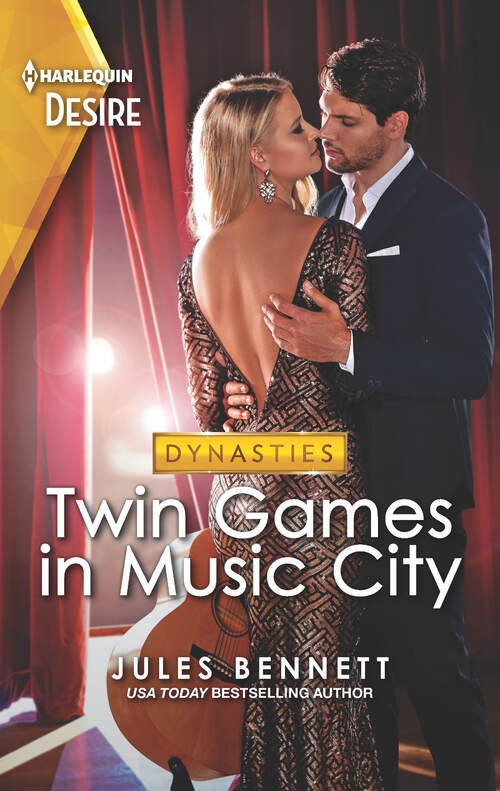 Country singer Hannah Banks wants what she shouldn't have.
The owner of Hannah's new label–the man in charge of her career–is way too hot. So hot he's all she can think about… So to put distance between them, she poses as her quieter twin sister. That should keep temptation away…
Except Will Sutherland doesn't play games. He wants the real Hannah–in his studio and in his bed–as long as what's between them stays their secret. But when an old rival uncovers the truth, Will must choose between playing the press or playing for keeps…
Romance Billionaire | Romance Series | Romance Contemporary [Harlequin Desire, On Sale: April 1, 2021, Mass Market Paperback / e-Book, ISBN: 9781867228868 / eISBN: 9781488070549]
USA TODAY bestselling author Jules Bennett lives in the Midwest with her two girls and her high school sweetheart husband. She published her first book in 2005 and hasn't stopped creating unique, fascinating characters since. She often takes her plots from songs, dreams, or those special people in her life.
Jules is the author of contemporary romance from small town to billionaires. While she is good friends with other romance authors, she still fan-girls at signings like any loyal reader.