1–What is the title of your latest release? 
2–What is it about? 
Three generations of women in the Ferrari family must heal the broken pieces of their lives on a trip of a lifetime through picturesque Italy.
3–What do you love about the setting of your book? 
The book literally takes you through a tour of Italy, from Rome all the way to Tuscany. It's full of amazing food, wine, and experiences that Italy is beloved for.
4–How did your heroine(s) surprise you? 
There are actually three heroines in this book. Francesca is 49, Allegra is 18, and Sophia is 75! I love diving into the various points of view for each age. I think what surprised me the most about all of them is the inner strength each of them have to keep them pushing through challenges.
5–Why will readers love your hero(es)? 
There are two main heroes in this book! Enzo is the Italian tour guide, and Ian is one of the tour members from Ireland. Enzo falls for Francesca, and Ian falls for Allegra. These love stories are both very different but extremely emotional and poignant. I know these two men will make my readers swoon!
6–What was one of your biggest challenges while writing this book (spoiler-free, of course!)? 
Balancing all three characters and doing a deep dive into each of their lives to bring to the page. But it was so worth the effort! There is an intimacy about their story women will be able to truly resonate with.
7–Do you look forward to or do you dread the revision process? 
I adore the revision process much better than the first draft!
8–What's your favorite snack to have on hand while writing? 
I love cashews and almonds because they're fun to eat and full of protein. Extra bonus points if they are covered in chocolate!
9–Where would you go for an ideal writer's retreat? 
Italy! Preferably Tuscany!
10–What's the best piece of writing advice you've received? 
Never give up, and always finish the damn book.
11–Who is the fictional character you want to hang out with the most? (anyone in literature!)
I'd say Enzo, the main character, from THE ART OF RACING IN THE RAIN. He's a dog. But if I'm looking for the hottest hero ever, it'd be Wrath from JR Ward's DARK LOVER! He just may intimidate me a little, lol!
12–What's one of your earliest book memories? 
My father dragging in a huge box of books he'd gotten from the library sale. My mom yelled at him because it was filled with romance novels. I read through them all and knew I'd become a romance author one day.
13–If you had to write in a different genre, what would it be and why? 
I'd love to write a book about a rescue dog and how he changes someone's life. That's on the bucket list!
14–What song will automatically put you in a good mood? 
Lately, it's been Dance Monkey, hahaha! Just makes me want to dance every time I hear it!
15–What is your favorite way to practice self-care? 
Meditation. Stillness every day is a game-changer.
16–What can you eat and never get sick of? 
Potato chips. Give me all the salt!
17–Will you share a favorite, recent-ish book you recommend? 
Sure, I'm a voracious reader so I inhale new books. I loved Evie Dunmore's novel, A ROGUE OF ONE'S OWN, TIES THAT TETHER by Jane Igharo, and MY DARK VANESSA by Kate Elizabeth Russell.  
18–Do you have any hobbies? 
Hmm, just reading and watching shameful reality television!
19–Are you an early bird or a night owl? 
A definite night owl. I stay up to all hours and love to sleep in.
20–What can readers expect from you next? 
Excited to share I'm working right now on my next book, THE ITALIAN GETAWAY. And my last book in the Sunshine Sister series will be out April 2020 called FOREVER IN CAPE MAY.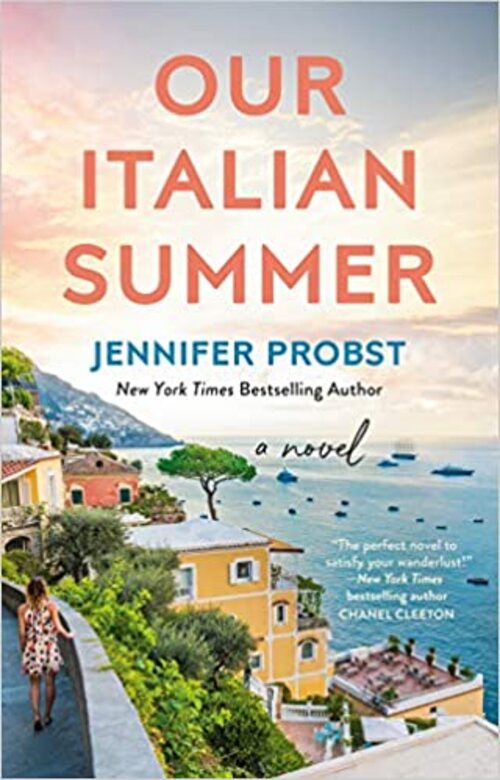 Three generations of women in the Ferrari family must heal the broken pieces of their lives on a trip of a lifetime through picturesque Italy from New York Times bestselling author Jennifer Probst
Workaholic, career-obsessed Francesca is fiercely independent and successful in all areas of her life except one: family. She struggles to make time for her relationship with her teenage daughter, Allegra, and the two have become practically strangers to each other. When Allegra hangs out with a new crowd and is arrested for drug possession, Francesca gives in to her mother's wish that they take one epic summer vacation to trace their family roots in Italy. She just never expected to face a choice that might change the course of her life. . .
Allegra wants to make her grandmother happy, but she hates the idea of forced time with her mother and vows to fight every step of the ridiculous tour, until a young man on the verge of priesthood begins to show her the power of acceptance, healing, and the heartbreaking complications of love.
Sophia knows her girls are in trouble. A summer filled with the possibility for change is what they all desperately need. Among the ruins of ancient Rome, the small churches of Assisi, and the rolling hills of Tuscany, Sophia hopes to show her girls that the bonds of family are everything, and to remind them that they can always lean on one another, before it's too late.
Women's Fiction [Berkley, On Sale: January 12, 2021, Trade Size / e-Book, ISBN: 9780593098462 / eISBN: 9780593098479]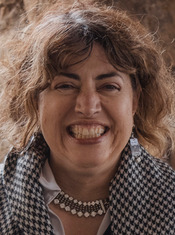 Jennifer Probst wrote her first book at twelve years old. She bound it in a folder, read it to her classmates, and hasn't stopped writing since. She holds a masters in English Literature and lives in the beautiful Hudson Valley in upstate New York. Her family keeps her active, stressed, joyous, and sad her house will never be truly clean. Her passions include horse racing, Scrabble, rescue dogs, Italian food, and wine—not necessarily in that order.
She is the NYT, USA Today, and Wall Street Journal bestselling author of sexy and erotic contemporary romance. She was thrilled her book, The Marriage Bargain, spent 26 weeks on the NY Times. Her work has been translated in over a dozen countries, sold over a million copies, and was dubbed a "romance phenom" by Kirkus Reviews. She loves hearing from readers. Visit her website for updates on new releases at www.jenniferprobst.com. Sign up of her newsletter at www.jenniferprobst.com/newsletter for a free book.