I've long been a sucker for all things royal. I'm one of those who set my alarm to be sure to wake in the middle of the night to watch Diana marry Prince Charles, way back when. Shame that whole fairy tale turned into an unfortunate costume drama with a very bad ending. But before it did, not too many years later while working in Washington, DC, I was actually hired to be the official photographer for Prince Charles at the British Embassy while he was visiting DC.
At the time I was pregnant with my first child and I laughingly imagined how between photographs, Chuck and I would maybe swap stories about married life and child-rearing, and we could, by dint of our similar stages in life, end up being trans-Atlantic BFFs. I could have hosted him and Di at our humble split-level for dinner, he could have had us to the palace if we ever got to London. I'm sure the Queen and I would have got on famously. It would have been fantastic.
Well, we all know where that thing went. Before we knew it, we learned that Charles was hanky-pankying with Camilla, and Diana, well, maybe she wasn't the most textbook of fairytale princesses. So sure, in real life royalty might not be all that it's cracked up to be, but in books I discovered how much fun it can be to create a royal world with people I would want to hang out with. Which is what I did with the It's Reigning Men series, my contemporary romantic comedy series set in the fictional European principality of Monaforte. The royals I've written are thoroughly modern and fun and hot and sexy and maybe a little bit snarky at times. Book 5 in the series, SHAME OF THRONES, launches today, and I hope you'll be able to check it out! In the meantime, since it's the holiday season, I thought I'd share with you my favorite holiday recipe, something that came down from my great- great-grandmother, something my children now want each year with our holiday dinner. It's included in my #1 Kindle bestselling novel, SLIM TO NONE, but here it is for you to enjoy!
Rice Croquettes
Ingredients:
1 quart (4 cups) milk
3 tbl. sugar
1 tsp. vanilla extract (not vanilla flavoring)
1 tsp. kosher salt
4 sticks cinnamon
¾ c. raw rice (long-grain; not instant!)
Kellogg's Corn Flake Crumbs (about 3 to 4 cups)
Peanut oil (2-3 bottle of Planter's brand)
Red currant jelly (available at Giant and specialty food stores)

Directions:
In double boiler on high, with water in bottom pan just shy of touching the bottom of insert pan, bring to scald one quart (four cups) whole milk. You will know it is scalded when a thin skin forms on surface of the milk. Then add 3 tbl. Sugar, 1 tsp. vanilla, 1 tsp. salt, 4 sticks cinnamon, and ¾ c. raw rice. Stir well.
Cook on low to medium temperature for several hours, stirring occasionally, and checking to be sure water doesn't boil away from bottom pan (add more when necessary), until mixture is so thick you can barely stir it with a wooden spoon. Let cool (can refrigerate overnight if need be).
Shape into 1″ balls, roll in egg and then in corn flake crumbs to coat.
Deep-fry in peanut oil at 375º or in wok on medium high. Can be refrigerated and re-heated in 350º oven for about 12-15 minutes.
Serve warm with red currant jelly.
If you'd like to stay up-to-date on my latest releases and fun prizes and giveaways, feel free to sign up for my newsletter here.
Speaking of giveaways, I'm raffling off three digital copies of SHAME OF THRONES and if you comment below, you'll be eligible to win!
Thanks for checking out my books and have a great holiday!
Jenny
Jenny Gardiner is the author of #1 Kindle Bestseller SLIM TO NONE and the award-winning novel SLEEPING WITH WARD CLEAVER. Her latest works are the It's Reigning Men series, featuring SOMETHING IN THE HEIR; HEIR TODAY GONE TOMORROW; BAD TO THE THRONE; LOVE IS IN THE HEIR; and SHAME OF THRONES. She also published the memoir WINGING IT: A MEMOIR OF CARING FOR A VENGEFUL PARROT WHO'S DETERMINED TO KILL ME, NOW RE-TITLED BITE ME: A PARROT, A FAMILY AND A WHOLE LOT OF FLESH WOUNDS; the novels ANYWHERE BUT HERE (soon to be re-released); WHERE THE HEART IS; the essay collection NAKED MAN ON MAIN STREET, and ACCIDENTALLY ON PURPOSE and COMPROMISING POSITIONS (writing as Erin Delany); and is a contributor to the humorous dog anthology I'M NOT THE BIGGEST BITCH IN THIS RELATIONSHIP. Her work has been found in Ladies Home Journal, the Washington Post, Marie-Claire.com, and on NPR's Day to Day.
She has worked as a professional photographer, an orthodontic assistant (learning quite readily that she was not cut out for a career in polyester), a waitress (probably her highest-paying job), a TV reporter, a pre-obituary writer, as well as a publicist to a United States Senator (where she first learned to write fiction). She's photographed Prince Charles (and her assistant husband got him to chuckle!), Elizabeth Taylor, and the president of Uganda. She and her family now live a less exotic life in Virginia.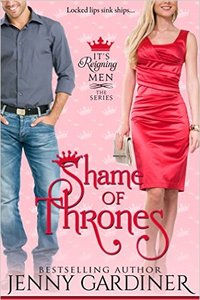 Locked Lips Sink Ships… 
Lady Clementine needs a getaway. Badly. The best way to get
her mind off of the unexpected loss of her beloved father is
to usher her best friend Pippa away to a surprise Caribbean
rendezvous with Prince Christopher. It's an added bonus that
she stumbles upon her own tropical fling with boat captain
Sebastian, Topher's cousin.
Sebastian Chevalier walked away from Monaforte long ago.
Weary of dealing with the fallout from his parents' on
again/off again union, he sought solace in the water and
never looked back. And he isn't about to allow even the
irresistible charm of Clementine to get in the way of his
carefree existence, and readily gives her the old heave-ho.
But can Clementine take the wind out of his footloose and
fancy-free sails?