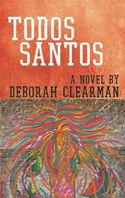 Have you ever imagined what it would be like to start anew, even for just a few weeks, in a foreign country? A new identity, new customs to learn, and most especially a new lease on life! I guess if I really wanted to know the ins and outs, I could ask the members of the Russian spy ring! All kidding aside, life sometimes seems so fast-paced and all-consuming that it is difficult to find time to stop and smell the roses.
This month's Jen's Jewels Deborah Clearman addresses this very topic in her debut novel, TODOS SANTOS. Set in Guatemala, it's the story of one woman's plight to start anew while coming face to face with adversity in the jungles of a third world country. Beautifully written with the richness of the countryside accenting the backdrop of her tale, it's a novel worth the read.
As part of this interview, Black Lawrence Press has generously donated five copies for you, my favorite readers, to try to win. So, don't forget to look for the trivia question at the end. And as always, thanks for making Jen's Jewels a part of your reading adventure.
Jen: In order to truly appreciate your path to publication, it's necessary to start at the very beginning. So that my readers may have a better understanding of the woman behind the words, please share with us your educational and professional background.

Deborah: I graduated from Bryn Mawr College with a BA in Fine Arts, then went on to get a BFA from Cooper Union and an MFA in Painting from Indiana in Bloomington Indiana. I managed to spend most of my twenties in school, when I wasn't working as a waitress.
Jen: Living in the Baltimore area, I found it fascinating when I read that you had grown up on a tobacco farm in Southern Maryland. Describe for us this experience and how it affected your perception of the world in which we live.
Deborah: Upper Marlboro was very much steeped in the past when I lived there, with old families who still owned farms granted to their ancestors by Lord Baltimore. The house I grew up in was built in 1820. My family (newcomers— we moved there when I was 7) rented. The owner was a Hungarian movie actress living in D.C. who had bought the house and 40 acres during the Hungarian Revolution of 1956, hoping some of her relatives would get out. Apparently none did. The first few years we were there, she rented the fields out to a local tobacco farmer. I vividly remember the planting. A tractor dragged an attachment that poked a hole in the ground, into which a man or boy riding on the attachment stuck a young tobacco plant by hand, which was then watered by rudimentary container on the machine. On some farms nearby, this machine was still pulled by horse, rather than tractor. In summer the tobacco fields were lush and green. Our barn filled up every fall with the harvested plants, hung in the rafters to dry. The delicious spicy aroma of the drying tobacco filled the countryside (and I've never been a smoker!). In February, the farmer and his family and hired help gathered in our barn to strip the leaves off the plants, tie them into bundles—called hands—and pack them into giant barrels, called hogsheads. I helped with the stripping. It was great fun for me—work for them. There were large warehouses in Marlboro where the tobacco was auctioned in late winter, a major event in the town. Most of the buyers came from Europe. There was only one shabby hotel in town; I can't imagine what it was like for them.
Later, with the landlord's permission, my mother took over the fields and barn for her horses. Marlboro was also horse country and my mother rode with the Marlboro Hunt Club. To this day, in her eighties, she still owns and rides horses pretty much daily. Growing up in the country—with woods, fields, streams, and barns as my playground—had a profound impact on me. Living in New York City, I miss nature. It's something I love about TODOS SANTOS. As different as it is, TODOS SANTOS reminds me of my childhood. When I see a Todosantero planting corn by hand with a digging stick, it reminds me of that tobacco planter.
Jen: Your background is unique due to your impressive artistic talents as well as numerous literary endeavors. In terms of your artwork, what is your primary style of painting and preferred subject matter? Are your works currently on display?
Deborah: My paintings are representational and often show people doing things in landscape. Long before I started writing seriously, my paintings tended to tell stories, often made-up and metaphorical stories. There's one of Nero fiddling while Rome burns, and another of a human sacrifice on an imagined volcano-top in the Andes. A few are on display in my living room. Otherwise, they show up in odd places.
Jen: How did you become involved with the NY Writers Coalition? And, what is their mission statement?
Deborah: I met Aaron Zimmerman, the founder of NYWC, at a writing residency at Vermont Studio Center in 1999, when I was just "coming out of the closet" as a writer. At the time, he was offering a writing workshop in NYC, and I immediately joined it on my return. I was enthralled by the safe, supportive, and inspiring atmosphere the workshop created for writing. When Aaron went on to form NYWC in 2001, in trained with him to become a workshop leader. He asked me to join the organization as Program Director in 2004, and I'm still leading workshops as well.
NY Writers Coalition creates opportunities for people who have been historically deprived of voice in our society to be heard through the art of writing. Writing with others in an atmosphere of respect and acceptance, participants discover the value of their own stories, gain confidence and a stronger sense of self, and become less isolated from themselves and from society. NYWC provides free, long-term writing workshops throughout New York City for a diverse population that includes the homeless and formerly homeless, incarcerated and formerly incarcerated, at-risk and poor youth, recent immigrants, war veterans, seniors, cancer survivors, and many others. With more than 1,000 workshop sessions at approximately 45 sites in a year, we are one of the largest community based writing organizations in the country.
Jen: Please share with us your "Ah! Ha!" moment that led to your pursuit of writing a novel.
Deborah: I first visited TODOS SANTOS in 1998. Like Catherine, I was thinking of setting a children's book there. Like Catherine, I went with a guide. I only stayed one night, but I fell in love instantly with the mountains, the terrace of the hotel (which is no longer there), and the people I met. When I got home to the US, I told a friend about the trip over lunch, and I must have sounded pretty excited. She said to me, "That's it, Deborah—the subject for your novel!"
At the time, I didn't know I was writing a novel. My friend went on to add, "But your character will have to have an affair with the guide."
Jen: In terms of nuts and bolts, how did you arrive at the premise for TODOS SANTOS?
Deborah: Having survived a long marriage crisis that ended in divorce, I knew that Catherine would be struggling with an unhappy marriage. I wanted her struggle to be different from my own. Catherine isn't me. But I gave her a son who resembles my own son when he was that age. Fortunately, my son was never kidnapped. I really didn't know what Catherine would decide to do about her marriage. I wrote the novel to find out.
Jen: Interestingly, the novel is set in Guatemala. Why did you choose this locale? And, what was the most difficult part of accurately portraying this third world country to your readers?
Deborah: I've had a fascination with different cultures since childhood, and in my teens thought I would become an anthropologist. Even after I changed my mind, I continued to study Spanish. In the 70s I started visiting Guatemala with a close family friend who was an anthropologist and Mayan linguist. Nora England gave me an insider's introduction to the country and the people. When I went to live in Guatemala for a year in 2001, it was the fulfillment of a dream I'd had since childhood, to live in a foreign culture.
Whether it's Guatemala or Nigeria or Indonesia, I think third world countries matter. I think small countries matter. Living in Guatemala changed my perspective on my own country, and my life here. My biggest challenge is not to get preachy. To present Guatemala to my readers with its beauty and its flaws and let them make up their own minds.
Jen: The story begins as your lead character Catherine and her son Isaac embark on a summer journey to Guatemala to visit with Aunt Zelda. Both mother and son have different agendas yet together they are on a journey of self- discovery. Why is Catherine so drawn to TODOS SANTOS?
Deborah: She loves TODOS SANTOS because it's so far away—geographically and culturally—from her problems, so isolated, and yet so connected on an emotional level to the same questions she is asking.
Jen: Rather than attending summer school due to his errant ways, Isaac agrees to work for his aunt despite his father Elliot's objections. Is his willingness to go a true journey of retribution? Or, is it simply his way of getting back at his Dad for the problems in their relationship?
Deborah: We don't see very much of Isaac's relationship with his father in the novel. Only at the end, when he's happily eating breakfast with Elliot. I don't think of Elliot as a bad or disengaged father, even though he may disagree with his wife on the best way to handle their son's issues. However, I'm happy to let the readers draw their own conclusions on this question.
Jen: Along the way, Isaac finds himself in dire straits. Without giving too much away, from where does he find the inner strength that enables him to forge ahead? Is his mother Catherine the source of his inspiration? Or, is it simply his own desire that wills him to hopefully overcome the impossible?
Deborah: I see Isaac as a smart kid who gets in over his head and makes some bad decisions. I would guess his inner strength comes from confidence he has in himself, even though it's tested. Whether his confidence comes from good parenting or the genetic roll of the dice, I'll let the reader decide.
Jen: Catherine finds herself in a precarious position with her tour guide Oswaldo. Exactly what does she see in him that makes her even consider the possibility of throwing her marriage to Elliot away?
Deborah: Catherine was Elliot's student before she was his wife. She continues to feel judged by him, and belittled by comparison. Oswaldo respects and admires her in a way that Elliot never could, because of the dynamic of their marriage. That respect helps her to see herself in a new way.
Jen: What did you learn about yourself as a writer by completing this project?
Deborah: Since I came back from TODOS SANTOS late in 2002, I've kept a drawing taped to my refrigerator door. It was done by a friend and given to me at my going-away party in TODOS SANTOS, and it shows a Todosantera reading a book called TODOS SANTOS. I kept it as a reminder that people there were expecting me to finish this novel. Through many later drafts, whenever I felt terror or despair that I wasn't up to the task, I looked at the drawing and thought, I have to do it.
Jen: Let's switch gears now and talk about your promotional plans. Will you be going on a book tour?
Deborah: I'll start in my hometown of New York City with two events— Cornelia Street Café on July 8 and Idlewild Books on July 11. Then I'm off to visit friends and bookstores on the West Coast, including Third Place Books in Seattle on July 17 and Annie Bloom's in Portland on July 15. Later I'll swing through Massachusetts, Vermont, Virginia, West Virginia, Washington DC, Philadelphia, and more. Details of my tour are posted on my website.
Jen: As for your website, please take us on a brief tour.
Deborah: Please visit me at www.deborahclearman.com for an excerpt from the book, reviews, events, and a short video about me and my novel made by Olivia Carrescia, a filmmaker who has documented life in TODOS SANTOS before and after the brutal civil war in two beautiful, award-winning films.
Jen: Do you participate in Author Phone Chats? And if so, how would my readers go about scheduling one? Will there be a Reading Group Guide available for TODOS SANTOS?
Deborah: TODOS SANTOS includes a Reading Group Guide and Author's Q&A at the end of the novel. In addition, I'm available to visit reading groups within a drivable range of New York through my website.
Jen: Are you currently at work on your next book? If so, what can you tell us about it?
Deborah: Absolutely! After the time I've spent in Guatemala, I decided I had earned the right to speak in the voice of the natives. I'm working on a series of linked short stories and a novella in which the main characters are Guatemalan, and Americans are peripheral. Themes dealt with include migration, illegal immigration, foreign adoption, as well as the universals of love, loss, and family.
Jen: Thank you so much for taking time out of your busy summer schedule to stop by and chat with my readers. Best of luck with TODOS SANTOS!
Deborah: Thank you! It's been a pleasure.
I hope you have enjoyed my interview with Deborah. Please stop by your favorite bookstore or local library branch and pick up a copy TODOS SANTOS today.
Better yet, how would you like to win one instead? Be one of five readers correctly answer to the following trivia question and you could win!
What is the name of Catherine's son in the novel TODOS SANTOS?
Next month, I will be bringing to you my interview with Tilly Bagshawe, author of AFTER THE DARKNESS which is a continuation of Sidney Sheldon's fabulous novels. You won't want to miss it.
Until next time…
Jen