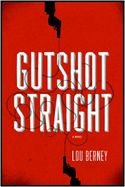 I've always been interested in traveling especially to exotic places. Strange customs and unfamiliar food seem to pique my curiosity. Have I ever been to any, you ask?  If New Jersey qualifies as one, then yes!  All kidding aside, as part of my list of New Year's resolutions, I plan on venturing outside the USA with my husband and kids in tow. Who knows where we might wind up? I can guarantee it most certainly will be an adventure!
This month's Jen's Jewels Lou Berney has been bitten by the same travel bug. In his debut novel GUTSHOT STRAIGHT, he takes the reader on an outrageous ride to the jungles of Panama in a hilarious crime caper that is sure to catch your eye.  From the Armenian mob to a Vegas strip-club, this wild adventure has it all. Even the catchy title draws you in!
As part of this interview, William Morrow Publishers has generously donated five copies for you, my lucky readers, to win. So, don't forget to look for the trivia question.  And as always, thanks for making Jen's Jewels a part of your reading adventure.
click to read the interview and learn how to win a copy of GUTSHOT STRAIGHT