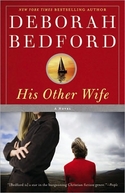 With the hustle and bustle of the holiday season comes an endless To Do list for moms. Whether it's staying up late to bake cupcakes for a class party or being volunteered to sew buttons on costumes for a play, the stress of the season gets to the best of us. Throw in a couple of last minute school assignments for the kids like book reports and science projects, it's a wonder we manage to enjoy the spirit of the season at all.
Blended families are very difficult to navigate especially when it comes to the role of mothering. Whether it's the lingering aftereffects of the divorce or the deep resentment over the loss of control in their children's lives, many women struggle to find an acceptable balance. There is no perfect answer due to the many challenges associated with moving on. However, the way in which these obstacles are met will ultimately determine the emotional well-being of the family.
This month's Jen's Jewels Deborah Bedford addresses this very topic in her latest release, HIS OTHER WIFE. It's the emotionally charged story of two women who love the same man yet desperately want what's best for one teenage boy. When tragedy strikes, they are forced to put aside their feelings of guilt and fear in order to save the person who means the world to all of them… their son.
As part of this interview,Faith Words, an imprint of Hachette Books, has generously donated five copies for you, my favorite readers, to try to win. So, don't forget to look for the trivia question at the end of the column. And as always, thanks for making Jen's Jewels a part of your reading adventure.
Jen: From journalism to marketing, your path to publication has been a journey of self-discovery. So that my readers may have a glimpse into the life of the woman behind the words, please share with us a brief overview of your educational and professional background.

Deborah: Well, I started young! I was always getting in trouble in school for writing stories in spiral notebooks instead of listening to my teachers. My mom said not long ago, when she found a box of my old spiral notebooks up in the attic, 'Why didn't we figure out that this was going to happen a long time ago?' I decided that being a journalist would be the best way to actually earn a living at writing. So I followed my father's footsteps and earned a journalism degree from Texas A&M University. I'd long been smitten with cowboys, The West and the mountains so, when the chance came to work in Colorado, I took my first job as editor of the weekly newspaper in the little town of Evergreen. The paper was called Evergreen Today and I had the chance to work for Cary Stiff and Carol Wilcox, publishers, who had left The Denver Post to start their own publishing venture. It was an amazing learning experience. We chased fire trucks, covered county meetings, and were some of the first journalists at the Hinckley's door when their son was accused of shooting President Reagan.
Jen: Please describe for us your "Ah! Ha!" moment when you decided to take the plunge and pursue a career as an author.
Deborah: Jen, honestly, there wasn't a stunning moment when I knew I wanted to write a book. It's just that I had ALWAYS been writing. I'd say the big moment fell somewhere between when I was ten years old and I finished reading Little Women, not quite sure I was happy with the ending because I had SO wanted Jo to end up with Laurie, and the day the phone call came from Nancy Rohrer, my first editor from Harlequin SuperRomance, who said, "We really like your book and we wonder if you'd be willing to make some changes on spec." That's the day I stood in the middle of the kitchen and cried for joy. It was a natural progression.
Jen: Throughout the years, you have moved from one publishing house to another. Currently, you have found a home at Faith Words, a division of Hachette Books. What led you to make the changes?
Deborah: I changed publishers because my life changed. I had grown up seeing myself as a Christian, but not until I started attending a church here in Jackson Hole called River Crossing did I cross my own river, from trying to be 'good enough' to be a Christian to understanding that the biggest gift I could ever give God would be to just get comfortable with myself, my feelings and my foibles, and let Him use my weaknesses for His glory. That's been my mantra lately; there are things in us that, if we try to manage ourselves, are our biggest weaknesses. If we'll turn them over to God, they become our biggest strengths. I'd liken it to the difference between thrashing frantically around in the water, trying to swim, and just being still, learning to float in God's arms. At that point, I was writing mainstream fiction for Harper Collins. That had been another big dream, to leave what was viewed as the romance genre and write mainstream. I had this pride issue. "Oh, my books have sold in the hundreds of thousands. Those little Christian publishers are going to snap me up." Well, let's just say God had to get a hold of my heart about that one. There was a three year wait where I felt like God was asking me over and over again, "Do you want to write for Me?" "Do you want to write for Me? Do you REALLY want to write for me?" Still, rejection after rejection after rejection. It was one of the most difficult parts of my career.
It happened that I had met Jamie Raab, publisher at Warner (now Hachette) Books where we were both doing workshops for the Jackson Hole Writers Conference. We had a reading when I had to stand up in faith, without a publisher, and announce to my students that I was now being called to write Christian fiction. I read aloud something funny I'd written about my grandmother. Jamie came up to me that night and said, "We have to talk." That's how it happened.
Jen: Your latest release HIS OTHER WIFE is a powerful novel that dares to explore the relationship between women who have loved the same man. How did you arrive at the premise?
Deborah: It started with a sermon called "The Wounded Heart," that my pastor gave in church, using the story of Hannah from the Bible. That was several years back, and the idea started stewing. I believe that book ideas find YOU. The characters started talking in my head. And I began to apply some of my own life to it, because my last child was leaving for college and I was seeking my own new sense of direction. I was able to direct a lot of my own grief at my children leaving the nest into this story.
Jen: The book closely follows the scripture 1 Samuel 1:19. Why did you choose to base the story on this Bible passage?
Deborah: Many of HIS OTHER WIFE's plot twists and turns echo Hannah's story, which is culminated in this passage in the Bible. Hannah has to change her way of thinking before anything else in her life can change. That is another change that happened it my own life, so it felt significant to me. Once I started seeing myself differently, once I started to understand that Jesus loved me not for what I did but just because I was ME, everything started to change. I'll always keep my eyes open for Bible characters that might lend their stories to present-day situations. That made it fun, too, putting it all together, like piecing together a puzzle.
Jen: Not surprisingly, Hilary and her teenage son have developed a special bond due to Eric's leaving them behind. How has their mother/son relationship affected Seth's need to grow up?
Deborah: I think this book catches Hilary at a particularly vulnerable moment. That's always a challenge as a writer, walking the fine line between a strong, sympathetic character yet remaining open to whatever questions she may still be asking herself, what she might wake up at 3 a.m. and be thinking about? A pew research study came out yesterday that says couples are more concerned now about being good parents than they are about being good partners. Hilary had survived the divorce by jumping head-first into being the mother of a teenager. So how does she deal with it when, suddenly, that life preserver is taken from her?
Jen: As Seth's high school graduation approaches, Eric pays them a visit bringing along his new wife and two children. Why does their presence threaten Hilary's sense of worth?
Deborah: Eric's new wife, Pamela, is still in that stage where she can control her life. We had a book-club meeting over here last night and we laughed because those of us who have college-aged kids know that, as proud as we might be of our children, there comes the time when our kids strike out and make their lives their own. Pam is in that 'perfect mom, perfect wife' stage where she speaks and the world conforms. She doesn't know yet that there's any other way. She's still living with that false sense of bravado, thinking she can turn her world into whatever she wants it to be. Her attitude would intimidate anybody. Add to that, she thinks it necessary to offer her opinion. So you see where the conflict begins.
Jen: The Wynns are a typical blended family who struggle on a daily basis with trying to achieve a workable balance. When tragedy strikes, fingers are pointed as to who is to blame. How does the pressure of the grave situation affect Eric's relationship with Hilary? And with his current wife, Pam?
Deborah: Eric and Hilary have to band together to support their son. Hilary is finally able to voice some of her pain to her ex-husband, which helps her truly begin to heal. And Eric is finally able to count the cost of what he gave away, in pursuit of his own happiness. For a while it drives a subtle wedge between Eric and Pam, until Pam at last is able to take her own selfless stance as protector of the blended family. They all ride the ripple effect of their actions and, I think, end up in a better place because of it.
Jen: As an only child, Seth is used to working through problems on his own. How are he and his father emotionally similar despite their different personalities?
Deborah: You know, I hadn't thought of it until you asked this question but I think that, because I grew up essentially as an only child, I tend to write characters that are emotionally isolated from each other. When Seth starts to hurt, he shuts himself off, even from his steady girlfriend Emily. When Eric started to hurt, instead of opening up and sharing his feelings with his wife, he turned to someone else, which resulted in the affair with Pam.
Jen: Throughout the story, Hilary relies heavily on her faith in God. How do her Christian beliefs hinder her ability to take a step back and take care of herself?
Deborah: They hinder her because she's trying too hard. She's trying so hard not to be wrong instead of just doing things that seem right. And when you get hypersensitive about doing something wrong, suddenly EVERYTHING seems wrong. Then she tries harder, which creates a vicious cycle where she berates herself for all of it. She loses herself in her faith for a little while, which is exactly what happened to me.
Jen: Hilary's relationship with her lawyer John Mulligan is quite the tangled web. Having represented her in the divorce, this man has seen Hilary's highs and lows. What special qualities does he have that makes Hilary willing to trust him?
Deborah: John is different than anyone else in Hilary's life because he's just so…present. He's a solid rock, a listener. And Hilary has spent so much time and energy being the parent that Seth can depend on that she hasn't left herself room to depend on anyone else. John doesn't demand anything of her. Their intimacy comes from a familiarity that has grown over the years, which makes him able to support her while the rest of her life spins away.
Jen: Let's switch gears now and talk about your promotional plans. First of all, please take us on a tour of your website, pointing out any special areas of interest.
Deborah: Ah, I think my website is a work-in-progress even as we're speaking. My web designer is setting up a blog on WordPress, and that will go up soon. At this point my website is DeborahBefordbooks, and the most valuable info there is a complete list of my books, including THE PENNY AND ANY MINUTE, which I co-wrote with Joyce Meyer, along with links to read the first chapters. Also there's a page giving advice on how to get published. I've had great response to the info there.
Jen: Do you participate in author phone chats? And if so, how would my readers go about scheduling one?
Deborah: I've done phone chats with book groups in the past and have really enjoyed them. But my publishing schedule is tight with this next novel so I'm not able to do it right now.
Jen: Will you be touring? And if so, where may my readers find the dates and locations?
Deborah: My main focus right now is twitter. My son is graduating from college in two months and is joining a social-media networking firm, so he's steered me in this direction. I love the micro-blogging. Yesterday I was writing and had a philosophical thought about how I was finishing a chapter. So wham, just like that, instead of journaling it for myself, I twittered it to everybody. It was fun to see when other writers picked it up and retweeted. This form of communication is working well for me right now, so instead of going out on the road, this is what we've decided to do. Have your readers follow @deborahbedford or go to the Deborah Bedford author page on Facebook. That's where I see myself being able to stay the most candid and the most involved.
Jen: And finally, are you currently at work on your next novel? If so, what can you share with us?
Deborah: Ooooh. This is tough, talking about a work in progress, but you're asking so nicely, Jen! Ha! The working title is Bittersweet, the setting is present-day Jackson Hole, Wyoming, the main characters are Annie and Brian Ross, and the Scripture is I Kings 3:24-26, the story about King Solomon suggesting that two women cut a baby in half. Those are the best clues I can give you. It's due to my editor on April 28, so it's almost finished. Whew.
Jen: Thank you so much for taking the time to stop by and chat with my readers. HIS OTHER WIFE is a truly phenomenal read. I wish you all the best. Bravo!
Deborah: Jen, I'm honored to be on your website and to have HIS OTHER WIFE featured here. It's been great to get to know your readers and to see how you're working to get good books into the hands of the great people who read them. Here's a hug of gratitude for all you do. It is humbling that HIS OTHER WIFE really worked for you as a reader. Thanks for your encouragement. Hope we get to talk again real soon.
I hope you have enjoyed my interview with Deborah. Please stop by your favorite bookstore or local library branch and pick up a copy of HIS OTHER WIFE today. Better yet, how would you like to win one instead?
Okay, be one of five readers to correctly answer the following trivia question and you'll win! Good luck!
What is the name of Hilary's husband?
Next month, I will be bringing to you my interview with New York Times bestselling author James Grippando. You won't want to miss it.
Jen