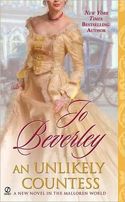 My book, AN UNLIKELY COUNTESS, came out at the beginning of the month and it's great fun to see it do so well. It will be #17 on the New York Times bestseller list on Sunday, and the Sunday after, it'll be #13. Onward and upward! The reviews have been mostly great, too, both from review sites and from individual readers.
Some quibbles have surprised me, however. I want to make clear that I never resent negative opinions about my books. Of course I want readers to love them, but I know I can't please everyone, and I respect differing opinions. In the end, a novel is a creation of both the author and the reader, and each reading is valid.
But all the same, I sometimes don't quite get the problems a reader expresses.
A few readers find Prudence a snob. For those who haven't read AN UNLIKELY COUNTESS, at the beginning Prudence Youlgrave has come down in the world and is living in a slum on very limited money. You can read the second excerpt to see what I mean. (I also have the opening scene here, of you want to read both.)
As you'll see, she doesn't think she belongs in White Rose Yard, and she wants to get back to her world, which in modern terms would be a pleasant middle class neighborhood. I don't see this as snobbish. I think most of us who suddenly found ourselves living in a wretched part of town would look around and think, "I don't belong here. I have to get out."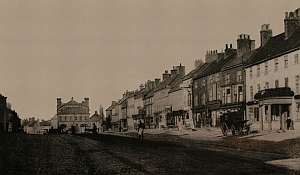 Here's an old photograph of the High Street in Northallerton, Yorkshire, where the book opens. It was taken 100 years ago, not 250, but we can contrast it with the stately home where Prudence ends up, which I based on this one — Aske Hall.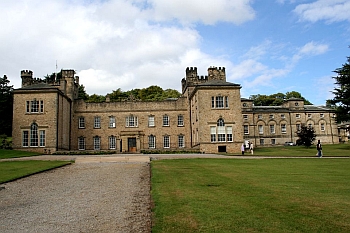 Prudence fits there as little as she fits in White Rose Yard, and she knows it, but she doesn't pretend she'd prefer the slum to Keynings, seat of the Earls of Malzard. Who would? As someone said (the attribution is debated, "I've been rich and I've been poor, and rich is better."
Do you agree, or in a romance novel do you prefer the hero and heroine to be agreeable to living wherever fate tosses them? Perhaps you prefer them not to like luxury and privilege and actively desire to live a more middling sort of life?
I don't have an aristocratic gene unless it came by on the wrong side of the blanket, but I love playing in the realms of aristocratic luxury and elegance in my historical romances.
What about you? Do you share my delight in historical glitz and glamor, or do you prefer to read about more middle class characters in Georgian and Regency romance?
Let me know. I'll draw a name at random from the comments made here and send the winner a copy of my first book, LORD WAYBOURNE'S BETROTHED, which was recently reissued as a trade paperback.
All best wishes,
To comment on Jo Beverley's blog please click here.