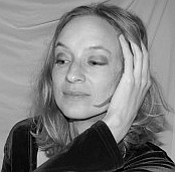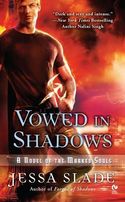 As I type this, I have butterfly bush in my pants.
This sounds like a wonderfully naughty Brazilian wax, but I mean it literally. I was cutting back the butterfly bush in my yard, and the flecks of last year's petals rained down the back of my shirt and into my long underwear.
Not sexy at all, though probably not quite so uncomfortable as waxing.
This led me to thinking about all the ways in which I am NOT like the heroine of my latest book, VOWED IN SHADOWS. Nim—aka, the Naughty Nymphette—would know all about waxing. She is a pole dancer; I sit at a computer for ten-plus hours a day. Nim goes on dangerous adventures fighting monsters; I avoid looking in the back of the fridge toward the end of the month. Nim is possessed by a demon….Okay, that one we kind of have in common. Although hers is a repentant demon trying to earn its redemption, and mine is the demon of writing. That demon can never be redeemed.
People often ask which parts of the characters are the author, at least in disguise. Sometimes I wish it was more. Like when I see the covers of my heroes. But considering the number of my characters who suffer major damage before page 200, usually I'm fine with having less in common.
But I think one of the best part of writing—and reading, for that matter—are those hours when I can PRETEND that maybe I'm a little bit like my characters. Nim has made a lot of mistakes in her life—actually, she continues to make more than a few mistakes in the course of the book—but she has a lot of traits I wouldn't mind myself:
Smart
Nim knows what she wants and she goes after it. When she decides she wants the hero, he doesn't stand a chance.
Sassy
Smart and smart-mouthed 🙂 Nim is quick with a quip, the kind I wish I could pull out in those crucial moments.
Strong
Despite everything I threw at her, even when she was making mistakes, Nim was willing to face her troubles and try again.
If you could be any romance heroine, who would you be and why? Which characteristics do you most admire? Leave a comment for a chance to win a signed copy of VOWED IN SHADOWS and a set of Marked Souls romance trading cards. Thanks for reading!
*          *          *
VOWED IN SHADOWS took me on a dark and sexy and intense ride with two complex, compelling characters."
—New York Times bestselling author Nalini Singh
"For readers who love J. R. Ward's Black Dagger Brotherhood, the Marked Souls series will hit the spot."
Romantic Times (4 stars)
"…sure to become a classic series in the genre."
—Fresh Fiction
*          *          *
You can read Chapter 1 of VOWED IN SHADOWS
Do you spend too much time online? So does Jessa! Find her goofing off at:
To comment on Jessa Slade's blog please click here.