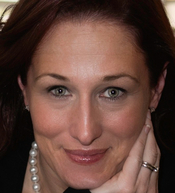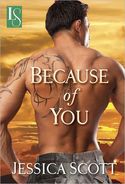 "Jessica Scott writes with a soldier's heart. Because Of You is touching, authentic and a fantastic read."  New York Times Bestselling Author Cindy Gerard
"Crackling with realism, sizzling with sexual tension, and pulsing with emotion, Jessica Scott has penned an unforgettable military romance that delivers heartache and hope on every page." New York Times Bestselling Author
Roxanne St. Claire
Meet Jessica Scott, whose first book, BECAUSE OF YOU is out now from Loveswept. Jessica writes realistic but emotional military romance. But rather than rattling on about it, let's hear what Jessica has to say.
Can you give us a one sentence summary of BECAUSE OF YOU?
The toughest battle Shane Garrison will ever face is loving Jen St James.
Every author has a favorite or the toughest scene in a book, which one in BECAUSE OF YOU do you like the most?
The scene where Jen finally trusts Shane enough to be comfortable with him unclothed.  Although BECAUSE OF YOU is very sexy, Jen resists total nudity during their intimacies.
Tell us something unique about your hero?
Shane is bald.
What's unique about your heroine?
She is a breast cancer survivor.
What is your heroine's occupation?
Jen is a nurse at Fort Hood's main Hospital.
What is your heroe's occupation?
Shane is an Army infantry sergeant
What you think readers will like best about this book?
The emotional struggles the characters deal with, as well as, getting a glimpse into army life.  The relationship is hot & volatile which propels you through the story.
What's next?
BACK TO YOU, a book about learning how to be a husband again after coming home from war, and after that, UNTIL THERE WAS YOU, where the characters also are healing from the scars of war.  The Coming Home series, deals with the emotional demons soldiers deal with when they return home, which can range from adjusting to family situations to dealing with physical disabilities – the series delivers it all & lots of sex too!
About BECAUSE OF YOU:
From the war-torn streets of Baghdad to the bittersweet comforts of the home front, two wounded hearts navigate the battlefield of coming home from war in this explosive eBook original from newcomer Jessica Scott.
Keeping his men alive is all that matters to Sergeant First Class Shane Garrison. But meeting Jen St. James the night before his latest deployment makes Shane wonder if there's more to life than war. He leaves for Iraq remembering a single kiss with a woman he'll never see again—until a near fatal attack lands him back at home and in her care.
Jen has survived her own brush with death and endured its scars. And yet there's a fire in Shane that makes Jen forget all about her past. He may be her patient, but when this warrior looks her in the eyes, she feels—for the first time in a long time—like a woman. Shane is too proud to ask for help, but for Jen, caring for him is more than a duty—it's a need. And as Jen guides Shane through the fires of healing, she finds something she never expected—her deepest desire.
To comment on Jessica Scott's blog please click here.