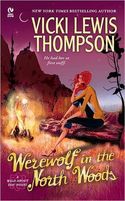 Wild About You # 2
October 2011
On Sale: October 4, 2011
Featuring:
Roark Wallace; Abby Winchell
336 pages
ISBN: 0451234987
EAN: 9780451234988
Paperback
$7.99
Romance Paranormal
Buy at Amazon.com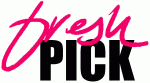 Howling good read!
Werewolf In The North Woods
by Vicki Lewis Thompson
When she used to walk around her grandfather's property out­side Portland, Abby Winchell loved the idea that Bigfoot was somewhere out there too. Now her grandfather swears he's seen two creatures that fit the legendary description—and he has evidence. Sort of. Grandpa Earl may be a bit dotty, but when his neighbors invite a renowned anthropologist to disprove his theory, Abby decides to send the man packing…until she sees how hot he is.
Anthropology professor Roark Wallace can't risk news be­ing made of a Bigfoot sighting in the north woods—not with a local pack of werewolves to protect. Disproving the evidence should be easy, but ignoring Abby is not. Her fiery red hair makes him want to sit up and beg, and this obvious attraction is making the pack suspicious…

Sizzling as well as howlingly funny!