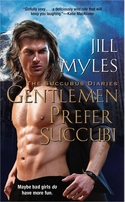 As we wind through the holidays, my mind is set on my upcoming book release instead of the actual Christmas holiday itself. The stockings are hung, the tree is up, and my mind is still fixated on succubi, vampires, and fallen angels.
Not an entirely terrible problem to have, of course. My first novel GENTLEMEN PREFER SUCCUBI comes out on December 29th, so it's understandable that I'm starting to babble to myself and spend all day either clicking on Amazon.com to check my book ranking or mailing out bookmarks. Or weeping incoherently. But that doesn't put the holiday goodies on the table, right? And when family is expecting you to bring over something tasty and delicious and holiday-themed, this could leave you in a bit of a quandry.
To read more of GENTLEMEN PREFER HOLIDAY BARK please click here.