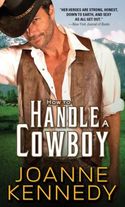 HOW TO HANDLE A COWBOY is the first volume in my Cowboys of Decker Ranch series. I just finished the first draft of the second book in the series (HOW TO WRANGLE A COWBOY) and I can't believe how much fun I'm having.
It's obvious that romance readers love to read series books, and writers love to write them. From Nora Roberts to J.R. Ward, from Debbie Macomber to E.L. James, authors are giving readers what they crave: books that allow them to really get to know a group of characters, so opening the next book is like joining old friends. Books that give readers a sense of place, and create towns they want to return to again and again. Books where favorite characters drop in for surprise appearances.
I wrote six stand-alone books before I embarked on a series. Too many times, I'd read books that were second or third in a series and found myself confused, or felt left out of little treats that were clearly "in-jokes" for returning readers. I'd also read books where the author spent page after page of Book Two summarizing the first book in the series. I read one where nothing new happened until well after page one hundred!
To make matters worse, I travel a lot, so I end up shopping in airport bookstores. There's nothing like finding something by a favorite author in their limited selection, getting strapped into your seat on a plane, and discovering that you have no idea what's going on because you've inadvertently picked up Book Three.
Until I'd really studied the process, I wasn't sure I could handle the delicate balancing act of writing a continuing series. It's not easy to give returning readers that feeling of belonging while still giving new readers a rewarding reading experience.
But now I've decided to give it a go. And I'm so glad I did. I pictured myself tearing my hair out as I referred to notes, struggling to keep characters and locations straight. Instead, I'm having a blast! I had no idea writing a series would be so much fun.
As it turns out, Wynott, Wyoming is my hometown, too, just as it will be home to my readers once they visit. And my characters, from "Group Mom" Sierra Dunn to cowboy Ridge Cooper, from smart-mouthed Isaiah to quiet Jeffrey, are some of my best friends.
The other thing I love about this series is the premise. The books focus on the Cowboys of Decker Ranch—three men who were unwanted foster kids until they were taken in as teenagers by a rancher who taught them to rope and ride. The cowboy way saved them, and they're ready to pass on their good fortune.
They'll have lots of opportunities now that Phoenix House, a group home for foster kids, has moved into the neighboring town of Wynott, Wyoming. Wynott was a farming and ranching community, but like many small towns, it's slowly fading away. I see towns like Wynott often on road trips; pretty little towns whose residents are mostly elderly, with shuttered businesses on Main Street and abandoned houses on the edge of town.
Sierra figures the home will help revitalize the town. After all, there's nothing like a bunch of ten-year-old boys to liven things up! And being part of this small community will give the boys a sense of belonging. The town will save the boys, and the boys will save the town. And Sierra herself just might save a certain cowboy who just suffered a career-ending rodeo injury and has no idea what to do with his life.
I'm excited about writing my first series, and I'm making a solemn promise to readers. You'll be able to pick up any volume of The Cowboys of Decker Ranch and find as complete as story as you'll find in any of my books. You won't feel lost, and you won't feel like you're missing something if you don't read them in order.
But if you do read them in order, you'll get a richer, fuller reading experience, as old friends turn up and new ones emerge. I truly hope you'll enjoy getting to know these new cowboys, and start with Sierra and Ridge's story in HOW TO HANDLE A COWBOY.
His Rodeo Days May Be Over…
Sidelined by a career-ending injury, rodeo cowboy Ridge Cooper feels trapped at his family's remote Wyoming ranch. Desperate to find an outlet for the passion he used to put into competing, he takes on the challenge of teaching his roping skills to five troubled ten-year-olds in a last-chance home for foster kids, and finds it's their feisty supervisor who takes the most energy to wrangle.
But He'll Still Wrangle Her Heart…
When social worker Sierra Dunn seeks an activity for the rebellious kids at Phoenix House, she soon learns she's not in Denver anymore. Sierra is eager to get back home to her inner-city work, and the plan doesn't include forming an attachment in Wyoming—especially not to a ruggedly handsome and surprisingly gentle local rodeo hero.
"Realistic and romantic… Kennedy's forte is in making relationships genuine and heartfelt as she exposes vulnerabilities with tenderness and good humor." —Booklist STARRED Review
"The sex scenes are juicy… Each character is essential to the storyline and the plot moves seamlessly." —RT Book Reviews, 4 Stars
ABOUT THE AUTHOR
Joanne Kennedy's lifelong fascination with Wyoming's unique blend of past and present inspires her to write contemporary Western romances with traditional ranch settings. Her books include Cowboy Tough, Tall, Dark and Cowboy, and the RITA-nominated One Fine Cowboy. At various times, she has dabbled in horse training, chicken farming, and bridezilla wrangling at a department store wedding registry. Her love of reading led to careers in bookselling and writing. She lives with two dogs and a fighter pilot in Cheyenne, Wyoming. For more information, please visit http://joannekennedybooks.com/.
To Purchase HOW TO HANDLE A COWBOY: Amazon | Barnes and Noble | Books-a-Million | Chapters/Indigo | IndieBound | iBooks | Sourcebooks
How do you feel about books in a series? One winner will get a copy of HOW TO HANDLE A COWBOY + a special surprise cowboy-themed gift from Joanne.
To comment on Joanne Kennedy's blog please click here.