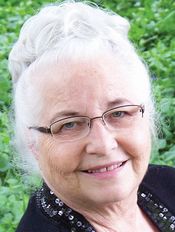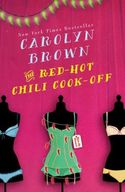 Thank you Miz Sara and everyone at Fresh Fiction for letting me make a stop here on my recipe blog tour for THE RED-HOT CHILI COOK-OFF. I'm so excited about the second book set in Cadillac, Texas. There's a brand new lingerie shop in town called Bless My Bloomers, run by three cousins, Carlene, Alma Grace and Patrice. And things are heating up at the panty shop because Carlene found some bikini under pants in her husband Lenny Joe's briefcase and they damn sure did not belong to her. Now Alma Grace is the president of the Easter program committee at the local church and she's headed for a committee meeting.
In Texas, folks don't just go to a committee meetings empty handed. No, sir! It's a fine time to take along food and Alma Grace arrived at the church fellowship hall with a platter of jalapeno poppers and a dozen peanut butter cupcakes. Lord, no, Alma Grace didn't make them herself! Alma Grace could sweet talk a nun into a black lace corset and fishnet hose but she couldn't make toast without it resulting in sirens and fire trucks. God bless her mama's cook. An excerpt about what happened before I share the jalapeno popper recipe:
She set her offering on the table and picked up a purple paper plate. A hard morning of running back and forth from fitting room to stockroom to cash register had flat out worked up her appetite. She started with two chicken salad sandwiches and added a handful of chips on the side.
"Okay, while we eat, we'll talk business," Floy said. "I heard that Lenny put Carson on retainer this morning so I suppose this divorce is going to happen."
She bit into the sandwich. "I'm not surprised. I hear he even told his new girlfriend that he'd hang a picture of them together above the mantel."
"Why would he do that?" Floy asked.
"Well, you know he's won the chili cook-off every year since he and Carlene married. I guess he plans to win it this year and put his and Bridget's picture holding the trophy up on the wall. But we are praying that he comes to his senses and repents," Alma Grace said.
"We had an executive meeting before you got here and we've voted to change the bylaws for the Easter committee," Floy said bluntly.
The sandwich stuck firmly somewhere between Alma Grace's throat and stomach. It took three big gulps of sweet tea to send it on down. "What does that mean?"
"It means that the person in charge of the Easter program has to be above reproach. It was bad enough when you threw your lot in with your cousins and went into business in a panty shop, but now there's going to be a divorce and talk will be bad. They'll say that Carlene is doing all kinds of things in that room above the store."
"It's pink," Alma Grace stammered.
"What's that got to do with anything?"
"It looks like a little girl's Barbie room. There's no way it could ever be misconstrued as hooker paradise," Alma Grace said.
Floy set her jaw and shook her head. "Even your language has been affected by working in that place. We just can't abide it, Alma Grace. So we put an amendment into the bylaws. It's to save you and your sweet mama embarrassment. From now on the president of the Easter committee can only serve two terms, each one lasting one year. You've already served far longer than that so as of today someone else is taking over your spot and Kim will help her out. No hard feelings, now. It does say in the Good Book that those who the Lord loves will be chastised. Women need to learn their place and stay in it. If she'd been doing her part in the marriage, Lenny would not have strayed."
Steaming hot tears welled up in Alma Grace's eyes but she didn't let a single one escape. "What about me? I'm the angel who sings the final song and this year we were working on bringing me down from the rafters like I was flying."
Floy's smile was as stiff as that tight little gray bun at the back of her head. "Kim is going to do that. Bless your heart, you can sing in the choir. We'd never take that away from you. Not with your sweet soprano voice."
Alma Grace pushed the plate away from her. If she had to smell that dill pickle another minute, she would throw up. She was ruined and she hadn't done a blasted thing. The fault lay on Carlene's shoulders for leaving Lenny before the Easter program. If she'd stuck around and tried to work it out, none of this would be going on.
Her voice cracked but she didn't let the tears loose. "I suppose you're putting me on the back row, right?"
Everyone in the committee knew that a place on the back row was a slap in the face. There was no way that anyone could even see Alma Grace or hear her either. She'd just been demoted from heaven to hell.
Floy's skinny shoulders popped up a couple of inches in a shrug. "It's the only chair open right now. If someone gets sick, we might make a place for you toward the front."
Alma Grace pushed her chair back. "I'll make it easy for y'all. Just give my chair to someone else and I'll sing with the congregation this year. Have a nice lunch."
She picked up her cupcakes and poppers on the way out, put them in her car, and was about to get inside when she remembered the wings and halo had been bought from her personal checkbook, not the church's money. She marched straight back to the choir robe room to get them. She looked in the closet but they were gone. She checked everywhere but she couldn't find them. Those rotten women had taken her position and stolen her wings, too.
Do you have a favorite appetizer or finger foods recipe that you take to church socials or meetings? We'd love for you to share it with us.
JALAPENO POPPERS
Ingredients
10 jalapeno peppers
2-3 slices bacon, chopped
1/4 cup onion, diced
1/2 cup mushrooms, chopped
3 ounces cream cheese
3 ounces Monterey jack cheese
3 ounces mozzarella cheese
Cooking Directions
Remove stems from the jalapeno peppers and remove innards through the top with a pepper corer. If you do not have a corer, use a knife or very thin spoon.
In a large pan, fry bacon, onion, and mushroom until bacon is crisp. Drain and cool.
In a mixing bowl, combine bacon, onion, mushroom, and cheeses.
Stuff each pepper with the bacon cheese mixture.
Bake at 375 degrees about 20-30 minutes.
April 1: Carolyn Brown's Facebook Page
April 2: Dew on the Kudzu
April 3: Fresh Fiction
April 4: Book'd Out
April 7: Book Reviews & More by Kathy
April 8: Chick Lit Central
April 9: Satisfaction for Insatiable Readers
April 10: Bitten By Love Reviews
April 11: From the TBR Pile
Learn more about THE RED-HOT CHILI COOK-OFF and find out some delicious recipes from Carolyn and other readers along the way. Chances to win at each stop!
To Purchase THE RED-HOT CHILI COOK-OFF: Amazon | Barnes and Noble | Books-a-Million | Chapters/Indigo | IndieBound | iBooks | Sourcebooks
More Than the Chili's Heating Up Cadillac, Texas
Carlene Lovelle, co-owner of Bless My Bloomers lingerie shop, found a pair of fancy red-silk panties in her husband's briefcase, and all hell is breaking loose. She custom-made those fancy bloomers herself—and she remembers the bimbo who bought them. If her husband had a lick of sense, he'd known there are no secrets in a town like Cadillac.
Carlene's cohorts—and their mamas—plan to exact revenge on Lenny Joe where it'll hurt the most: break his ten-year winning streak at the prestigious Red-Hot Chili Cook-Off. Never before has a woman dared to compete. But the ladies of Bless My Bloomers are cooking up a storm…and it seems the whole town is taking sides in the showdown.
Welcome to Cadillac, Texas, where the chili is hot, the gossip is hotter, and friends stick by each other, no matter what the challenge.
"With a cast of characters that will leave readers grinning, Brown's latest is delightful, humorous "chick lit"… Fun, fun and more fun is on hand in a story that wins a blue ribbon in both originality and wit." —RT Book Reviews, 4 Stars
"Fun, fresh and hilarious… The author showed that laughter is the best medicine and a sure fire cure for the toughest of challenges in life." —Chick Lit Reviews
"The characters are vibrant and engaging, the story is endearingly off beat and full of down home folksy charm. A wonderfully heartwarming and highly entertaining novel." —Book Reviews and More by Kathy
ABOUT THE AUTHOR
Carolyn Brown is a New York Times and USA Today bestselling author with more than sixty books published. Her bestselling cowboy romance series include the Lucky trilogy, the Honky Tonk series, Spikes & Spurs, Cowboys & Brides, and the new Burnt Boot, Texas series. She has also launched into women's fiction with a Texas twang. Born in Texas and raised in southern Oklahoma, Carolyn and her husband make their home in the town of Davis, Oklahoma, where she credits her eclectic family for her humor and writing ideas. For more information, please visit http://carolynlbrown.com/.
Add your own recipe for "Texas Food" and you could be one of TWO winners:
Prize #1: a print copy of THE RED-HOT CHILI COOK-OFF
Prize #2: A Carolyn Brown Prize Pack
o Print copy of THE BLUE-RIBBON JALAPENO SOCIETY JUBILEE
o Print copy of THE RED-HOT CHILI COOK-OFF
o Cute recipe card set—so the winner can save the recipes shared along the tour!
To comment on Carolyn Brown's blog please click here.