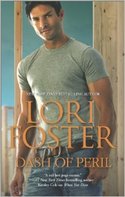 Every author is different in how he/she writes a book, but most fall into one of two main categories – either a plotter or a pantster. I'm a pantster, meaning I write by the seat of my pants. Or in my case it's more precise to say my characters tell a story – in their own sweet time – and I just get it typed up.
It's a tough way to do business because in the real world of publishing, editors want to know what a book will be about long before I've written it. There's a lot of overlap in publishing. For instance, right now DASH OF PERIL is out, BACK TO BUCKHORN, HARD KNOCKS, and NO LIMITS are turned in, and I've just gotten started on writing HOLDING STRONG. Busy, busy!
There's plenty of promo to do on DASH OF PERIL. (Yay, thank you!) I just wrapped up page proofs on the other three. At the same time my editor wants a summary of what HOLDING STRONG will be about, along with character descriptions, so they can start conferring on covers.
All I can tell her about the plot is that it'll end happy. ::grin:: I know what the characters do for a living, and I know what they look like. What I don't know is what problems they'll have and, especially, how they'll work through them.
The #1 surprise for me? That Dash and Margo got together. When I was writing the first book in this series, and then the second book… I had no idea Dash was interested in Margo, and vice versa, until it suddenly happened on the page. Sneaky, sneaky characters.
Twists like that sure keep this job fun!
I wonder if readers can guess some of the other spots in DASH OF PERIL where the characters totally took me by surprise? I don't mind telling you that Dash and Margo *both* proved to be unpredictable!
One commenter will receive a copy of DASH OF PERIL plus a DASH OF PERIL t-shirt.
A no-nonsense female cop reluctantly teams up with the one man who makes her lose control in a deliciously sensual new novel from New York Times bestselling author Lori Foster
To bring down a sleazy abduction ring, Lieutenant Margaret "Margo" Peterson has set herself up as bait. But recruiting Dashiel Riske as her unofficial partner is a whole other kind of danger. Dash is six feet four inches of laid-back masculine charm, a man who loves life—and women— to the limit. Until Margo is threatened, and he reveals a dark side that may just match her own….
Beneath Margo's tough facade is a slow-burning sexiness that drives Dash crazy. The only way to finish this case is to work together side by side…skin to skin. And as their mission takes a lethal turn, he'll have to prove he's all the man she needs—in all the ways that matter
Lori Foster also writing as L.L. Foster
http://www.lorifoster.com
DASH OF PERIL,Mar 25th, book 4 in the "Love Undercover" series. Sign up for my monthly Newsletter. See book trailer videos on YouTube. Get your FREE Love Undercover wall paper from Lori.
To comment on Lori Foster's blog please click here.