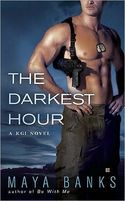 KGI #1
September 2010
On Sale: September 7, 2010
Featuring:
Ethan Kelly; Rachel Kelly
304 pages
ISBN: 0425227944
EAN: 9780425227947
Mass Market Paperback
$7.99
Romance Suspense
Buy at Amazon.com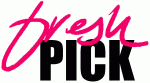 The Darkest Hour
by Maya Banks
The Kelly Group International (KGI): A super elite, top secret, family-run business.
Qualifications: High intelligence, rock hard body, military background.
Mission: Hostage/kidnap victim recovery. Intelligence gathering. Handling jobs the US government can't…
It's been one year since ex-Navy SEAL Ethan Kelly last saw his wife Rachel alive. Overwhelmed by grief and guilt over his failures as a husband, Ethan shuts himself off from everything and everyone.
His brothers have tried to bring Ethan into the KGI fold, tried to break through the barriers he's built around himself, but Ethan refuses to respond… until he receives anonymous information claiming Rachel is alive.
To save her, Ethan will have to dodge bullets, cross a jungle, and risk falling captive to a deadly drug cartel that threatens his own demise. And even if he succeeds, he'll have to force Rachel to recover memories she can't and doesn't want to relive—the minute by minute terror of her darkest hour—for their love, and their lives, may depend on it.

An exciting military adventure full of emotional intrigue and romantic suspense.
Excerpt
Rachel. Her name was Rachel. She had proof now. The strange man who'd appeared so suddenly in her hut had called her Rachel, and then her guardian angel, the one she'd feared was a figment of her imagination, had arrived to save her.
Finally.
Only she didn't feel saved. She was scared mindless, and everywhere she looked, there was only jungle. She was hopelessly lost and alone.
Alone. Not in captivity.
The idea gave her fierce pleasure as the realization settled over her. She was free.
She fell to her knees, nearly crying out when her stomach revolted and lurched. Her palms planted in the damp soil, she braced herself as she dry-heaved.
In the distance she heard movement, and she immediately stilled, holding her breath. Were they coming to take her back? It Read More…