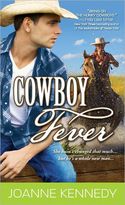 A compelling and great writing draw us into a story—but what we stay for is the characters. Elizabeth Bennett and Darcy; Jane Eyre and Rochester—what's a romance without great lovers who come alive on the page?
Giving life to characters is the best part of writing. I love creating a small town of my own, peopled by characters who hopefully come alive for the reader. They're certainly real to me! I spend a lot of time in my fictional universe, and my characters become like friends—or maybe more like family, because much as I love them, they sometimes drive me crazy. Demanding, difficult, and determined—they're just like real people.
Teague and Jodi have been with me a long time, waiting for their story to be told and gradually revealing who they are and what they want. By the time I actually sat down to write the book, they'd taken on so much personality that it was all I could do to keep them under control. It wasn't easy to keep them out of bed, either. These two were definitely made for each other.
The best part about having a new book released is knowing that my new characters are out there in the world, living in readers' minds as well as my own. I'm thrilled when readers love them as much as I do, and reviews that praise them warm me up with the kind of pride you feel when your kid gets a straight-A report card.
And it's not just the hero and heroine I love. Every one of my books has a whole community of characters, animal as well as human. Here's a partial roster of the cast of COWBOY FEVER:
Teague Treadwell is possibly my favorite cowboy hero ever. He's a good man overcoming a bad past, working hard to turn his life around and earn a lace in his community and the heart of the town's golden girl. He's turned his alcoholic father's played-out ranch into a first-class roughstock operation, raising bucking horses and bulls and caring for his mentally disabled brother.
Jodi Brand is a former Miss Rodeo America who spent six years back East modeling and earning a degree in special education. She once promised to return and make her hometown a better place, and she's keeping that promise by
starting a therapy riding program for children with disabilities. She's also coming back to see Teague, but that's not something she's ready to admit even to herself.
Troy Treadwell is Teague's older brother and Jodi's inspiration for working with the disabled. He has Down's Syndrome, but that doesn't define him. He longs to live an independent, fulfilling life of his own, but it's hard for
his brother to let him go; it's taking care of Troy that inspired Teague to turn his life around.
Courtney Skelton never really had a chance. The daughter of difficult but wealthy parents who bought her everything she wanted but paid little attention to her, she's spoiled, self-involved, and accustomed to getting
whatever she wants. Right now, she wants Teague—and that's where the trouble starts.
Cissy is Jodi's best friend. She married her high school sweetheart only to discover he's abusive. Now she counts on Teague for protection—but can he keep her safe without risking a return of the rough streak that made him the
town bad boy?
And then there are the animals. In my books, they're almost as important as the people, and a big part of my hero and heroine's lives.
Vegas is Teague's old horse. He plays a part in all Teague's best childhood memories—and Jodi's, too. Now nearly blind, he gets a new lease on life as a therapy horse.
Luna, Teague's bossy border collie has one goal: getting Teague and Jodi together.
Beelzebub, a.k.a. Beelzy, is a goat who's supposed to keep Vegas company, but he spends most of his time dreaming up devilment.
Honeybucket, Courtney's teacup Pomeranian, is a pocket pet who wants to be a real dog.
That's just a partial list of the dramatis personae of COWBOY FEVER. There's a small town full of people who help Teague and Jodi's story spin out, but in the end what matters most is the love they've had for each other all along. It's not easy to leave the past behind, but I think you'll agree that these two deserve a new future—and they deserve to spend it together.
Who are your favorite romance characters? What heroine would you like to be—and what hero would you like to have for your own?
COWBOY FEVER BY JOANNE KENNEDY – IN STORES APRIL 2011
She Thought She Had It All…
A modeling contract with Wrangler got this Miss Rodeo Wyoming a first-class ticked out of town, but somewhere along the way Jodi Brand lost her soul. When she gets back to her hometown, her childhood friend Teague Treadwell's rugged
cowboy charm hits her like a ton of bricks…
He Believed He Wasn't Good Enough…
Teague is convinced Jodi's success lifted her out of his reach. Now he's got to shed his bad boy image to be worthy of the girl next door…
But whoever heard of a beauty queen settling for a down and dirty cowboy…
ABOUT THE AUTHOR
Joanne Kennedy has worked in bookstores all her life in positions ranging from bookseller to buyer. She is a member of Romance Writers of America and Rocky Mountain Fiction Writers, and won first place in the Colorado Gold
Writing Contest and second place in the Heart of the Rockies contest in 2007. Joanne lives and writes in Cheyenne, Wyoming, where she is working on TALL, DARK AND COWBOY (Releasing in November 2011). For more information, please visit joannekennedybooks.com.
To comment on Joanne Kennedy's blog and for a chance to win a copy of COWBOY FEVER click here.