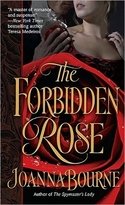 June 2010
On Sale: June 1, 2010
Featuring:
Marguerite de Fleurignac; William Doyle
400 pages
ISBN: 0425235610
EAN: 9780425235614
Paperback
$7.99
Romance Historical
Buy at Amazon.com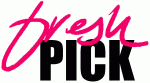 RT Book Reviews 2010 Reviewers' Choice for Historical Romantic Adventure
The Forbidden Rose
by Joanna Bourne
A glittering French aristocrat is on the run, disguised as a British governess. England's top spy has a score to settle with her family. But as they're drawn inexorably into the intrigue and madness of Revolutionary Paris, they gamble on a love to which neither of them will admit.

A magnificent, passionate, adventure romance set during the French Revolution.
Excerpt
Paris 1794
She was alone, suddenly, with Guillaume LeBreton.
He stood, being inscrutable, which was one of his talents. In the stark white robe he became dark and exotic. The long folds and draped sleeves made a mandarin of him.
How does he pass unnoticed through the streets of the city? It is as if a lion joined a pack of dogs and none of them remarked upon it. "Did you follow me from my house?"
"Something like that. You didn't make any secret where you were going."
"It was a perfectly useless thing to do, following me. It is over between us. We know it is impossible. We said farewell." She ran out of words abruptly.
"I changed my mind."
He did not move, except to breathe. He was like Read More… Previous Picks