While I was writing HOW TO WRANGLE A COWBOY, I found myself wishing I could start the story a generation or two early.
I write contemporaries, and I love my modern-day cowboys and their spunky modern women. But from the opening pages, where heroine Lindsey Ward's grandma is mourning her husband in her own inimitable way, I longed to write the story of her grandparents, Bud and Grace Ward.
A former stunt rider, Bud encapsulates all the excitement and romance of the Hollywood Western. I based him on Rex Rossi, a trick rider and Hall of Fame stuntman who doubled for various movie stars for over half a century. He performed many of the tricks that made cowboys like Roy Rogers, Hoot Gibson, and Bob Steele famous. Sadly, he died with his boots on after long day on the set.
I made Bud's story a happier one. Arthritis, brought on by his many injuries, forced him to leave stunt riding. He didn't think that was a happy ending at the time, but then, on his last film, he met Grace.
From afar, he'd admired the beautiful ingénue who was playing a pioneer lass, but beat up, bruised, and dirty as he was from his many deliberate falls, he wouldn't have dreamed of speaking to her. But one day, after taking a break, he found Grace holding his horse's halter.
"This little bitty thing," he told Lindsey years later. "She was holding my big ol' horse, looking up at me with those purty eyes, and I was a goner."
Grace started riding with Bud whenever she had the chance. To his surprise, she rode as well as most men, and swore just as creatively when a horse got the best of her.
Bud taught Grace some riding tricks, and she taught him to dream. With her at his side, he felt invincible enough to invest his savings in a played-out ranch in the middle of Wyoming's desolate high plains. The two of them left Hollywood for good, trading the hustle of the city for the howling of coyotes. The ranch was barren as a desert, and they worked harder than they ever had in their lives, but neither one ever regretted their decision for so much as a minute.
The love her grandparents shared is the kind of love Lindsey wants for herself, but after a failed marriage, she doesn't trust her own judgment. Despite the almost irresistible attraction she feels for her granddad's foreman, Shane Lockhart, she does her best to resist his dark eyes.
But Shane's son is another matter. Lindsey's heart aches for the motherless boy, and she's curious about this quiet cowboy who seems so dedicated to his son…
I've started another contemporary romance, but late at night, when I'm dreaming of cowboys and horses and happy endings, the story of Bud and Grace Ward still tugs at my heart. I've never written historical romance, and I'm not sure there's a market out there for a romantic Hollywood story. But I really want to delve deeper into their lives.
Then again, maybe it's just the mists of time that make that story seem so impossibly romantic. Because when I really think about it, the story of Lindsey and Shane is just as sweet, just as romantic, and just as much of a message to readers that love is a risk worth taking.
Giveaway
Do you know how your grandparents met? What about your parents, or yourself? Share their "meet cute" with us, and maybe you'll find yourself inspired to write your own book!
One commenter will get the first two books in the Cowboys of Decker Ranch: HOW TO HANDLE A COWBOY and HOW TO KISS A COWBOY.
Cowboys of Decker Ranch
Joanne Kennedy is the RITA-nominated author of ten contemporary Western romance novels, including Cowboy Trouble, Tall, Dark and Cowboy, and the Cowboys of Decker Ranch series, which began with How to Handle a Cowboy, one of Booklist's "Best Romances of the Decade." Joanne lives in a secret mountain hideout on the Wyoming/Colorado border with two dogs, a cat named Earl, and a husband who is an airline pilot, military officer, and volunteer fireman. When not loving a man in uniform, she occupies her obsessive personality with cowboys, quarter horses, hiking in the mountains, and squirrels.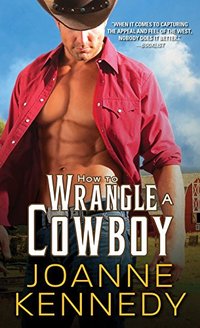 The last thing this cowboy expected
Inner-city veterinarian Lindsey Ward always loved visiting her grandfather's Wyoming ranch, so it breaks her heart to have to sell it. She'll miss the scent of hay and sagebrush under the wide-open sky, but at least the sale will help fund the clinic she's always dreamed of.
Was to get roped by a city girl
Ruggedly handsome foreman Shane Lockhart and his adorable son aren't making it any easier for Lindsey to focus on what has to be done. It's exhilarating going toe to toe with a rough, tough cowboy whose stubborn idealism matches her own, but it's Shane's tenderness that might tip Lindsey's heart over the fence.