I've been reading romance for….some time now 🙂 My very first was a novella written by Sherrilyn Kenyon, and I was immediately hooked. I devoured romance novels after that first fabulous book, forsaking all other genres. But I noticed a theme that, at times, didn't sit well with me. The pages were full of slim, gorgeous, flawless woman. Don't get me wrong, I'm cool with that, woman come in all shapes and sizes and I want to read about all of them. I just felt there weren't enough curvy or plus-size women being represented in these books I loved so much. I wanted to read a book with a heroine I could relate to in that way.
I've never been one of the skinny girls, and at times struggled with it. I suffered the name calling at school and the lack of self-confidence. Our culture is filled with negative messages directed at women who don't fit some advertiser, magazine editor, or movie producer's ideal. It's shoved down our throats on a daily.
So here I was going about my business, reading romance like a demon, and happy days! I found what I was looking for! The joy I felt when I picked up NIGHT PLAY by Sherrilyn Kenyon. Yes, the same amazing author who got me hooked on romance introduced me to my first story featuring a plus size heroine. I freaking loved bride and Vane. After that, I sought out more, but they were harder to find then than they are now. Also a lot of those gorgeous curvy heroines had terribly low self-esteem and the "hero" ignored them until BOOM! They lost weight and were finally hot enough to garner his attention. No thanks.
I like to write women of all shapes and sizes, but I must admit, I love writing a curvy heroine. Which is why I'm so excited for you to meet Piper West, the heroine of my latest release WRECKED. Not only does she have the curves, she's a mechanic. She's also sweet and feisty, and yeah, she might be a little self-conscious at times, anyone who's been passed over for their hot best friends, or ignored because of the way they look does not come out of that unscathed, but you won't find a Cinderella moment in WRECKED.
Cole, her hero, loves Piper just the way she is.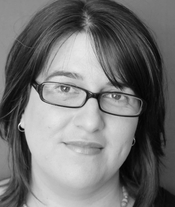 Sherilee Gray writes sexy, edgy contemporary and paranormal romance. Stories full of heat and high emotion, following stubborn characters as they fight against the odds… and their happily ever after. She's a kiwi girl and lives in beautiful NZ with her husband and their two children. When not writing or fueling her voracious book addiction, she can be found dreaming of far off places with a mug of tea in one hand and a bar of Cadburys Rocky Road chocolate in the other.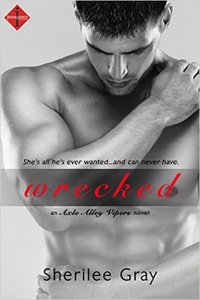 He's driving her crazy…
Piper West is finally on her own, and it's time to get crazy. Except that her overprotective big bro has enlisted his ex-cop best friend to keep an eye on his baby sister. With every move monitored and reported back, Piper's life has gone from "going crazy" to "being driven crazy." But a searing-hot kiss with her sexy and scarred watchdog is just the game-changer she needs…
Cole Black owes Piper's brother big-time, but there's nothing easy about his new assignment. Piper is all feisty sexiness and curves meant to tempt a man beyond reason, and Cole can't stop himself. Now he's caught up in a hunger like nothing he's ever known, and he can't get enough…
Even if Piper's the one girl he's not allowed to have.