I love second-chance romances. Couples who fall in love only to lose each other have lots of time to stoke the fire as they search for a relationship as intense as their first love. By the time they get back together, the sparks really fly!
That's the case with Jess and Cade in Cowboy Summer, and you'll find the same heat and passion in these classic novels by some of my favorite authors. I had to put them in alphabetical order (by last name), because I couldn't choose a favorite!
Kari Lynn Dell: Tangled in Texas
Kari Lynn Dell's books are wildly authentic because she's the real deal—a ranch-raised cowgirl and true-life rodeo competitor. She's a compelling writer as well, creating characters who are vivid and alive. In this story, physical therapist Tori's latest client is her ex, bronc rider Delon Sanchez, who's suffered an injury that may end more than his rodeo career. The chemistry between these two ranges from fiery disputes to touching love scenes, and like all her books, it's full of heat and action as well as humor and emotional insight. If you want to get a taste of the true cowboy life, you need to read this author!
Kristan Higgins: Waiting On You
Kristan Higgins just might be number one on my list of romance writers. Her books are always quirky and fun, but with an undercurrent of love, loss, and deep emotion. She has a sunny view of the world that puts me in a good mood even when her characters are struggling, and I can always feel her fondness for her characters shining through even as she pokes gentle fun at their foibles.
In this story, Colleen O'Rourke has stuck to playing matchmaker for her friends ever since Lucas Campbell broke her heart, because she's not about to risk that kind of pain again. But when Lucas comes back to town, it's clear the two have unfinished business to resolve…
Brenda Novak: This Heart of Mine
Brenda Novak writes great stories, whether they're suspenseful thrillers or heart-tugging romances. This one sets up a high-stakes barrier between the hero and heroine: after Phoenix Fuller and Riley Stinson broke up, she was unjustly convicted of killing his next girlfriend. She was pregnant when they broke up, and now that she's out of prison, she wants to get to know her son. But Riley's doing just fine as a single parent, and he doesn't want her help.
Watching Phoenix return to the town that refused to believe in her while Riley struggles to reconcile the woman she's become with her sad history is moving, emotional, and very, very rewarding.
Nora Roberts: Rising Tides
Oh, how I love Nora Roberts' Chesapeake series! As always, the lush setting is artfully brought to life and the characters are uniquely appealing.
Ethan Quinn is my favorite kind of hero—quiet and damaged, yet strong. When he's drawn back to his family to protect his adopted 12-year-old brother, he's also drawn to the family's housekeeper, Grace Monroe, a girl he's admired since high school. Abused as a boy, Ethan vowed he'd never to marry or have children, and Grace mistakenly believes he has no feelings for her. Once the two get their second chance, they're forced to reckon with their difficult pasts and learn that while love is always a risk, it's also the key to healing.
Susan Wiggs: Just Breathe
This is a different kind of second-chance romance. Sure, Sarah Moon reunites with her high school nemesis and sparks fly—but she also finds herself giving a second chance to her hometown, her family, and the life she left behind, and she gets a second chance to love herself after fleeing a toxic marriage. Susan Wiggs' books are all classics as far as I'm concerned. She's a uniquely skilled writer who knows how to open up her characters to reveal their flawed and wounded hearts while making us care deeply about their journey toward happiness and love. Just read!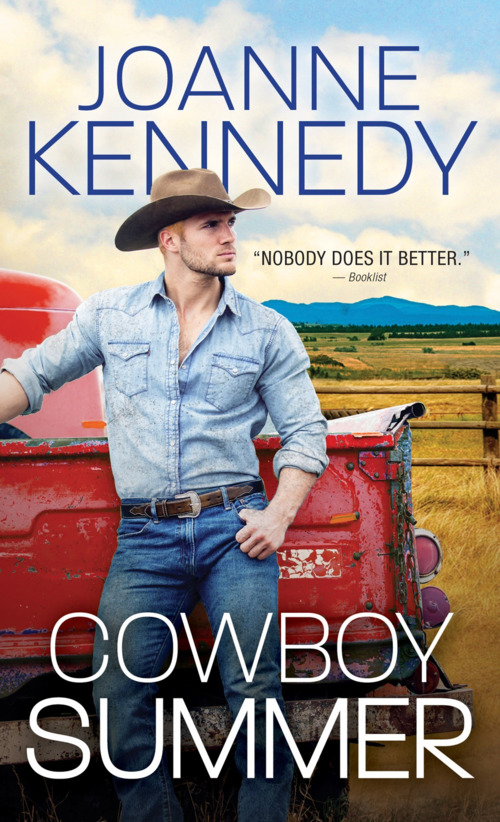 At last, a brand new, sweet and sexy contemporary
romance series from award-winning author Joanne
Kennedy!
CONTEMPORARY WESTERN ROMANCE
Jess Bailey traded her cowboy boots for high-heels and took on the city years ago—but it wasn't long before she found that it's easy to get lost in a crowd. And when she finds out her father is selling her beloved family ranch, she hightails it for her home-town…
Cade Walker is swept away with the return of his old flame, Jess. He's also recovering from a brief but tempestuous marriage to a woman Jess detests and Jess isn't sure she can trust him anymore. But when someone starts sabotaging the ranch and Jess is the number one suspect, Cade is the only one who believes her. Trusting each other might mean a second chance at a life they've always been meant for…
Romance Western [Sourcebooks Casablanca, On Sale: June 25, 2019, Mass Market Paperback / e-Book, ISBN: 9781492616986 / eISBN: 9781492616993]
Joanne Kennedy is the RITA-nominated author of ten contemporary Western romance novels, including Cowboy Trouble, Tall, Dark and Cowboy, and Cowboy Tough. The first book in her Decker Ranch trilogy, How to Handle a Cowboy, was named one of Booklist's "Best Romances of the Decade." She lives in a secret mountain hideout on the Wyoming border with too many pets and a retired fighter pilot. The pets are relatively well-behaved. Joanne loves to hear from readers and can be reached through her website, www.joannekennedybooks.com.