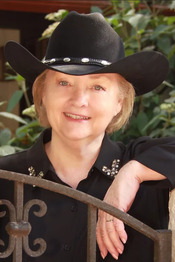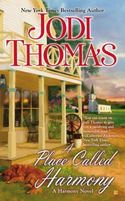 Once in a while in my career of forty books, there comes a story I know I have to write. It waits like an impatient child in the back of my mind for its time to shine. A PLACE CALLED HARMONY was one of those stories. As I moved through the Harmony series, getting to know the people of Harmony, Texas, better with each book I knew that someday I'd tell the beginning of their town.
From the day I started writing, the characters came through clear. I had to find men strong enough to influence the generations of Mathesons, Trumans and McAllens. Many times during the writing of this story I felt all three men standing behind me telling me their lives.
All three men were prepared for the challenge of building a town but unprepared for the depth of love they found as they build their families.
I loved writing these men and I hope the readers will follow me into this historical romance. I felt close to all of them, because my great-grandparents settled this same country over a hundred years ago. My grandmother was even born in a covered wagon.
Patrick McAllen, young and full of dreams, thought of it as an adventure and believed love came easy. Clint Truman felt old at thirty and didn't believe in love. When he heard he had to have a wife to get the job, he went to the prison gate and picked the first woman walking out. And then there was Captain Gillian Matheson who loved his wife but also loved adventure.
When Truman, Matheson and McAllen's stories began to dance in my mind, I found myself staying up later every night to write more. I love the way the three men interacted and the way all three loves storied grew. I have a feeling that readers will be staying up a little later to read one more chapter.
If you've read a Harmony book, you'll feel like you already know the characters. If you've never read one this book would be a great place to start. So, step into Harmony for the first time as the three families build a town while they form bonds and loves that last a lifetime.
I hope you enjoy the adventure,
Jodi Thomas
About A PLACE CALLED HARMONY
New York Times and USA Today bestselling author Jodi Thomas has captivated America with her novels set in the small town of Harmony, Texas. Now she tells the story of the three hard-luck men who first settled the town, a place where last chances and long-awaited dreams collide…
Desperate to escape his overbearing father, Patrick McAllen disappears with his bride, heading north to build a new town—discovering strength, honor and true love along the way.
After drinking away the grief from his family's death, Clint Truman avoids jail by taking a job in North Texas and settling down with a woman he vows to protect but never love—until her quiet compassion slowly breaks his hardened heart wide open…
All Gillian Matheson has ever known is Army life, leaving his true love to be a part-time spouse. But when a wounded Gillian returns home to find her desperately fighting to save their marriage, he's determined to become the husband she deserves.
Amidst storms, outlaws, and unwelcome relatives, the three couples band together to build a town—and form a bond that breathes life into the place that will forever be called Harmony.
***
Jodi Thomas is the New York Times and USA Today bestselling author of 40 novels and 12 short story collections.
A four-time RITA winner, Jodi currently serves as the Writer in Residence at West Texas A&M University in Canyon, Texas. Visit her online at her website, Twitter, and Facebook.