Thanks for having me on the Fresh Fiction blog! I thought, since my new release, COVERING ALL THE BASES, is a sports romance, I'd share my five favorite sports romance books and five favorite sports romance movies.
Ready? The list is not in any particular order:
Books (You might see a theme):
See Jane Score by Rachel Gibson
The Trouble with Valentine's Day by Rachel Gibson
True Love and Other Disasters by Rachel Gibson
For the Win by Sara Rider
No Limits by Lori Foster
Movies (they aren't necessarily romantic but they're all awesome):
For Love of the Game
Invisible
Blind Side
Remember the Titans
Blue Crush
Only one of these are related to baseball but the three sports romance I've written (CAUGHT LOOKING, COVERING ALL THE BASES, and CATCHING HER HEART) have ball playing, or former ball playing, heroes.
When Isla tries to get to the deathbed of a grandfather she didn't know she had, she finds comfort in the kindness of a stranger. But that stranger ends up being so much more. Liam Cruz has never felt such a strong and fast connection to anyone as he does the woman who comes into his bar. The two fall before they find out that Isla has inherited the Nashville Slammers Baseball team and Liam is her star hitter. They'll have to choose baseball over love. Or will they?
Teaser:
The first touch of his lips pushed thoughts of anything other than him, of getting closer, out of her brain. One of his hands threaded through her hair, anchoring her where he wanted so he could slant his mouth over hers, teasing and testing, before diving all the way in.
Thanks for hosting me on your blog. Let me know, what's your favorite sports romance movie or book?
For the Love of the Game
Talk about a wild day… As if being summoned to the deathbed of a grandfather she didn't know existed wasn't enough––Isla Bennett meets the man of her dreams. Spends an amazing day playing tourist around Nashville with him. And then finds out she's inherited the Nashville Slammers major league baseball team. Oh, and her new dream man? He's the Slammers' star power hitter. Isla just went from amazing first date to holy heck I'm your boss in the span of a day.
Liam Cruz can't believe how refreshing it was to spend a day with someone who didn't know his batting average, the size of his last contract, or heck, even that he's a baseball player. Now Isla's thrust into the spotlight, and though she's more than capable of handling herself professionally, he takes it upon himself to teach her everything he can about the game that is his whole life. But they'll have to keep it on the DL.
Because doing what's best for the team means they can never be together––and that might be the toughest play of all.
Romance Contemporary [Entangled: Bliss, On Sale: June 10, 2019, e-Book, ISBN: 9781640638037 / ]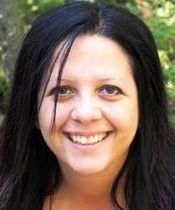 Jody Holford lives in British Columbia with her family. She's a huge fan of Rainbow Rowell and Nora Roberts. She's unintentionally funny and rarely on time for anything. She writes multiple genres but her favorite is romance.