They were alone.
They were away from prying eyes and the cutting comments about her, which she'd had enough of for one evening, thank you very much.
They were alone and there was no need to maintain any ruse.
"Daisy, I don't know what to say, other than that I'm sorry."
"It's not your fault. You didn't say any of those things." He remained silent, a confession of sorts, and she understood. "You didn't say any of those things within earshot," she corrected. "Tonight."
"I am so sorry. It is unkind for anyone to say such things in any circumstances. And with you, it's also just plain wrong. For one thing, if you are old then so am I."
Daisy couldn't care less about being considered old, not when she was counting the minutes until she was officially On the Shelf and an Unredeemable Spinster. But she wasn't so hurt or stuck up that she couldn't recognize his offering of peace.
Funny that, coming from him.
But she wasn't so hardened that she didn't appreciate the overture. Even if she didn't know what to do with it. In fact, it left her speechless.
They stood there in the dim light, not talking. It was as if, by mutual agreement, neither of them had any fight left and so they were left with an unspoken but understood truce. She was grateful for that, for she needed a little more time alone before she could go back and face the world.
"You do have beautiful skin," Theo said softly.
"You don't need to compliment me in an effort to soothe any hurt feelings you may think I have. My confidence does not rely on the good opinion of society. Thank God."
She had genuine friends, she had a talent for chemistry, and she had an ambition that sustained her. She would be fine. But her confidence was not unshakable and her feelings were not invulnerable.
The things she'd overheard tonight weren't really about her age or her looks or her manner. They were about a girl like her being seen with a man like him. It was because she, the Ugly Duckling of high society, had dared to stray from her little corner and step out and claim some prime territory for herself that their claws had come out.
This stupid engagement would not be as easy as she'd thought it would be. It might not even work in her favor, as she had hoped it might—that Theo's status in society and hers as his betrothed would help her product launch be successful. Maybe it wouldn't help at all. Then what was this all for?
She was thinking about going downtown right now to place an announcement in the newspaper declaring the end of the match, when he spoke.
"I'm not saying it because it's necessary," Theo said. "I'm saying it because it's a true thing that I noticed and I couldn't think of anything else to say. And I wanted to say something nice to you."
"Well, then, thank you."
"You're welcome," Theo said. She shifted her gaze toward the door. He would leave now, of course. They had made some sort of peace. They had spent the better portion of an hour not killing each other in the ballroom. Certainly that had to be enough to calm the gossips.
And yet, he remained. With her. In the near-dark, otherwise empty room.
In fact, he strolled closer to her.
"Now, tell me. Why can't you accept a compliment?"
She laughed. "From the man who called me Ugly Duck?"
"I am sorry about that."
"Fifty-five days before our supposed wedding and you are now sorry."
"Better late than never?"
"I might have appreciated your apology more, should it have occurred on Valentine's Day of 1889, when I received a gruesome note addressed to My Ugly Valentine. Did you know that I was called that name so often that I even answered to it upon a few utterly humiliating occasions?"
He had the decency to pale.
Anguish looked good on him.
Damn him.
"I am very, very sorry, Daisy. You have to understand that at the time, I was a thirteen-year-old boy, trying to impress my friends. It's no excuse, I know."
To think some young boy had possibly altered the course of her life. Just to impress his stupid friends.
She shrugged. "It's a catchy name. You have a talent. But your friends are idiots."
"That doesn't excuse anything. Daisy, I had no idea . . . If I had . . ."
"You would have done it all the same. Because you were a thirteen-year-old boy with no thoughts beyond impressing his friends at any cost. Even then, you had a precious reputation to maintain. Why do you care so much?"
He had nothing to say to that.
Not with words anyway.
Theo reached out for her now. His hand closed around her upper arm, the space left bare between her elbow-length satin gloves and the short sleeves of her evening gown. His touch was gentle, but it was not without intention.
She had never really been touched by a man with intentions before. Daisy found herself immobilized by some strange, potent force between them that was not repellent.
Theodore Prescott the Adored was touching her. They were alone. In the dark. It was clear what he wanted. But what did she want? This was a situation for which she had never expected and thus never prepared. She considered leaving through that open door but decided to stay. Maybe she was curious. Maybe she ought to give all the other girls in the ballroom something to really be jealous about.
When he spoke, his voice was soft and heavy.
"You drive me mad, you know. And not in a good, romantic way."
"Tell me what else I do to you in a bad, unromantic way." She made her voice go low and smooth, like her father's expensive whiskey. "Tell me what I do that gets your heart pounding. Your temper flaring. Your heat rising . . ."
"Oh, Daisy . . ."
And then he kissed her.
He kissed her.
Theodore Prescott the Third closed his beautiful blue eyes and pressed his widely admired mouth to hers and the world as Daisy had known it no longer made sense.
It was Theo. And her.
And they despised each other and yet . . .
He kissed her.
From SOME LIKE IT SCANDALOUS by Maya Rodale, published by Avon. Copyright © 2019 by Maya Rodale. Reprinted courtesy of HarperCollinsPublishers https://www.harpercollins.com/9780062838834/some-like-it-scandalous/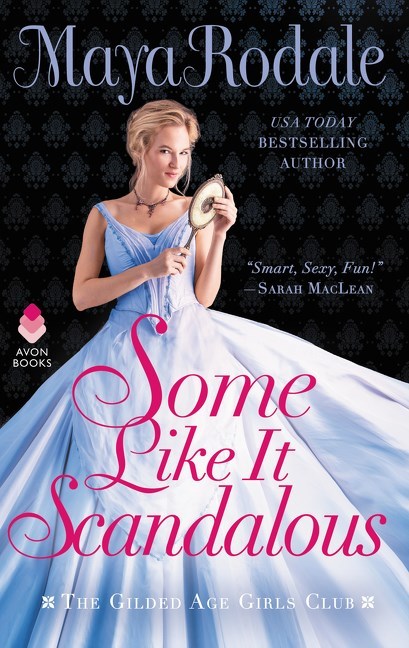 They are sworn enemies…
Theodore Prescott the Third, one of Manhattan's Rogues of Millionaire Row, has really done it this time. The only way to survive his most recent, unspeakably outrageous scandal is marry someone respectable. Someone sensible. Someone like Daisy Swann. Of all the girls in Gilded Age Manhattan, it had to be her.
Pretending to be lovers…
Daisy Swann has plans and they do not involve a loveless marriage with anyone. But when a devastating family secret threatens to destroy her standing in society, suddenly a fake engagement with Theo is just the thing to make all her dreams come true.
And now it's time to kiss and make up…
Daisy Swann aspires to sell cosmetics that she has created, but this brainy scientist needs a smooth-talking charmer's flair for words and eye for beauty to make it a success. Before long, Daisy and Theo are trading kisses. And secrets. And discovering that despite appearances, they might be the
perfect couple after all.
Romance Historical [Avon, On Sale: June 18, 2019, Mass Market Paperback / e-Book, ISBN: 9780062838834 / eISBN: 9780062838810]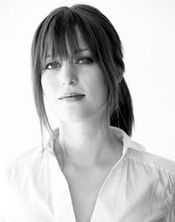 Maya Rodale began reading romance novels in college at her mother's insistence. She is now the author of numerous "dazzlingly sexy and witty" historical romance novels. A champion of the romance genre and it's readers, she is also the author of the non–fiction book Dangerous Books For Girls: The Bad Reputation Of Romance Novels, Explained and a co–founder of Lady Jane's Salon, a national reading series devoted to romantic fiction. Maya lives in New York City with her darling dog and a rogue of her own.