Well, sort of.
In their own ways, both of these men inspired me while I was writing my new book, SOMETHING ABOUT YOU. First, let me start by telling you a little about the book.
Here's the blurb:
FATE HAS THROWN TWO SWORN ENEMIES. . .
Of all the hotel rooms rented by all the adulterous politicians in Chicago, female Assistant U.S. Attorney Cameron Lynde had to choose the one next to 1308, where some hot-and-heavy lovemaking ends in bloodshed. And of all the FBI agents in Illinois, it had to be Special Agent Jack Pallas who gets assigned to this high-profile homicide. The same Jack Pallas who still blames Cameron for a botched crackdown three years ago–and nearly ruining his career…

. . .INTO EACH OTHER'S ARMS
Work with Cameron Lynde? Are they kidding? Maybe, Jack thinks, this is some kind of welcome-back prank after his stint away from Chicago. But it's no joke: the pair is going to have to put their rocky past behind them and focus on the case at hand. That is, if they can cut back on the razor-sharp jibes–and smother the flame of their sizzling-hot sexual tension…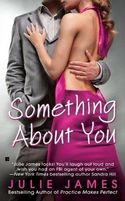 So how did Alfred Hitchcock and Jason Bourne influence my book, you ask? I'll explain the Hitchcock part first. One of my favorite themes that Hitchcock used in several of his movies is that of an innocent man in the wrong place at the wrong time who becomes swept up in some kind of murder/suspense intrigue. It's a theme that works well because everyone can identify with it. We watch the movie thinking, "Hey–that could be me. What if I walked into that bar at just the wrong moment and accidentally saw X that got me in a whole load of trouble?"
This is, essentially, the set-up of SOMETHING ABOUT YOU. Only instead of a bar, I use a hotel room. And instead of an innocent man in the wrong place at the wrong time, it's a woman. My heroine, Assistant U.S. Attorney Cameron Lynde, is treating herself to some much-needed pampering at the luxurious Peninsula hotel when, in the middle of the night, she's awoken by strange noises coming from the room next to hers. At first it sounds as though the couple next door is having some kind of crazy sex marathon, but then the noises change. . . and what Cameron ends up overhearing is a murder that involves a U.S. Senator and a call girl. Watching through her peephole, she sees a man leave the hotel room next to hers and thus becomes the sole witness to the high-profile crime. And just like in Hitchcock's films, that's where the trouble begins. Trouble, that is, in the form of FBI Special Agent Jack Pallas.
Okay, so this is where the Jason Bourne part comes in. See, Jack, the hero of the book, is this tall, dark, and smoldering tough-guy FBI agent who can pretty much kill people with his thumb–normally the type of hero you would find in an action film or dark, edgy romantic suspense or thriller.
But not this time.
Jack is in charge of investigating the murder that Cameron overheard and–wouldn't you know it–the two of them don't get along. They worked together three years ago on a case that ended badly with Jack mouthing off to the press about Cameron and consequently getting transferred to Nebraska. And if it's not bad enough that the two of them have to work together as Jack tries to solve the crime, things get even worse when it turns out that the murderer may be after Cameron next. . .
When writing SOMETHING ABOUT YOU, I wanted it to be a lighter, funnier contemporary romance, like my first two novels. Sure, there's a suspense element, but that's just a subplot–a device that brings these two strong-willed characters who allegedly can't stand each other together. At first I thought to myself, "You can't put an edgy, action-hero in a light-hearted story!" But then I wondered, hmm… or can you? I realized there's a lot of potential for humor in that scenario.
I like to think of SOMETHING ABOUT YOU as my "What if somebody dropped Jason Bourne into a romantic comedy?" book. Which means that my hero, FBI Special Agent Jack Pallas, is running around all dark and scowling and trying to save the day, while everyone else is cracking jokes. What's fun about Jack is that we get to see him slowly warm up throughout the course of the book as he begins to fall for and trust the heroine.
You can probably tell that I had a lot of fun writing Something About You, and I hope you enjoy it as well. Here's a brief excerpt:
"And then I heard the door open, so I ran and looked out the peephole," Cameron said.
"Just being nosy?"
The sarcasm seemed to reinvigorate her. "And thank goodness for that," she said. "Otherwise you wouldn't have whatever information I know that I don't yet realize I know." She smiled ever so sweetly. "Besides, if I hadn't been so nosy, Agent Pallas, you and I never would've had this lovely chance to reconnect."
Wilkins coughed while taking a sip of his coffee. It sounded suspiciously like a chuckle.
Jack found her sarcasm laughable. Back when he was in Special Forces, before he'd joined the FBI, he'd interrogated foreign operatives, suspected terrorists, and members of various guerilla militias. He could certainly handle one cheeky assistant U.S. attorney. "I'm glad to see the coffee's put a little ?re back in you," he said dryly. "Now why don't you tell me what you saw when you were doing your civic duty and spying though the peephole?"
Wilkins held up his hand. "Um, I'm thinking maybe I should pick back up with this."
Cameron and Jack answered simultaneously. "We're fine."
"I saw a man leave the room, which I'm sure you know," she told Jack.
"Describe him."
"I already described him to Slonsky."
"Do it again."
Jack saw her eyes ?ash. She didn't like being told what to do. Too bad.
"Five foot eleven, maybe six feet tall," she said. "Medium build. He wore jeans, a black blazer, and a gray hooded T-shirt pulled over his head. He had his back to me the entire time, so I never saw his face."
"Didn't you think the hooded T-shirt was a little odd?"
Jack asked.
"I heard butt cheeks being slapped and walls that were banged so hard my teeth nearly rattled. Frankly, I've found this whole evening to be a little odd, Agent Pallas."
Out of the corner of his eye, Jack could see Wilkins glance up at the ceiling while ?ghting off another smile.
"Are you certain about the man's height?" Jack continued.
Cameron paused, thinking."Yes."
"How about his weight?"
She sighed. "I'm really bad at guessing that kind of thing."
"Make an effort. Pretend this is something important."
Another glare.
Cameron glanced over at Wilkins. "How much do you weigh?"
"Wait—–how come Jack doesn't have to answer that?"
"The man I saw seems closer to your build."
"Oh, so he's a smaller guy, then?" Jack suggested helpfully.
Wilkins turned around. "A smaller guy? I'm an inch above the national average. Besides, I'm spry."
"Let's try to narrow this down," Jack regrouped. "I weigh one-eighty-?ve, Agent Wilkins is about one-sixty. Given that, where would you say this guy falls?"
She looked between the two men, considering this. "About one-seventy."
Jack and Wilkins exchanged looks.
"What?" Cameron asked. "What does that tell you?""
On that note. . . I think I'll turn it over to you guys. Let's talk about other books or movies you like that balance both suspense and humor. Or. . . tell me about your favorite tough-guy hero. Or. . . maybe you have a question about SOMETHING ABOUT YOU. One randomly-selected person who leaves a comment below will win a copy of the book.
Happy reading!
For more information about Julie James's books, visit Julie's website here.
To comment for a chance to win on Hitchock + Bourne = Romance please click here.