I reread my books. There I said it. Yes, I have a TBR pile a mile high, but sometimes, I don't want a new book to read. I want a book that will give me the emotional journey I need today. Sometimes, when I'm having a bad day and I need a pick-me-up, I know exactly which book will give me that. Sometimes I'm just tired and I need a story that won't break my brain. Sometimes I just want to hang out with a story that's more of an old friend than fiction.
Here, in no particular order, are my top 5 favorite comfort reads:
So, you've probably noticed some similarities in my choices. Good worldbuilding and a story centered around trust with a happy ending. Oddly, or maybe not, trust is also one of the core themes I write about.
What are your comfort reads? See any similar themes among them?
Keep reading for an excerpt from Julie's latest release Search & Destroy!
Monday, March 17 10:10 am
The headache trying to drill its way out of John Dozer's head was going to kill him, if arguing with the woman standing next to him didn't do it first.
"I'm fine." He glared at Dr. Carmen Rodrigues who wasn't quite his boss, almost, but not quite, and spread his arms wide. "Yeah, I'm a little beat up, but I've been doing physical therapy for over a week now. There's no reason to keep me here in the hospital."
Nope, he didn't want to be in this hospital bed, he wanted to be in Carmen's bed with her curvy body beneath him, and her dark brown, curly hair spread over a pillow while he kissed, licked, and stroked every gorgeous inch of her.
"Physical therapy to strengthen muscles performed while you're still in bed doesn't come close to making you ready to leave."
He opened his mouth, but she wasn't done talking.
"Someone tried to kill you, again," Carmen said, her expression edged with a fury that only made him hotter for her. If an attacker strolled in, murder on their mind, John had no doubt she'd kill them with her bare hands. "Recovering from a gunshot wound, multiple hairline skull fractures, and a severe concussion will take time. You are staying in the hospital until I say otherwise."
She took a couple of steps closer and thrust her index finger in front of his face. "And you will stop arguing with Gunner and Joy over everything. They're here to keep you from damaging yourself further."
"I don't need 'round-the-clock babysitters who bicker more than we do to keep me company." It was the flirting sort of bickering Carmen and he used to trade with each other—a secret language anchored by desire and need.
But that was a lifetime ago, when they were different people.
He missed it so much it hurt worse than all his injuries combined.
"It's them or protective custody. Which would you prefer?" She vibrated with outrage, which was out of character. Unless she was using it to hide…concern? Overwhelming concern?
The worst of his pain disappeared as hope washed over his body in a wave of warmth.
"Well?" she asked, putting her hands on her hips. "Which is it?"
Joy and Gunner or a couple of Homeland Security agents? No contest. Homeland wouldn't waste a couple of agents on his babysitting detail, he'd end up with some kids who'd never seen any real action. Someone who'd follow the rules to the letter. At least Gunner and Joy knew which rules could be bent. Or broken.
"Fine," he said. "I'll stop bitching, but I still think you should convince that overblown doctor to discharge me."
"You stay until your skull is healed up enough to stop looking like Humpty Dumpty's on an x-ray or a CT scan."
There was something in her tone that made his gut tighten. He took another look at her, her clothing, professional and the heels she wore that said meeting with someone she wanted to take her seriously.
"What's going on?" he asked. "You going somewhere?"
She rolled her eyes and sighed. "I have to fly to D.C. and speak with the Surgeon General about the frequency of outbreaks, their link to terrorism, and what the CDC is doing about it. There have also been a couple of cases of measles reported in Vermont, which is an odd place for them to be popping up. I want to stop in and check on the situation."
"So, only gone a couple of hours?" he asked, trying to make it a joke.
It fell flat.
"I'll be gone a couple of days, which is why I want your promise to cooperate."
Well, shit. She was going to force him to give his word to be a good boy. As much as he didn't want to do that, he could see he was dancing all over her last nerve.
"I'll be good," he said, putting one hand on an imaginary Bible and the other in the air. "I promise."
Her expression didn't change.
"Really," he added in a helpful tone.
A snort preceded her response. "I don't trust you."
All traces of humor and hope drained away, allowing pain to fill him again. "That's the real problem isn't it?"
© Julie Rowe, Entangled Amara, 2019
***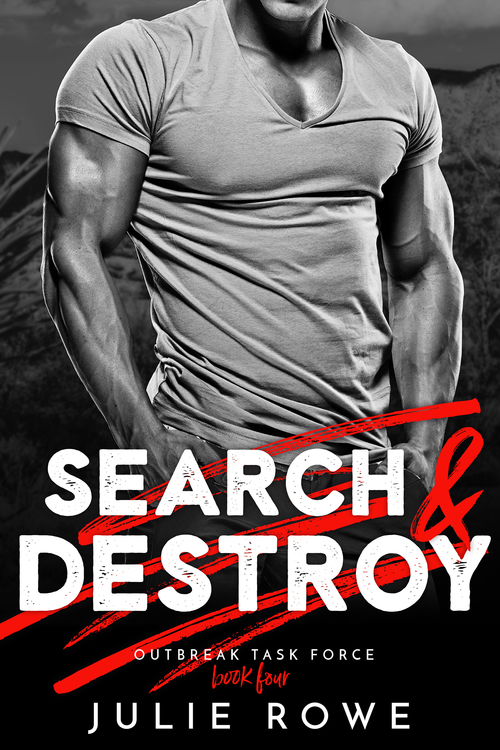 Dr. Carmen Rodrigues, CDC's Outbreak Task Force director, is on the hunt for a killer – an airborne virus spreading from Florida across the States, gaining traction with each passing moment. Although she'll never forget her one night with sexy bodyguard John Dozer in Afghanistan, his protective nature is one distraction she doesn't need right now.
Ex-Army Intelligence officer John Dozer will put his life on the line for beautiful, independent Carmen. Every. Time. Even when she pushes him away. And now, with her struggling to contain an outbreak likely triggered by domestic bio-terrorists, maybe even insiders at the CDC, she needs him more than ever. He lost her once. He'll never let that happen again.
Romance Suspense [Entangled Amara, On Sale: August 26, 2019, e-Book, ISBN: 9781640638549 / eISBN: 9781640638549]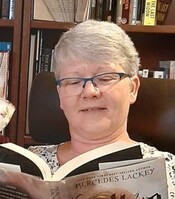 Julie Rowe's first career as a medical lab technologist in Canada took her to
the North West Territories and northern Alberta, where she still resides. She
loves to include medical details in her romance novels, but admits she'll never
be able to write about all her medical experiences because, "Fiction has to be
believable". Julie writes romantic suspense and romantic military thrillers.