I've loved the science fiction genre since I was a kid. So many exciting possibilities. Alternate realities, biopunk, aliens—I want to devour it all. Today I'm here to share a list of my top 8 favorite science fiction shows (in no particular order).
The Bionic Woman – This was my very first introduction to the science fiction genre and remains my number 1 favorite. When I was a kid, my mom loved this show. I grew up watching the reruns. In fact, I was so enthralled by it, I was even Jamie Summers two Halloweens in a row (not that anyone knew who that was, lol)
Futurama – Anyone who knows me will tell you that I'm a sucker for animation. I live for cartoons. When Futurama came along? Sci-fi and a cartoon? Um, yes please! I know a lot of people weren't thrilled with the later stories, but I personally loved how they ended Fry and Leela's story.
The Flash – I'm loving how the story is progressing on the Flash. I still need to play catch-up on this season, but I can't wait to see what they do next!
Dollhouse – Joss Whedon can pretty much do no wrong in my eyes. Though the second season was nowhere near as awesome as the first (to me, anyway) Dollhouse has a cemented place in my heart.
Fringe – I'll be honest. This one took me a season to get into. But once it dug deeper into the alternate reality portion of the plot, I was utterly hooked.
Sliders – Sliders… What's there to say? This show was awesome – and so prematurely pulled from the lineup! The show had some of the most amazing alternate dimension set ups that I've seen to this day. I miss it!
Orphan Black – This show gets better with each season. Tatiana Maslany is so seriously amazing, and the growing storyline has me completely enthralled.
Firefly – Stellar cast, fantastic dialog—and gone way too soon!
How about you guys? What's your favorite science fiction show—past or present?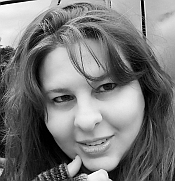 JUS ACCARDO spent her childhood reading and learning to cook. Determined to follow in her grandfather's footsteps as a chef, she applied and was accepted to the Culinary Institute of America. At the last minute, she realized her path lay with fiction, not food, and passed on the spot to pursue writing.
Jus is the bestselling author the popular Denazen series from Entangled publishing, and the upcoming Darker Agency series. A native New Yorker, she lives in the middle of nowhere with her husband, three dogs, and sometimes guard bear, Oswald.
Infinity Division
Two families,. One device. Infinite possibilities…
There are three things Kori Anderson knows for sure
One: Her army general father is way too overprotective
Two: The guy he sent to watch her, Cade, is way too hot
Three: Everything she knows about her life is a lie
Now for the three things she doesn't know
One: There's a device that allows people to jump to other
dimensions
Two: Cade has a lethal secret
Three: Someone wants her dead
Young Adult | Science Fiction | Romance [Entangled Teen, On Sale: November 1, 2016, Trade Size / e-Book, ISBN: 9781633754973 / ]