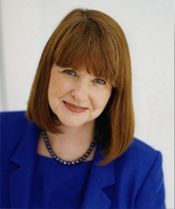 Hi Fresh Fiction readers, this is my first time here…
People ask me why I wrote dogs as central characters in both my romantic comedies for Berkley Sensation: my debut book LOVE IS A FOUR-LEGGED WORD and its follow-on title HOME IS WHERE THE BARK IS (to be released on July 6).
I didn't actually set out to be a "doggy" writer. But animals are such an important part of my life, I guess it was inevitable that they would also be important in the life of my fictional characters. Besides, writing dogs is such fun. And I get to have cute dogs on my covers!
In LOVE IS A FOUR-LEGGED WORD, Brutus the millionaire mutt is a very greedy, naughty little dog who inherits a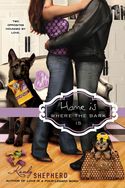 lot of money. He is as important a character as the hero and heroine, feisty chef Maddy and lawyer Tom O'Brien who are thrown together because of Brutus.
In HOME IS WHERE THE BARK IS, the "cover" dogs Mack, a sad-eyed black mutt, and Bessie, a purse-sized Yorki-poo,
play an important role in bringing together lovely dog nut Serena Oakley and hunky PI Nick Whalen. (Serena is Maddy's best friend in the first book.) There's a cast of other quirky canine characters, too, as Serena runs a doggy day-care center.
My doggy characters don't talk. We don't see inside their minds. They're animals. Not people. But like the real animals I love, my fictional four-legged characters have distinct personalities with their own quirks and loveable qualities.
I had to be careful writing both LOVE IS A FOUR-LEGGED WORD and HOME IS WHERE THE BARK IS, that the doggy characters didn't become four-legged scene stealers and overwhelm the developing romance between hero and heroine. That said, the reactions of the humans to the animals—and vice versa—can give great insight into the human's personality. The night I first met my husband, as he told me all about his dog and his horse, I knew I'd met "The One". I couldn't fall in love with a man who wasn't kind to animals, so how could I expect anything else for my heroines?
How do I research my canine characters? I've had dogs and cats since I was a small child. As a writer, I'm a "people watcher" but I'm also an animal watcher and have borrowed aspects from several of the dogs I've met over the years to help create my fictional canines. However, like my human characters, at some stage in the writing my canine characters take on their own personalities and become as real to me as any flesh-and-blood-and-fur dogs.
Do you have a special pet in your life who makes you laugh?
Kandy Shepherd writes fun, feel-good fiction. She shares her life with husband, daughter and a menagerie of animals including a dog, cats, horses, miniature cattle and chickens. She writes contemporary romance for Berkley Sensation.
HOME IS WHERE THE BARK IS is released on July 6.
Kandy loves to hear from readers, contact her through her website.
To comment on Kandy's blog please click here.