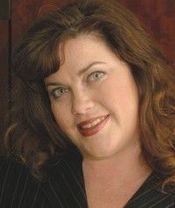 What are you guys thinking about the new season of "True Blood?" I like that executive producer and creator Alan Ball takes liberties with the story. And what did you think of "Eclipse?" I'm a fan of the film franchise and the series of books. I feel like director David Slade did a great job with pacing in the film. There's angsty romance, but it's mixed with some stellar action. He took the best elements of the books made some twists here and there, and created what may be my favorite of three films. In fact, I liked the film better than the book.
There are several other books made into films this summer including BEEZUS AND RAMONA BEASTLY, EAT, PRAY, LOVE, SCOTT PILGRIM VS. THE WORLD and "The Switch". It's always interesting to see how the adaptations work. Out of all the films coming out this summer, I'm most looking forward to "Eat, Pray, Love." I really hope they don't screw it up.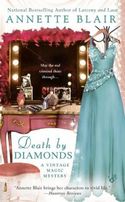 One series I wish they would turn into movies or a television show is Annette Blair's Vintage Magic. The third installment is DEATH BY DIAMONDS. "I was having a discussion about my second mystery with my Berkley editor," Blair says. "I had finished the book, but we couldn't settle on a title we both liked. Finally, she came back from speaking to the publisher and gave me two choices. 'It's either LARCENY AND LACE or DEATH BY DIAMONDS,' she said, and flash! I chose Larceny and Lace for book two, because having heard the words, Death by Diamonds, I had a plot for book three. It was as simple as that. I reserved the title because it told me who the third mystery would be about, how the victim would die, and why. I wish all plots came that easily.
I asked Blair to give us some more details about the series and new books.
Q. Is it true that there is a certain kiss in DEATH BY DIAMONDS that became secondary to the search for Dom's killer, to everyone except perhaps the man Madeira kissed?
A. There is, and while Madeira has some explaining to do, she turned her mind to solving the mystery of how Dominique DeLong Broadway Star, one of her dearest friends, was murdered on stage, in front of hundreds of people, during the final act of the final performance of Diamond Sands.
Q. Where does the book take place?
A. It takes place both in Mystic Connecticut and in New York City, on and off Broadway.
Q. What did Dominique DeLong call her 'hangers on,' a group of people who sucked her dry in every way possible, and lined up for more, like every dime they could get, at the reading of her will?
A: Those would be The Parasites, her ex husband, her catty best friend, her understudy, her sponsor, leading man, hairdresser, and makeup artist. They're a good-sized group of leeches.
Q. Is it true that you were recently interviewed in Mystic, Connecticut by the official student documentarians for the Library of Congress because you set your Vintage Magic Mystery Series there?
A. Absolutely. We met at Mystic Pizza, across from Madeira Cutler's vintage dress shop, for an interview that will be aired on public television in the coming months on a date to be announced. It was an exciting adventure for me.
There is a great deal in the mailbag this week, so let's get to it: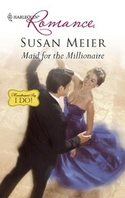 Next time Susan Meier has to work on a book, I'm inviting her to my house. "I actually scrubbed (or housecleaned) most mornings before I began working on the two books 'MAID FOR THE MILLIONAIRE and MAID FOR THE SINGLE DAD, says Meier. "I wanted to be able to freshly smell the scents of cleaners and soaps and feel what a maid would feel. Sounds silly, but there's nothing like bringing reality into a story!"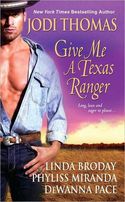 Jodi Thomas, Linda Broday, DeWanna Pace and Phyliss Miranda have a new anthology out, GIVE ME A TEXAS RANGER. Who could resist a title like that? I began work on 'One Woman, One Ranger' with a duel purpose," says Miranda. "I didn't want to write just a romance with a Texas Ranger hero, but about one who found love. I wanted my story to reflect the ideals that brought peace to the untamed frontier; the strengths and traditions that made the famous, respected organization the lawmen they are today."
"When we decided to write an anthology featuring Texas Ranger heroes," adds Linda Broday, "I knew my character Ranger Stoney Burke needed a big challenge. So I put a woman in his life that would really get under his tough skin in a huge way. I had so much fun making him squirm."
Bella Andre has a new one out called LOVE ME. "Five years ago, TAKE ME, my first full-length novel was published," says Andre. "As Lily and Travis fell in love in, Lily's sister, Janica, and Travis's twin brother, Luke, met a couple of times over the course of the story to do some strategizing regarding their siblings relationship. There were, as you might imagine, pretty big sparks between Luke and Janica. Not only have I've wanted to write Luke and Janica's story for five years, but readers have been emailing me about it for five years, asking when it was finally going to be out. Honestly, I enjoyed writing this story so much – especially after thinking about these characters for so long – that I almost didn't want to have to finally write 'the end.'"
Other books to check out in July include Gena Showalter's THE DARKEST LIE, Juniper Bell's My Three Lords, Lex Valentine's TALES OF THE DARKWORLD, and Yasmine Galenorn's NIGHT MYST.
Until next month…
---
Candace Havens is a columnist for FYI Television, an online news and media service, where she writes five weekly columns for an overall audience of 44 million readers. She is also an entertainment reporter for 96.3 KSCS in Fort Worth. She lives in Fort Worth, Texas. She is the author of the Charmed & Dangerous series including CHARMED & READY, CHARMED & DANGEROUS, CHARMED & DEADLY, and LIKE A CHARM as well as the Caruthers sisters: DRAGONS PREFER BLONDES and THE DEMON KING AND I. Her latest book, TAKE ME IF YOU DARE is in stores in February 2010.
Her non-fiction prose includes JOSS WHEDON: THE GENIUS BEHIND BUFFY, and essays in ALIAS ASSUMED: SEX, LIES AND SD-6, and FIVE SEASONS OF ANGEL.