The first time I ever traveled to America, I thought, "They speak English, I speak English, this will be easy, right?" Not so, as I discovered the first time I ordered an entrée expecting a small starter and found myself staring down an ENORMOUS plate of food!
As my debut romantic comedy, CLOSE TO YOU, is set in my native New Zealand, I thought I'd take the opportunity to enlighten you on some "Kiwi" phrases that have my American friends confused, bemused, or just downright amused!
"Bit of a dag": A person who is quite funny or a bit of a prankster e.g. "My Uncle Phil is a bit of a dag."
"Box of budgies": happy, very cheerful e.g. "I saw Gran today. She was a box of budgies."
"Bludge/bludger": Someone who is constantly sponging off others and never picks up their share of the tab, buys their round, does their part etc. e.g. "Don't expect Sophie to pay you back. She's a total bludger."
"Chocka": Something that is full to overflowing e.g. "Mate, I can't fit anymore drinks in the fridge, she's chocka."
"Hard yakka": hard work, usually associated with some kind of manual labour e.g. "Finally built that fence today. Flip, it was hard yakka."
"Knackered": to be tired/exhausted e.g. "The kids were up half the night and I am completely knackered."
"Manky": Something that is a little bit gross/dirty e.g. "I can't do anything with my hair today. It's really manky" or "Are you sure you want to wear those trackpants in public? They're a bit manky."
"Pack a sad": To become morose or ill-humored e.g. "Luke's team lost the game and so he packed a sad and went home."
"Spat the dummy": Having a temper tantrum/meltdown e.g. "I was in Starbucks this morning and the barista didn't make this woman's coffee right and she totally spat the dummy."
"Wop-wops": a location in the middle of nowhere e.g. "My mum was born in the wop-wops."
So there you have it. Try adding one of those into your next dull conversation to liven it up! I'm off to deal with a four-year-old who is completely knackered and has packed a sad about having to go to bed 🙂
Giveaway
Comment below with a sentence using one of Kara's New Zealand or your own favorite New Zealand sayings. One commenter will win a copy of CLOSE TO YOU & a Starbucks card!
Kara Isaac lives in Wellington, New Zealand. Her debut romantic comedy, Close To You, is about a disillusioned academic-turned-tour-guide and an entrepreneur who knows nothing about Tolkien who fall in love on a Tolkien themed tour of New Zealand. It will release next week (argh!) from Howard Books. When she's not working her day job as a public servant, chasing around a ninja preschooler and his feisty toddler sister, she spends her time writing horribly bad first drafts and wishing you could get Double Stuf Oreos in New Zealand. You can sign up for her newsletter at karaisaac.com or connect with her on Facebook at Kara Isaac – Writer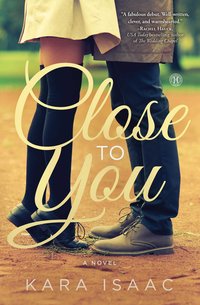 A disgraced scholar running from her past and an entrepreneur chasing his future find themselves thrown together—and fall in love—on a Tolkien tour of New Zealand.
Allison Shire (yes, like where the Hobbits live) is a disgraced academic who is done with love. Her belief in "happily ever after" ended the day she discovered her husband was still married to a wife she knew nothing about. She finally finds a use for her English degree by guiding tours through the famous sites featured in the Lord of the Rings and The Hobbit movies. By living life on the road and traveling New Zealand as a luxury tour guide, Allison manages to outrun the pain of her past she can't face.
Jackson Gregory was on the cusp of making it big. Then suddenly his girlfriend left him—for his biggest business competitor—and took his most guarded commercial secrets with her. To make matters worse, the Iowa farm that has been in his family for generations is facing foreclosure. Determined to save his parents from financial ruin, he'll do whatever it takes to convince his wealthy great-uncle to invest in his next scheme, which means accompanying him to the bottom of the world to spend three weeks pretending to be a die-hard Lord of the Rings fan, even though he knows nothing about the stories. The one thing that stands between him and his goal is a know-it-all tour guide who can't stand him and pegged him as a fake the moment he walked off the plane.
When Allison leads the group through the famous sites of the Tolkien movies, she and Jackson start to see each other differently, and as they keep getting thrown together on the tour, they find themselves drawn to each other. Neither expected to fall in love again, but can they find a way beyond their regrets to take a chance on the one thing they're not looking for?