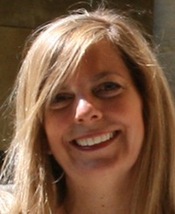 Hello from the Guild Hall in Bath!
As an ice-breaker to each leg of my Blog Tour for UNDRESSING MR. DARCY, I'm taking you along for a ride to England, where I traveled during the summer of 2012 to do some research for the book. Said research, however, did not include seeing Mr. Darcy do an educational striptease act (which I will explain in a second).
Where am I on this stop? I attended the Summer Ball hosted by the Jane Austen Centre and held at the Guildhall in Bath. Here I am in costume with some handsome Regency gents! The Guildhall itself is gorgeous and, during the Jane Austen Festival in the fall, it houses the Regency Fayre where you can buy all kinds of Regency-inspired goodies. The dancing at the ball that summer evening proved impeccable, the music–inspirational, and the room–divine.

So, let's get back to this educational striptease thing.
Yes, lets! Here's how it all started. I was researching Regency male clothing for my first book, DEFINITELY NOT MR. DARCY, when I stumbled across a website in England called The History Wardrobe. Among its offerings, it featured a live show of a "Mr. Darcy" who would take off his historical clothing—down to his historically accurate drawers—while someone lectured about each article of clothing. Unfortunately, the Wardrobe no longer does their Undressing Mr. Darcy show. To date I have still not seen a Mr. Darcy do such a show, even though it provides the premise of my book! (I am aware there is a Dressing Mr. Darcy show put on by an American man at the Louisville Jane Austen Society of North America Jane Austen Festival and might just have to check that out for research purposes 😉 right?)
When I saw that listing of Undressing Mr. Darcy…my imagination started clicking along. Well, wouldn't yours? Or is it just me?! It wasn't long before I came up with:
He's a hardcover book reader and writes with a quill pen. She's all plugged into her cell phone and laptop. Can he claim her heart without so much as a GPS?
The story began to take shape: Julian has inherited a crumbling estate. To help raise money to restore the estate to its former glory, he comes up with an idea to spend a year living as if he were Mr. Darcy. He writes a book about it called My Year as Mr. Darcy and then he comes to the states to promote his book using the Undressing Mr. Darcy show as bait.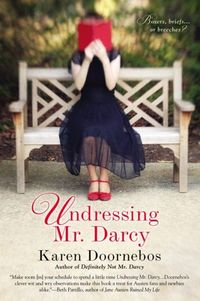 My heroine, Vanessa, isn't really a Jane Austen fan. She takes on Julian's public relations as a favor to her aunt, but soon finds herself attracted to Julian, and yes, even warms up to Austen…
The only character that didn't figure into the first sketchy outline, but soon quickly inserted (and asserted) himself, is Chase, who was inspired by Johnny Depp's Captain Jack Sparrow! You'll have to see for yourself how the story unfolds!
Fresh Fiction reviewed UNDRESSING MR. DARCY here, where you will also find an excerpt of the first chapter. The very upbeat review called it "a delightful romp through Jane Austen fandom." It went on to say, "Filled with witty humor and quirky characters, UNDRESSING MR. DARCY is a story that Austen fans will savor."
I hope you'll love it!
Buy now at Berkley Penguin – Indiebound– Amazon – B&N – Kobo – BAM – iTunes   
WIN!
Fresh Fiction readers, comment below for your chance to win a copy of UNDRESSING MR. DARCY… Would you ever want to attend an historical undressing show? If so, who might you want to see take it off down to his drawers?! Contest is limited to U.S. readers.
Mr. Darcy's Stripping Off…
…a boot. At each blog stop Mr. Darcy will strip off another piece of clothing. Keep track of each item in chronological order and at then end of the tour you can enter to win a GRAND PRIZE of the book, "DO NOT DISTURB I'm Undressing Mr. Darcy" door hangers for you and your friends, tea, and a bottle of wine (assuming I can legally ship it to your state). US entries only, please.

Karen Doornebos is the author of UNDRESSING MR. DARCY published by Berkley, Penguin and available here or at your favorite bookstore. Her first novel, DEFINITELY NOT MR. DARCY, has been published in three countries and was granted a starred review by Publisher's Weekly. Karen lived and worked in London for a short time, but is now happy just being a lifelong member of the Jane Austen Society of North America and living in the Chicagoland area with her husband, two teenagers and various pets—including a bird. Speaking of birds, follow her on Twitter and Facebook! She hopes to see you there, on her website www.karendoornebos.com and her group blog Austen Authors.
JOIN THE BLOG TOUR:
To comment on Karen Doornebos's blog please click here.