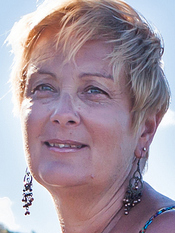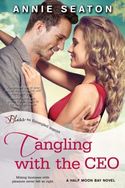 I'm excited to be back at Fresh Fiction talking about…finding my sweet voice. Especially in the week my latest sweet romance, TANGLING WITH THE CEO has been released.
In high school, Annie Seaton, author of The Affairs Series and DANGEROUS DESIRE had two goals. First, I always wanted to be the sweet girl. You know, a bit like Sandy in Grease … or like Samantha in Sixteen Candles. But nah … I was always the academic one. I was the serious one with the glasses on and my head down writing stories and screenplays… stories all with happily ever afters. But I was always fascinated by and quietly watched the bad boys from afar.
And second, I wanted to live by the beach. Loved that scene where Sandy and Danny got together at the beach, just like From Here to Eternity. So I read sweet romances, dreamed of holidays by the ocean… and watched those boys.
On to university and sitting in lectures, my head was still full of sweet romance stories, and not the stream-of-consciousness techniques I was studying in Virginia Woolf's To the Lighthouse. Don't get me wrong, I loved reading the classics and more literary works and I did write a brilliant thesis on stream of consciousness.
But the call of sweet romance was always there. Then came the career …and marriage…and kids. When I had a hard day at the office, I would go home and lose myself in a sweet romance, that is, after the shopping was done, dinner was cooked, and the kids were bathed!
So fast forward to today…kids grown up, I retired young and then I indulged myself in writing romance.
So sweet or sexy?
I sat down to write a sweet romance, but those sassy gals and bad boys hijacked my sweet intentions. It must have been the places I took them, when my desire to live by the water kicked in — the yachts, the tropical islands, the Mediterranean beaches. The smell of coconut oil, the crashing of the waves, and the glistening tanned bodies set the pages sizzling.
But my love for sweet romance still beckoned so I decided to also try my hand at writing my own sweet romance.  My first book in the Half Moon Bay series, TANGLING WITH THE CEO was released on 9th December. I took the wanting, the lingering glances, the brief touches and put them into a romance that reflects the trials and tribulations of living and loving in the twenty first century and brought in a strong sense of home, community and family, rather than the emphasis on the sexy.
I do hope my readers love it… I just loved creating that town of Nebbiton on Half Moon Bay!
Oh, and as well as writing my sweet romances (and a few sexy ones too…love those bad boys) I got to live by the beach. When I'm not sitting in my writing chair gazing at the Pacific Ocean, you can find me sailing in my favorite place in the world, the Whitsunday Islands, where I set many of my stories, including the giveaway below.
Here's the blurb for TANGLING WITH THE CEO
Mixing business with pleasure never felt so right.
Blake Buchanan and Anastasia Delaney were roommates in college and could never see eye to eye about anything. The only time their walls came down was during one night of passion before Ana left without a word, never expecting to cross paths with Blake again.
Years later, Blake has made his millions. He comes back to Ana's small California town to manage a corporate takeover that will close down the home restoration business she's poured her heart and soul into. The fiery Ana is determined to convince money-minded Blake of her business's worth, but when a family emergency throws them together, their walls come tumbling down once again…
Problem is, Blake's business-first position hasn't changed. And Ana can't fall for the man who could become her boss—it's not only her job at stake, but her heart.
To find out more about Annie and her books, visit www.annieseatonromance.com. You can also connect with her on her blog, Facebook and Twitter (@annieseaton26)
Annie is giving away a copy of first sweet/sexy Indulgence book HOLIDAY AFFAIR to one commenter.
What do you prefer to read? Sweet or sexy? Or somewhere in between?
To comment on Annie Seaton's blog please click here.