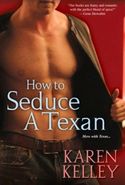 Twenty things you don't know about me. Less if I run out of stuff to say.
1) My name is Karen Kelley. Okay, if you're reading this blog you probably already knew that.
2) I write romance. And you might have known that, too. But did you know I write steamy romantic comedies?
3) I have two books out right now. How To Seduce A Texan. This is a new book from Kensington Brava. I was raised on a small farm so I had a lot of fun taking a big city reporter and putting her undercover in the country on a dude ranch. Except the hero in hiding discovers her deceit and plans to make her earn every word.
4) I'm usually laughing when I'm writing. I just can't help myself. It's like telling myself a joke I've never heard before.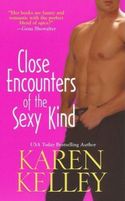 5) The second book is one that went to mass market from trade. It's the first book in my Planet Nerak series, Close Encounters of the Sexy Kind. It's another steamy romantic comedy. Warning: do not drink liquids when reading this book. Especially in public places because you might spray on the person in front of you.
You're not even halfway done! Click here to read the rest…they're fun!