TJ Bennett is the author of "Dark and Daring Romance" and a former Romance Writers of America Golden Heart nominee. TJ writes "outside the box" historical romance featuring richly detailed settings and unusual subjects. Her critically-acclaimed debut novel, THE LEGACY, was rated a "Buried Treasure 2008" and a "Desert Isle Keeper" by the influential reader site All About Romance. The Historical Novel
Society deemed THE LEGACY "a solid historical romance from a promising debut author." THE LEGACY, set in 16th century Reformation Germany during the Peasant Revolution, was also a finalist in the Gayle Wilson Award of Excellence contest, the Book Buyers Best Award, and the Holt Medallion. TJ's newest release, THE PROMISE, follows a mercenary during Charles V's Italian campaigns. THE PROMISE was awarded TOP PICK status by Night Owl Romance and given four stars by Romantic Times BOOKReviews, which called TJ an "author to watch." Eye on Romance's Historical Romance Writers' reviewer says TJ is a "master at writing historical fiction."
FF: Welcome to Fresh Fiction, TJ. Tell us a little more about your work.
TJ: I'd like to thank Fresh Fiction for having me here today to talk about my latest release, THE PROMISE. This is a story of love, redemption, and the power of a promise. In 1525, a German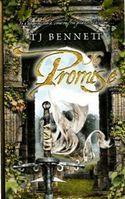 mercenary (a Landsknecht) in the service of Emperor Charles V must overcome his own wounded heart and convince a reluctant widow to marry him in order to keep a promise to a dying friend. A gypsy's curse on every man who loves her forces the Spanish beauty to rebuff him, but their passion for one another is stronger than the mysterious misfortune that seems to plague any with the courage to defy the curse. THE PROMISE features the brother of my printer hero from THE LEGACY, my debut novel.