Time to start fresh. A brand-new year of possibilities. That got me thinking about New Year's Resolutions. Some people are for them. Some people are against them. Where do you stand on the matter? I, for one, am for them. I like to reflect on the past year both personally and professionally. I like to think about goals I set the previous year and see if I met them. If I didn't, then I reflect on why not and what I need to do to differently?
Life is complex. It can get busy and crazy and a jumbled mess if we let it. Happiness is about balance, or so I'm learning 😉 I'm finding the older I get, the more balance I need to be happy. The older we get, the wiser we get. As cliched as it sounds, it's true! I no longer need all the things I once thought I did to be happy and fulfilled. It's taken me years to realize my success isn't based on the accomplishments of anyone else. It's based on my own goals and working hard to meet them.
2020 hit hard for us all. I never in my wildest dreams imagined we could live through a pandemic. All of us at home, learning to navigate work and school and way more togetherness than anyone was used to. My youngest child graduated high school and started college that year, missing out on so many milestones yet gaining several unique experiences her brothers never had. It made me realize life being different doesn't always mean it has to be bad. There is no use stressing over things we can't change. So instead, I chose to take a close look at things I can change. If we don't like the story we're in, then we need to write a new one.
That's exactly what I did in 2021. Thanks to my amazing agent, I took a chance and signed with Oliver-Heber Books in March. Since then, they relaunched my backlist and have published several new books for my frontlist for a grand total of 13 novels, 8 novellas, and 3 short stories. We also sold the house we lived in for 17 years, stayed in an extended stay hotel with two big dogs for 3 months, then moved into a brand-new ranch we had built in November that we love.
I have never been more excited to start a new year. I have high hopes for 2022. I plan to write 4 brand new novels and one I had already written will also be published for a total of 5 new full-length books releasing this year. When I stop and think that I will have written 18 books, 8 novellas, and 3 short stories by the end of this year, I feel proud and successful. I get to do what I love for a living and take people on a journey along the way. Now if only I can get my personal goals to be as successful. This year I am going to put myself first and work on being mindful in the health of my mind and body. Meditate more, don't take friends and family for granted, and learn to say no.
—
To celebrate the release of MURDER IN THE MEDITATION (book 8 in the Sunny Meadows Mystery Series), Kari Lee Townsend is giving away a signed copy of the book as well as a basket of goodies. Comment on what you want to accomplish in 2022 for a chance to win. Good luck and happy reading! 
—
Fortune Teller Mystery #7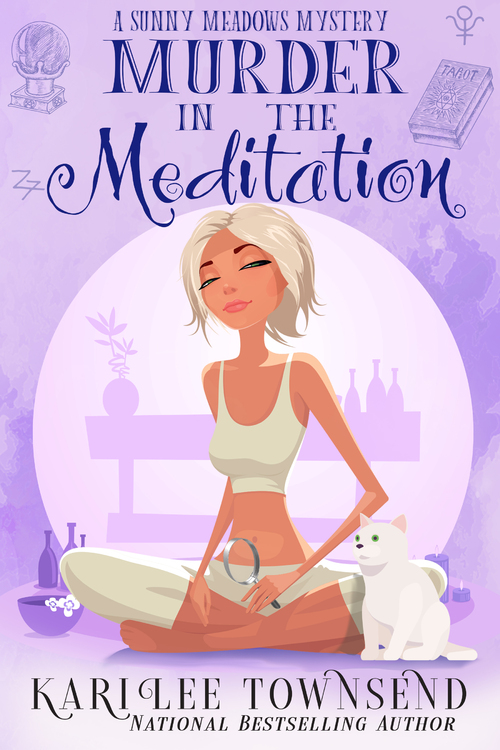 Meditation leads to peace and tranquility—or deadly visions if you're psychic Sunshine Meadows…
Sunny's parents and Granny couldn't be happier—or more overbearing—with the news of their first grandchild on the way, and Sunny's new husband Detective Mitch Stone couldn't be more terrified—or overprotective. Even her biggest ally Morty the cat has turned against her and partnered up with her husband, which is something she never thought she'd see in this lifetime. All because trouble has a way of seeking her out. When Sunny becomes over stressed, her doctor orders her to meditate. Not an easy task with a psychic convention in town. Sunny's visions are not of pink and blue; she's seeing red as meditation leads to murder and the head psychic winds up dead. With no prime suspects, Sunny has no choice but to seek out trouble and use her clairvoyant abilities to solve this case if she is ever going to be free to focus on being a mother. That is if the real killer doesn't make her lose her mind first…
Mystery Cozy [Oliver-Heber Books, On Sale: December 28, 2021, e-Book, ISBN: 1230005275397 / ]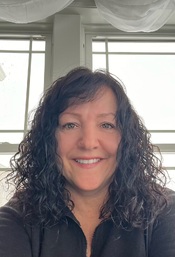 Kari Lee Townsend is a National Bestselling Author of mysteries & a tween superhero series. She also writes romance and women's fiction as Kari Lee Harmon. With a background in English education, she's now a full-time writer, wife to her own superhero, mom of 3 sons, 1 darling diva, 1 daughter-in-law & 2 lovable fur babies. These days you'll find her walking her dogs or hard at work on her next story, living a blessed life.