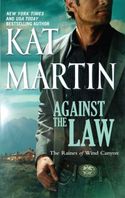 Twenty five years ago when I first started writing, my goal was to become a successful author.  I wanted to be able to quit my real estate job and write full time.  Fortunately, with my husband still working, I was able to make that happen fairly quickly.
Still, when I finally I sold my first book after months of trying and numerous rejections, I earned the whopping sum of four thousand dollars–not much money for a year and a half of working ten hours a day!  But I never lost faith.  I thought, "I can do this.  I know I can."
I think one of the toughest things about being an author is continuing to believe in yourself.  Insecurities swamp you.  Is this book any good?  Is this book as good as the last one?  Will my readers like it?  Will the publisher renew my contract?
After twenty five years, those questions remain.  It's only sheer force of will that keeps a writer pounding the keyboard, sheer determination that keeps an author from quitting.
So when I hit the New York Times printed list (as opposed to the extended list, which I had been on a number of times), it was the kind of validation that keeps a writer going.
Someone must like these books, I thought.  Ohmygod, it's really selling!  It was a thrill to get that phone call–a notification that usually comes late on a Wednesday night.  That Wednesday, I didn't get any call so I figured any chance I had was past.
Then early Thursday morning, my agent phoned.  "AGAINST THE FIRE made the list!  You're on the New York Times!"
It's a real moment for an author, the thrill of a lifetime.  I had made the Times list last year for RULE'S BRIDE, one of my Victorian Historicals, but this was different.
My heart is in these books, AGAINST THE WIND, AGAINST THE FIRE, AGAINST THE LAW.  Not only did I love the brothers, Jackson, Gabe, and Devlin, but I loved the ladies who snared these hunky men.
When I finished AGAINST THE LAW, I didn't want to let go.
Couldn't.
So I didn't.
In Dev and Lark's story, AGAINST THE LAW, three of Dev's friends show up to help him rescue Lark's missing four-year-old niece.  Trace, Johnnie, and Jake were such amazing guys I knew I had to tell their stories.
Fortunately, Mira agreed, and in November, AGAINST THE STORM, Trace Rawlin's story, is scheduled to hit the bookshelves.
I'm hoping by the time readers finish the Raines Brothers Trilogy, they'll be wanting more of the yummy AGAINST men and their sexy ladies, and that they'll be watching for AGAINST THE STORM.
Until then if you haven't read AGAINST THE LAW, I hope you'll look for it.  And don't forget AGAINST THE WIND and AGAINST THE FIRE, the first two books in the trilogy.
Until then, happy reading and all best wishes, Kat

Read Excerpt for Against the Law
Become a Facebook fan of Kat Martin
Videos
To comment on Kat Martin's blog please click here.